Where in the world have you travelled for a golfing holiday? With so many prestigious clubs to choose from, we've analysed over 100 venues down to a tee, creating the top 50 golf courses to slice into your bucket list. 
Looking at club heritage, rainfall, cloud cover, and public reviews, find out where the best golf courses are positioned around the globe.

Crowned the best golf course in the world is LA's Country Club (North), boasting an overall score of 85.3. Here golfers can challenge their handicap on two 18-hole courses, with a range of hills, ridges, swales, and valleys. The club is over 100 years old and moved location three times before it finally settled in the glamorous Beverly Hills.
Australia's Royal Adelaide Golf Club is almost on par, coming in second with an impressive 84.7. If you're a weather adverse player, this links course is perfect for you as you're in for a great chance of clear skies with just a 16% average chance of cloud cover.
Across the globe, England's Ganton Golf Club takes precedence as the highest-rated UK golf course, scoring 81.2. Its sandy heathland promises over 100 bunkers, providing an interesting challenge even for golfers with an admirable handicap.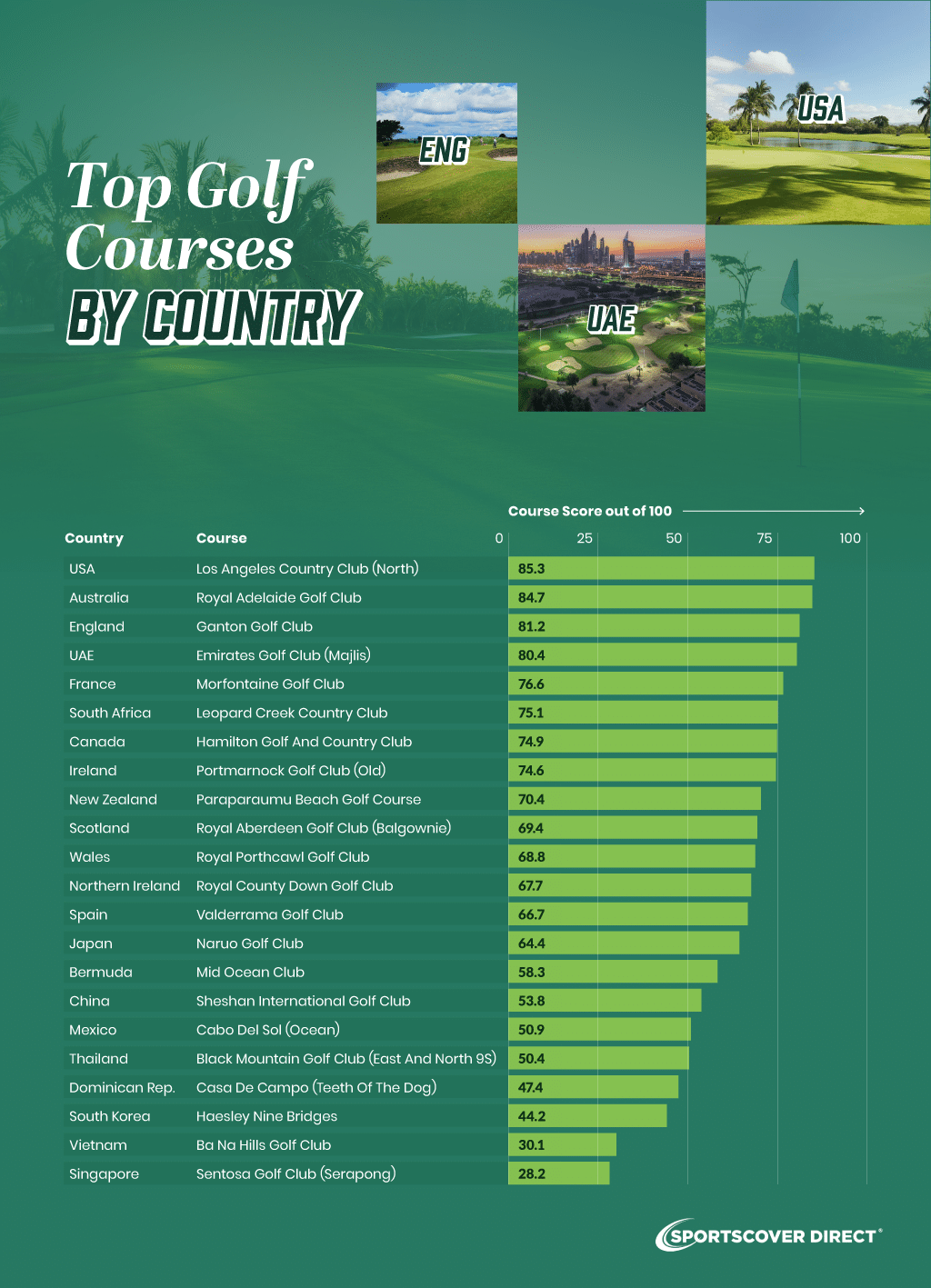 Famously known as the oldest golf course in the world, Scotland's St Andrews Links in Fife comes in a surprising 66th place overall. It scored 64.5 due to having high annual rainfall (1246 ml!) and naturally high cloud cover throughout the year. In fact, the top club in Scotland is the Royal Aberdeen, coming in 41st overall and scoring 69.4, getting 27% less rainfall than golfers playing at St Andrews.
Methodology: Using several seed lists, we scored 150 golf courses based on heritage, average reviews, rainfall, and cloud clover to generate a total score out of 100. The below sources were used to conduct this research.