If you're looking at organising a golfing holiday, then there's plenty to take into consideration. When you're travelling abroad, things aren't quite so simple as booking a tee time and throwing your clubs into the back of the car. But what are the key factors to take into account when planning a golfing holiday to ensure things run smoothly for you and all your companions?
To find out, we spoke to Clive Bloxham, the captain of the Nags Head Golf Society in Milton Keynes. Clive has been organising golf trips at home and abroad for several years, and in this blog, he shares some of the tips and advice that he's got along the way. That way, you can take the stress out of your golfing holiday and feel more able to focus on your game.
Where and when do you want to go?
The first thing is to work out where you want to visit for your golfing holiday, and the time of year you want to go. It's important to consider timing carefully for two reasons, the first being affordability, as flights and accommodation can cost substantially more during the school holidays. But the second factor is the weather: for example, a golf trip to Portugal during the cheaper winter months may look appealing, but can be vulnerable to wind and rain if you choose the wrong area at the wrong time.
Then you can get into the nitty-gritty of who, where and how. As Clive explains from his experience: "First we find out who wants to go and establish numbers for the trip. Then we check flight availability and costs, then course availability and costs. I find it makes it easier logistically to stay in a place with a course, or multiple courses. That's because you can get your breakfast on-site, just walk from your room to the first tee, and get access to a 19th-hole bar afterwards."
Making sure costs are kept under control, and are clear for everyone, is essential. But Clive has also found that there are ways of spreading the cost. "Flights have to be booked and paid for up-front, but accommodation and tee times can be confirmed with a deposit, and you only have to pay the balances a couple of weeks before you arrive."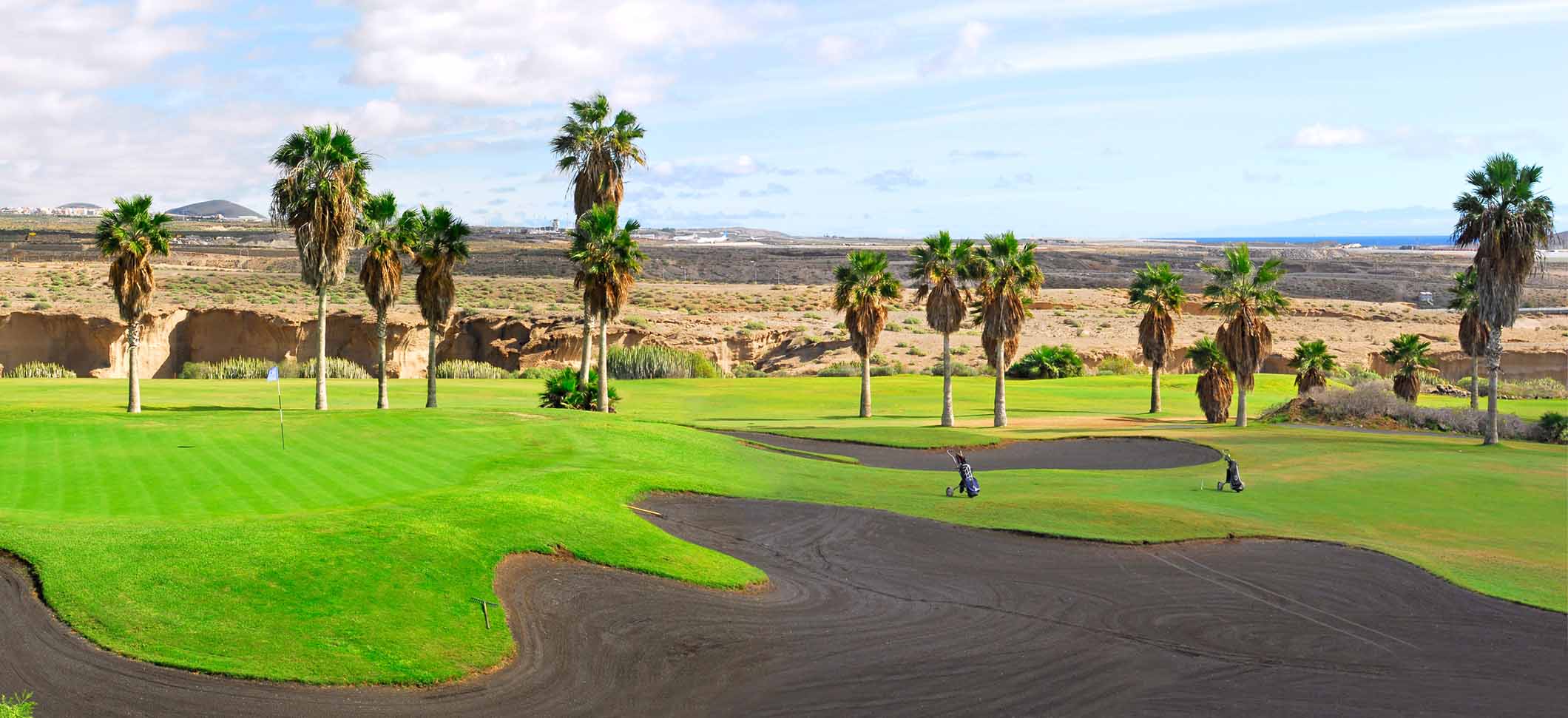 Choosing the right courses
If you're planning on playing multiple courses on your golfing holiday, then you'll likely be spoiled for choice within your chosen area. You may be tempted to try and choose courses that are more challenging for lower-handicap players, or more forgiving for higher-handicap players. However, Clive recommends choosing courses that make things logistically easier for you, and are set in the context of what you want to get out of the holiday.
"In our case, most of our group are fairly similar in handicap terms," he says. "In my experience, most courses are all pretty much the same when you go on the Med, and we've kept the same groups and partners for the last few years. So it depends what you want to do on the trip and how seriously you want to take the competitive element."
Booking tee times in advance
The best thing you can do to remove stress or uncertainty from a golfing holiday is to arrange and book as much as you can, as far in advance as you can. That doesn't just mean flights, accommodation, airport transfers and tee times, but also any accessories you might need like buggies and trollies on the course.
Clive says that hiring buggies is invaluable on many foreign courses, even for players who wouldn't normally use them. "We do book buggies in advance, although they're generally paid for on the day," he explains. "We always have buggies because of the heat, and because it gives you plenty of room for water and refreshments. It also speeds the game up quite a bit.
"Buggies also help because some of the distances from one green to the next tee can be a lot longer than they are on British courses. I've played on a course in Cyprus in the past where the longest green-to-next-tee distance was 1km and buggies were mandatory!"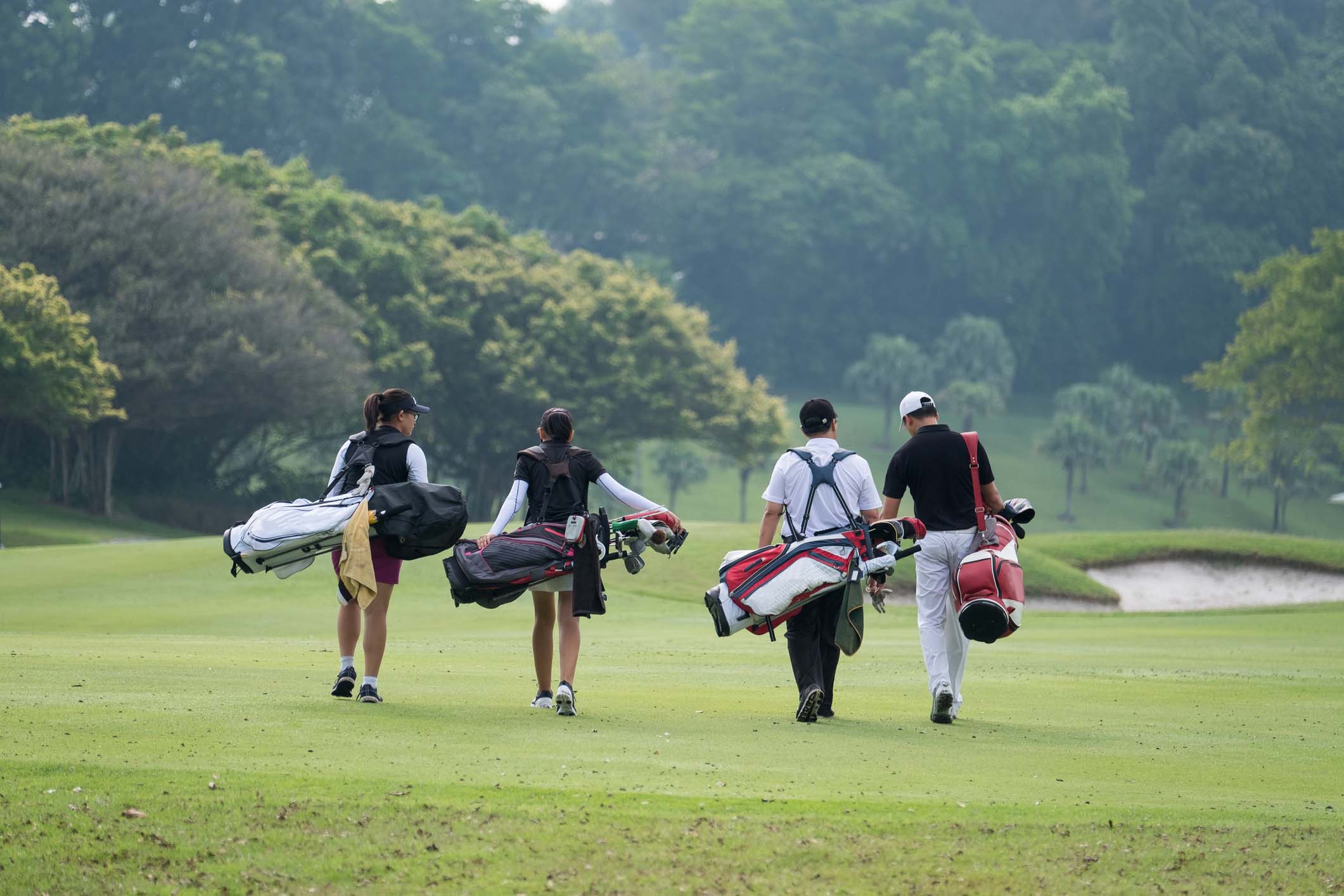 Hire clubs or take your own?
Taking your own clubs with you can be expensive, because of the additional fees that airlines charge to take them on flights. For a return trip, you may find yourself paying an extra £100 or possibly even more. It can therefore be tempting just to hire clubs from the course or resort at your destination instead, but Clive finds that there's no substitute for the feel and familiarity of playing with your own clubs.
"If you play regularly and you have bespoke clubs – I do because I'm tall – it can make a massive difference." he says. "You get used to all your clubs – even your putter – and although most of the good places abroad will have very good-quality clubs available for hire, it will normally take you two or three rounds just to get used to them. I would only recommend hiring clubs if you can contact a course or result in advance and book your exact specification."
The practicalities of taking clubs on flights can be complex, but Clive has found that it doesn't need to be as big a financial burden as it might seem:  "You get golf club travel bags that can take a golf bag in situ, and that extend out to protect your club heads and ensure they all stay in the same place. Around £50 will get you a good soft-shell case. Hard-shell cases give even more protection, but are a lot more expensive and take up more of your weight allowance.
"Also make sure that you check out the weight limits for golf clubs on flights. Some low-cost carriers assume that it's 20kg for a set of clubs, but most sets typically only weigh 13-14kg, which means you can use the spare weight allowance to put some shoes, balls or even golf clothing in your bag."
Accommodation
When you book your accommodation, there are two things to remember beyond the course (or courses) that you're playing in the area: how close you are to entertainment away from golf, and how far away it is from the airport.
"It's vital to know where the nice bars and restaurants are in the evening, and that they're easy to reach from accommodation (ideally walking)," Clive recommends. "Even being able to access simple things like a pool table or a dartboard somewhere can make a difference between keeping people entertained in the evenings, and everyone sitting around getting bored.
"Airport transfers aren't so important but it is still a consideration. If it was a two-hour transfer each way, for example, then we'd be thinking more about whether we want to go. But anything under an hour is easily bearable, and it's worth checking with your accommodation to see if transfers are included, or can be booked directly."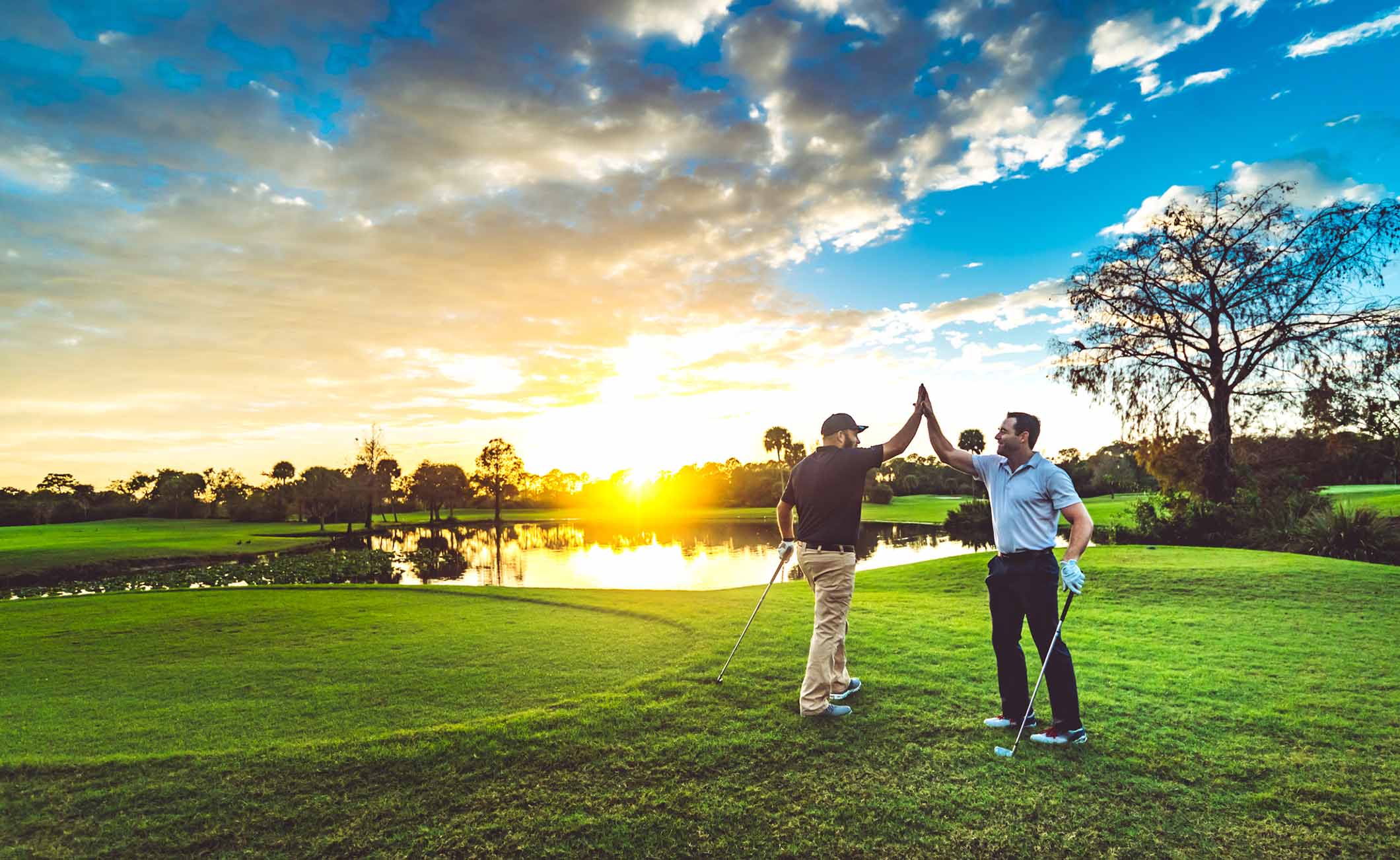 Other helpful tips
Because you're on a golfing holiday, rather than just taking a day out to play a course close to home, the arrangements can be a little bit different. And Clive has two particular pieces of advice, to help you deal with the weather, and to ease the process of organising things for a group.
"Make sure you have your caps and your sun cream for the weather, and I also suggest taking additional balls – some of the hazards are less forgiving than they often are on UK courses, such as deeper bunkers, nearby villas, and so on.
"On our trips, we put 50 euros a day each into a kitty, and that tends to cover all our food and drink for the day. In our experience, the beer prices on even the luxury courses are still very affordable, and a lot cheaper than the UK, to encourage more players to stay on-resort for longer."
Make sure you have insurance in place
What you need to do on a golfing holiday from an insurance perspective can vary substantially, depending on where you're going. For example, if you're going to Spain, insurance through the national golf federation is a legal requirement to play on any course in the country. Clive says: "This cover is either 90 euros for an annual policy which you can buy in advance, or 2-3 euros for a single round, which you can normally buy at the pro shop on the day. Some resorts will include insurance as part of your green fee, but make sure you check this out before you go, and take out insurance if it isn't included."
In many other countries, insurance is optional, but it remains strongly recommended, just in case the unforeseen happens. Without it, you could face unnecessary stress and financial headaches if your luggage and clubs are lost, stolen or damaged; if you suffer an accident or injury on the course; or if you accidentally injure someone else during a round.
SportsCover Direct's golf insurance policies give you all-important protection in these circumstances, as well as peace of mind that you're covered for every realistic eventuality. Our cover starts from just a few pounds a month, making it a tiny but very worthwhile investment in the overall context of your next golfing holiday. Take two minutes today to explore our golf insurance policies in more detail.
This blog has been created as general information and should not be taken as advice. Make sure you have the correct level of insurance for your requirements and always review policy documentation.