Hiking can be physically and mentally difficult enough as it is – and then there's hiking by yourself. To complete your route, you'll need to be fit and healthy, self-motivated and able to adapt to whatever circumstances crop up along the way. But is it safe to hike alone, and how can you minimise your risks when you're on your own?
This guide is designed to give you all the information you need to go hiking alone safely. You'll get plenty of tips on how to prepare fully before you go, what to do in case of an emergency, and how to remove some of the uncertainty from your one-person adventure.
Check the weather
It is absolutely essential that you keep a close eye on the weather forecast for the area of your hike in the days leading up to it. Check back regularly because the forecast can change, especially in mountainous areas where the weather can be especially unpredictable.
If your hike is more than a week away, or you're just starting your planning, then obviously there won't be a reliable and accurate forecast available to you. However, you can do some research or contact local hiking communities online to get a rough idea of the prevailing conditions for the time of year.
Take suitable clothing and equipment
There are lots of different types of kit you'll need to take with you on a hike. To explore them in detail, take a look at our guide on the ultimate packing list for hiking.
However, if you're hiking alone safely, then you'll probably need to take some additional things with you, as you won't be able to rely on anyone else's kit if you get stuck. For example, you should take more food and water than you think you'll need in case you get trapped somewhere. Additionally, it's worth taking some survival essentials, such as a survival bag, a whistle, a solar-powered battery pack, and catch-all repair materials like gaffer tape and cable ties.
Plan your route
The old saying 'fail to prepare and prepare to fail' very much applies here. The more planning you can do before you go, especially with regards to navigation, the lower the risk of something going wrong while you're away.
If you're nervous about going into uncharted territory, then it'll be safer to stick to routes and areas that you're already familiar with. This will not only give you more confidence, but will also mean that you have vital awareness of any hazards along the way, such as slippery sections or poisonous plants. For further security, pick a popular trail where there are likely to be plenty of other people around.
Set off early
There are three very important reasons why it's better to set off early in the morning if you're hiking alone. The first is to avoid the heat of the afternoon sun (if you're hiking in a warmer country). The second is that you'll beat the crowds on the more popular routes, and there will still be enough people around to help you if you get into trouble. And the third is that it gives you as much time as possible to get back before dark if you get delayed for any reason: make sure you find out what time sunset is in the area before you set off.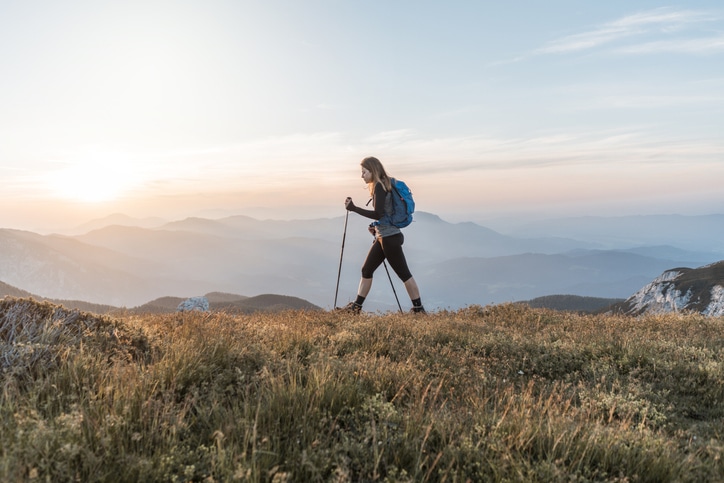 Tell someone where you are going
While you may well want the independence of hiking solo, you shouldn't keep everything to yourself. Make sure a friend or family knows your planned route and itinerary, because this will make you much easier to locate in the event of an emergency.
You can also make the most of technology to help you out with location if you need to summon any help. The what3words app is excellent for pinpointing your precise spot, and is now widely used by emergency services. You could also consider sharing your location through your smartphone, which can make things fun for your loved ones, who can track your progress from home.
Know your limits
Hiking on your own can be extremely challenging, and it's important to remember that there are no prizes waiting for you at the end. Pushing on for the sake of it if the conditions are bad, or if you're ill or injured, can be extremely dangerous. If you have any concerns along the way, don't hesitate to turn back or call for help at the first opportunity. The same applies if the terrain is proving too much for your physical fitness: you can always come back and have another go another day.
Stay on course
It can be very tempting to go off-piste when you're hiking and explore some different sights than you've planned. When you're in a group, this is more practical to do because you can help each other out if you get stuck or lost. But if you're on your own, this can be a very risky thing to do. If you do end up getting hurt or lose track of where you are, it will be much more difficult for anyone to come and find you and give you the help you need.
Pack a map and compass
It might be fashionable to use navigation apps and GPS systems, but electronic technology isn't 100% foolproof. Lots of things can happen that will render the information within them unavailable: they get lost, they get broken, they run out of battery or you don't have any signal, to name just a few.
That's why it's always important to have a plan B at your disposal in the shape of a good old-fashioned map and compass. These can be very handy if you get lost, and you should familiarise yourself with them before you go.
Use the emergency facilities at your disposal
Earlier in the guide, we mentioned some of the emergency kit that you should consider taking with you. Other items such as high-visibility clothing, a torch and a glow stick can also be helpful. And never underestimate just how useful a whistle can be if you're in a tight spot. You can not only use it to attract attention (three blows, a 30-second pause and three more blows is the internationally recognised SOS call), but also to scare off any wild animals you encounter.
Avoid using headphones
Your eyes are critically important while you're out on a hike – but so are your ears. Your hearing is vital to identifying any hazards that you may not have spotted visually, whether it be wild animals, malicious people, rock slides or other natural dangers. So while you might want some company on your trip through music, audiobooks or podcasts, you should keep your ears clear throughout your hike. If you really do want to use headphones, try bone conduction models that keep your ears open.
Take care using social media
It's perfectly natural to take lots of photos and selfies while you're on your adventure, and to share them with the people you know. But if your social media accounts are open to the public, you could be putting yourself in danger if you share your location and the fact that you're alone. It's better, therefore, to send any photos directly to friends and family (for example, through WhatsApp), and to leave any public sharing until the end of your adventure.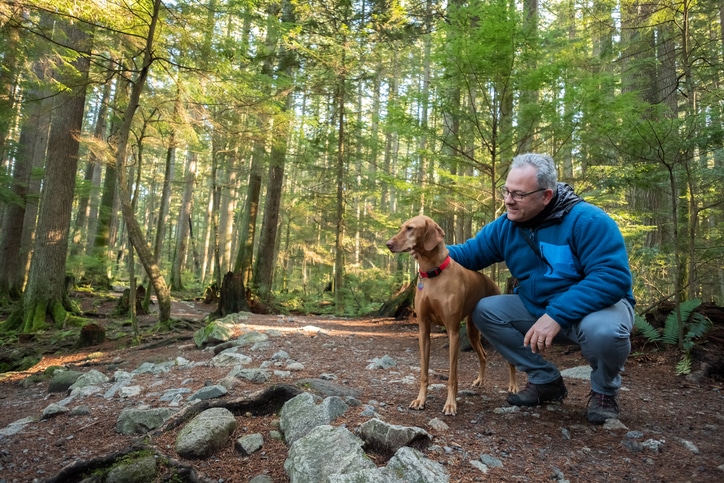 Bring your dog with you!
Now, this arguably means that it isn't a solo hike any more – but then there's still only one human, right? Dogs love a long walk through the great outdoors, probably even more than their owners do, and taking your dog will add another dimension to the adventure. But there are practical reasons for canine company, too: they can keep your spirits up, potentially hear or smell hazards before you've spotted them yourself, and have survival instincts that could be helpful in an emergency.
Take out hiking and trekking insurance
Even if you take all the precautions listed above, you can never reduce risk completely to zero, whether you're hiking alone or as part of a group. There is always the risk of an accident or injury; of events occuring that are beyond your control; or of your travel plans being disrupted. And in the event you need rescue or medical care abroad that's beyond the scope of your European or Global Health Insurance Card, you may end up with a bill that can run into the thousands of pounds.
This is why specialist hiking and trekking insurance is absolutely essential, and why we've been insuring solo adventurers like you for more than a quarter of a century. We can pick up the tab for any unforeseen circumstances that affect you, your travel and accommodation, or your luggage and kit. That way, you can focus on making the most of your trip without any worries along the way.
Take a closer look at our affordable, flexible hiking and trekking insurance policies today.
This blog has been created as general information and should not be taken as advice. Make sure you have the correct level of insurance for your requirements and always review policy documentation.