Have you ticked your triathlon boxes and achieved what you set out to? Then how about trying the new challenge of Quadrathlon (swim/kayak/bike/run)? Here, European Quadrathlon Champion and British Canoeing She Paddles Ambassador, Helen Russell shares her top tips for trying a Quadrathlon.
What is a quadrathlon?
When three sports just aren't enough then maybe it's time for you to give Quadrathlons a go! As the name would suggest it is a four-discipline sport consisting of swim/kayak/bike/run. So, in essence a triathlon with the added challenge of paddling. As with triathlons, quads vary in format from sprint to longer distance races. Most races are either sprint or standards distances which are similar to the sprint and standard distances in triathlon. The kayak legs are about 4k in a sprint and 8k in a standard distance race. The longest distance is usually 4 km swim/90 km bike/20 km kayak/21 km run. Quadrathlons also vary in terrain, with races having either sea, lake, canal or river kayak sections and sometimes off-road bike and run sections. The kayak leg usually comes after the swim leg but if the water is limited in size e.g. a small lake then the swim will be followed by the bike leg to avoid kayakers and swimmers getting in each other's way!
It's a fairly new sport with the first race taking place in Ibiza in 1987, which included a brutal 5k swim, 20k kayak, 100k bike and 21.1k run. It hasn't grown as fast as triathlon, probably because it is harder to do four disciplines than three and kayaking isn't accessible to as many people but there is a growing interest in the sport, especially in mainland Europe where there is a strong kayaking community.
Getting started
Lots of people come to quadrathlon from a triathlon background so the first thing to do is to learn how to kayak! The best way to do this is to get in touch with a local canoe/kayak club who often run taster sessions. You can then decide whether you want to commit to training for a quad. The benefit of joining a club is that they usually have a stock of kayaks for you to use rather than having to buy your own. As you improve you will move to kayaks with a greater 'wobble factor', which are lighter and more streamlined and therefore move through the water faster. It is therefore not a good idea to buy a kayak as a beginner, as you don't know how proficient you will become and therefore what level of kayak you will be able to paddle. Clubs will have a range of kayaks that you will be able to move through the more confident you become.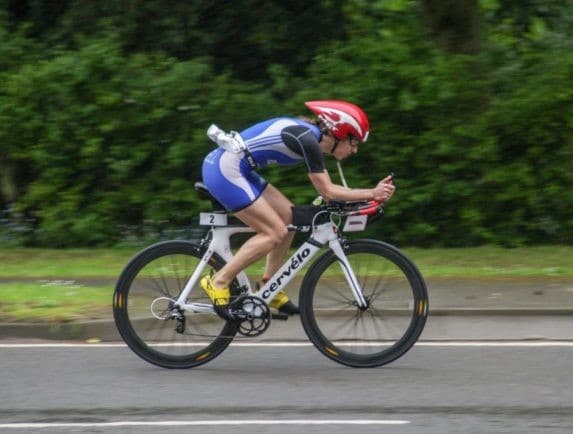 Training for a quadrathlon
The first thing to do is to get out on the water. If you train with a club, they will run a variety of sessions including skills development, interval and endurance sessions.
Kayaking is about much more than just staying afloat – having a good technique will mean you will be faster. Beginners often make the mistake of only using their arms to paddle but most of the power comes from your core and legs.
Triathlon races can be won and lost in transition and the same is the case for quadrathlons. It is a good idea to practice getting in and out of your kayak before your first race. In kayaking this is called 'portage'. In some races you will get in and out of the boat on a landing stage, whilst others will have entry and exit on the lakeside or beach.
Due to the British weather, it can be difficult to get out on the water in the winter, but some clubs have indoor kayak machines, which look similar to rowing machines. These machines are great for improving technique and form and keeping fit over the winter months. It is actually a good idea to use one of these before even getting on the water to learn the correct paddle stroke as this will reduce the risk of you capsizing! As with rowing machines kayak machines are great for doing interval sessions.
The skills involved in kayaking vary to some extent on the type of water you will be paddling on. Sea kayaking is very different to river kayaking. If possible, train on the type of water you will be racing on. The type of kayak you would use on sea and river kayaking will also be different as you'll need a more stable kayak on choppier waters!
Race Equipment
You will obviously need the same equipment as in a triathlon with a few extras. It goes without saying that you will need a kayak! As I have mentioned if you are a member of a club, you should be able to borrow one but there is often the option of hiring one at the race venue. Any type of kayak is acceptable as long as it is serviceable. In order to transport your kayak to the race you will need a car roof rack and V bars. These are bars in the shape of a V, which the kayak slides into. A lot of canoe clubs will have V bars that you can borrow and show you how to use them.
You will also need a paddle and a buoyancy aid, which as a beginner you will have to put on in transition. It is best to have one with a zip up front, rather than one you have to put on over your head, as these can be put on quicker and save you valuable seconds!
For comfort you may want to put on surf shoes or thick socks and if you feel the cold maybe an extra layer of upper body clothing over your tri-suit. The more experienced racers don't put on any of these though, as for them every second counts!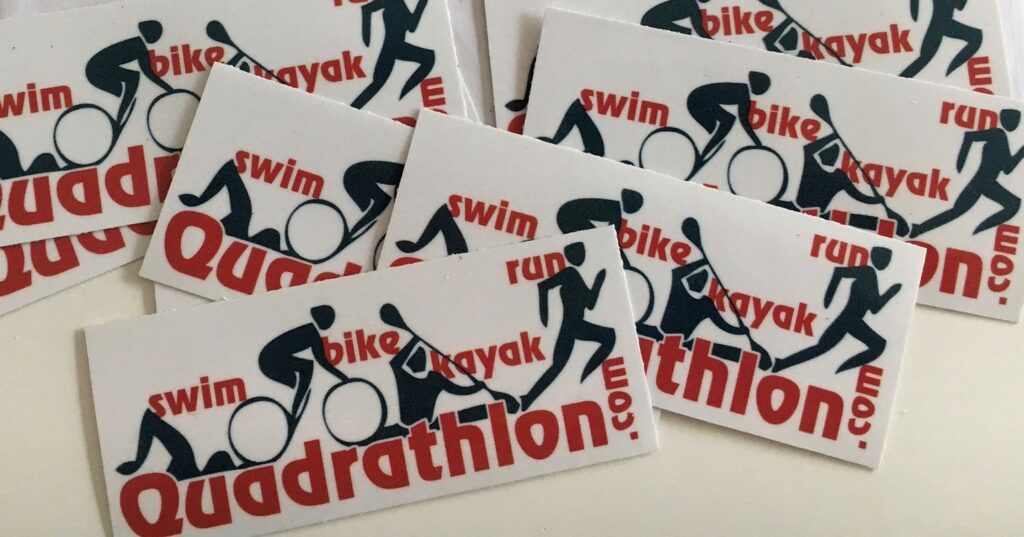 Racing quadrathlon
There are a number of quadrathlons in the UK but it is also an internationally recognised sport, with many international championship races. The national federation is the British Quadrathlon Association (BQA) which overseas racing and the governance of the sport in the UK.
In the UK the best quadrathletes challenge to take the title of British Champion at the annual one-off championship race. This year's national championship is the Awesome Foursome Quadrathlon in Bude on 9 September. The BQA also runs the British Trophy Series, which rewards constituency over the season. Points are gained over a series of races, with your best three results counting towards your national series placing. Like with triathlon, there is an overall title as well as age category titles up for grabs.
The world's only women only quadrathlon is in the UK and is a great way for women to give quadrathlon a go in a friendly environment. The Deva Divas Quad is held alongside the well know Deva Divas triathlon in Chester and takes place annually in July.
You can find out more at the British Quadrathlon Association website https://www.britishquadrathlon.org/ or to find a canoe club near you go to www.britishcanoeing.org.uk
About the author
Helen is the current European Middle Distance and British Quadrathlon Champion. She is also the current GBSUP (Stand Up Paddleboarding) Series winner in the NiSco class. In 2019 she was the middle distance World Quadrathlon champion in her age group and in 2018 the age group World Cup Series winner and sprint distance World Champion. Before turning to quadrathlon, Helen was age group World and European Duathlon champion and European Triathlon champion. She is a British Canoeing 'She Paddles' Ambassador and named as one of this year's Cycling UK's '100 Women in Cycling'. You can follow her exploits on Twitter via @helengoth