Golf is a sport that places a strong emphasis on respecting the rules and showing good sportsmanship. Proper golf etiquette is essential for an enjoyable and respectful game.
Following basic golf etiquette creates a positive experience for both you and your fellow golfers. By following these guidelines, you contribute to a pleasant atmosphere on the course and show respect for the game of golf. It may seem like there's a lot to remember, but don't be intimidated. These rules will generally be similar around any course you play on, so you can always check with your club or fellow players.
In this guide to golf etiquette in the UK, we've outlined everything you need to know about how to behave correctly on the course and what you should avoid doing.
Five rules of golf etiquette
Here we explore outlined five universally acknowledged codes of basic golf etiquette. Some of the finer details may be stated quite clearly, while others are more unwritten guidelines for respectful play. The specifics of some rules will differ slightly between clubs, so you can consult with them to clarify anything you're unsure about.
1. Show courtesy to other players
Arrive at the course well ahead of your tee time to allow for check-in and warm-up. Being late can disrupt the schedule for others. Don't waste people's time; be prepared for your turn and have your clubs and accessories ready, so that you can play promptly.
Keep up with the pace of play and don't delay other players by taking too long to make your shots. If you need to catch up, let faster groups play through. It may be the case that your ball is lost or out of bounds; in this situation, you can hit a provisional ball to save time and keep the pace of play moving. Don't spend more than a few minutes looking for lost balls and be aware of where you place your golf bag, so that you can move on quickly and respect others' space. Crucially, you should always avoid standing in a player's line of sight, or directly behind them, while they're addressing the ball or taking their shot. Stand well off to the side instead. Be quiet and still when other players are taking their shots, as distractions can negatively affect people's performance. Keep your mobile phone on silent or vibrate mode, only using it for emergencies. If you must take a call, step away from the course to do so. It's best to avoid playing music, too. While some golfers enjoy music on the course, playing it loudly without consideration for others' preferences is truly bad golf etiquette.
Good sportsmanship is crucial in golf etiquette, so be courteous and respectful to your playing partners, even if you're having a bad round. Avoid giving unsolicited advice or swing tips to other players unless they ask for help.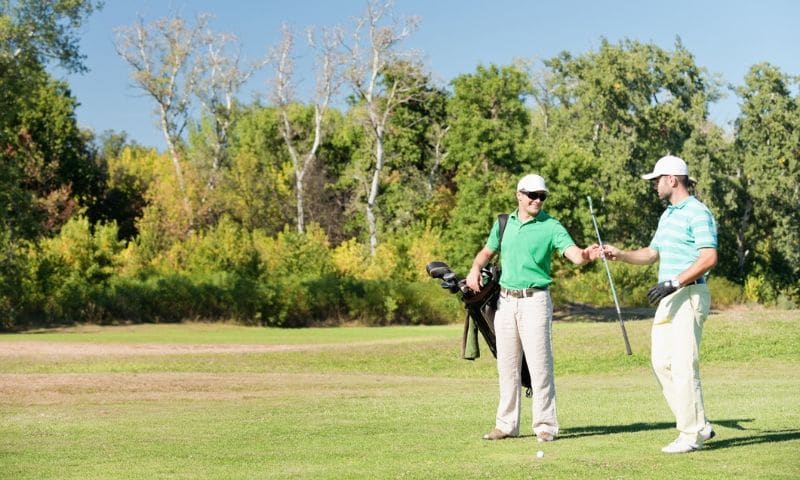 2. Respect the course
Golf etiquette also applies to your surroundings, to maintain the environment for everyone. Repair your ball marks on the green and any spike marks made by your golf shoes, replacing divots on the fairway. This helps maintain the course's condition for all players.
Follow golf buggy etiquette too, if you're using one. Keep them off the green and familiarise yourself with the course's buggy rules, staying on assigned paths when required and observing any relevant signage.
When putting, you can either tend the flagstick or remove it from the hole, depending on the course's rules. You can also ask your playing partners for their preferences. After playing a bunker shot, use a rake to smooth out the sand, leaving the bunker in the same or better condition than you found it. After finishing a hole, always replace the flagstick carefully.
After the round, return any rented equipment, clean your clubs and shoes, and dispose of rubbish and cigarette butts in designated areas, in the provided receptacles. Leave the course as you would expect it to look when you arrive.
3. Practise safety first, always
Safety is paramount. This isn't just good golf etiquette; it ensures that everyone has the best chance of an enjoyable game with minimal risk of accidents. There are a range of ways you can help ensure that everyone stays safe and, of course, you avoid costly lawsuits or personal injury.
Before you play, inspect your clubs and grips for defects, using club covers for protection. During play, maintain a proper distance and never swing your club when someone is in your vicinity. Always shout 'Fore!' if your ball may hit someone else, so that they have prior warning and know to move out of the way.
Be aware at all times, staying alert to the presence of other golfers and potential hazards on the course. Never hit your ball when golfers are in your line of sight. Follow safe golf buggy etiquette by driving safely, and avoid travelling at excessive speeds.
Sun protection is paramount, too, even when it's cloudy, as sun damage can still occur. Wear sunscreen, a hat or visor, and sunglasses to protect against UV rays, with a long-sleeved polo shirt if you burn easily. Drink plenty of water, especially on hot days, to prevent dehydration and sunstroke.
Always watch your step on uneven terrain and wet grass, to prevent slips and falls. Check the forecast; if stormy weather means lightning is on the horizon, then take shelter until they blow over. Golf courses can be dangerous during these conditions, as they have open land and isolated, tall trees. Bodies of water such as open ponds can also cause flash floods, while particularly strong winds can throw around golf balls, branches and even buggies.
Carry a basic first-aid kit for minor injuries, and find out the course's assigned location for emergencies.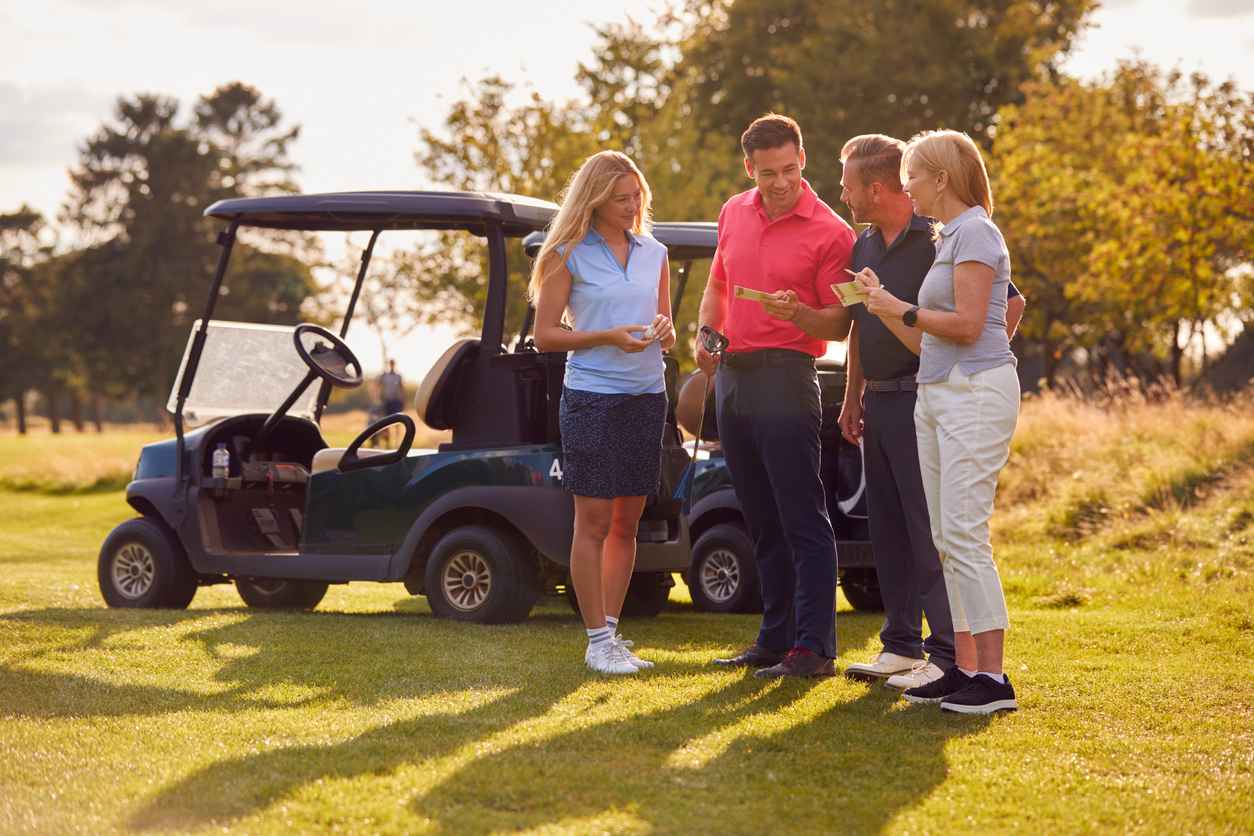 4. Respect the dress code
Many golf courses have dress codes, so golf clothes etiquette will vary between clubs. Typically, you'd be expected to wear collared shirts, tailored shorts or trousers, and golf shoes with soft spikes. This means nothing made of metal; materials such as hard rubber and plastic are better for protecting the course. Golf attire etiquette usually involves strict restrictions too, so you'll need to avoid wearing anything too casual like jeans, T-shirts, and flip-flops.
Your golf clothes shouldn't be ill-fitting and shirts must be properly tucked in. Avoid looking sloppy by neglecting to iron your separates. If you need to layer up on cooler days, you can opt for specific allowed garments such as sweaters, golf gilets, light jackets and windbreakers. Don't wear anything denim or oversized; stick to slim-fitting pieces in appropriately smart fabrics. Accessories such as socks and belts should always match the rest of your outfit.
Proper attire shows respect for the tradition and etiquette of the sport while ensuring a comfortable and safe golfing experience for all players. Check the club's particular rules before arriving, so you can avoid making a fashionable faux pas and standing out for the wrong reasons.
5. Take out a golf insurance policy
​​Taking out a golf insurance policy is a wise decision for several reasons, including financial protection for yourself, other players and even your loved ones. It offers peace of mind while you're on the course, so that you can focus on your game without worrying about the potential financial consequences of accidents or losses.
There are more hidden dangers to golf than you might think, with statistics showing that there are thousands of annual injuries on UK golf courses. Even if you're following golf etiquette, others may not. At the same time, course conditions could also mean that accidents happen, and sometimes, equipment goes missing.
The costs of liability claims brought against you can be eye-watering, totalling hundreds of thousands of pounds. You won't be covered by your club, so make sure you don't suffer a huge financial loss by plannign ahead.
Get Golf Insurance with SportsCover Direct
We know you love playing your favourite sport, so you won't want to let anything spoil your game. However, life inevitably presents us with the unexpected occasionally (and we don't mean the dreaded double cross). Let us support you in avoiding further stress if accidents do occur.
SportsCover Direct's golf insurance offers protection in three main areas; your money, your equipment and yourself. If you cause injury or damage to another person during a round of golf, our cover includes court fees and any necessary damage payouts. Additionally, there's cover for up to £250 of clubhouse drinks if you land a hole-in-one. Our policy also gives the option of up to £7,500 of protection against equipment theft, loss and damage; just choose your preferred level of cover. Lastly, our Personal Accident cover offers a lump sum payment for your chosen amount, should you suffer injury or death during play.
Get an instant personalised quote for golf insurance online. If you want to discuss anything with our team, just get in touch and they'll be ready to help.
This blog has been created as general information and should not be taken as advice. Make sure you have the correct level of insurance for your requirements and always review policy documentation.