The golfers of the UK are a spoilt bunch. Not only do they have some of the world's premier courses to experience, but they also have more options than anywhere in Europe.
A recent study between Golf Monthly and Golf Support found that England is home to 2,270 courses, 1,220 clear of the next highest in Europe, Germany, with 1,050 venues.
However, the wealth of courses is counter-balanced by a population of 55.62 million people. That means that for every course in England, there are over 24,000 people who could potentially be competing for tee times.
When taking population into account, England loses its European top-spot. In fact, it is even pushed out of the top five. The European country where residents have the most courses to go around is in fact, Iceland.
While the nation is host to a relatively small 75 golf courses, a population of just under 34,000 means there are just 4,511 people per course. That figure is nearly half of that of second-placed Scotland.
And what's more, in summer you could even enjoy 24-hour golf, as the sun never sets!
Most of the courses, like Iceland's population are huddled around capital Reykjavik. Just because the courses are rarely far from the city, it doesn't mean you can't enjoy Iceland's spectacular rural landscape at the same time as your round.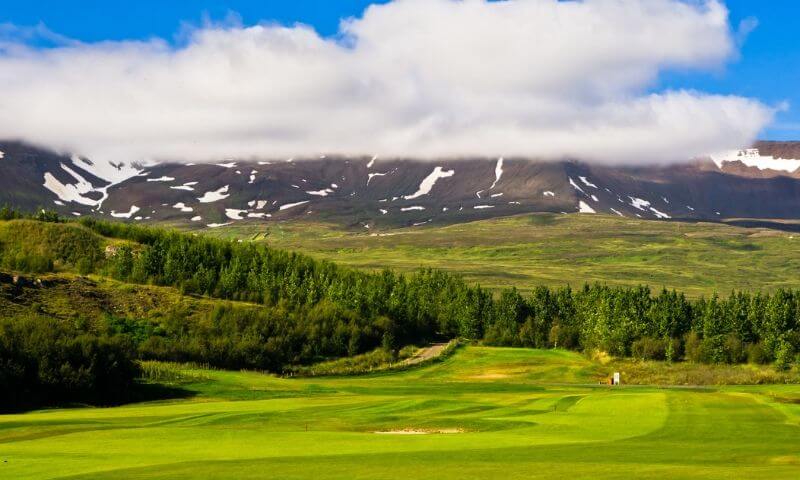 You could opt for views out to the Atlantic Ocean and the Snaefellsjokul Glacier at Keilir, some great Links action at Sudurnes, or play the home course of Iceland's only representative on the European Tour at Akranes.
Chasing home Iceland in second place is Scotland. The birthplace of golf sees a golf course shared, on average, by 8,835 residents.
And while they only sit in seventh and eighth for number of golf courses in total, the relatively small populations of Ireland and Denmark mean they take third and fifth spot in the people per course stakes.
In fact, it's clear where the most golf-obsessed area is. The top nine courses for most densely populated nations for golf courses are in the UK, Ireland and Nordic Countries.
Fewest People Per Golf Course – Top European Countries
1. Iceland – 4,511 people per course
2. Scotland – 8,835 people per course
3. Ireland – 9,684 people per course
4. Denmark – 14,591 people per course
5. Sweden – 15,098 people per courses
6. Wales – 16,891 people per course
7. England – 24,502 people per course
8. Norway – 27,528 people per course
9. Finland – 28,881 people per course
10. Austria – 42,795 people per course
The results might surprise those who head abroad for golf regularly. Spain, Portugal and Turkey may be the preferred choice for many holiday golfers. But with these results, it might be wise to investigate a summer golfing break to Iceland or Scandinavia.
Just remember that you will need your Golf Insurance on holiday as well as at home, so make sure you're protected before you head off.