You don't have to travel abroad to enjoy kayaking, the UK has some great spots for this exhilarating, fun and fitness-inducing water sport. This blog suggests some of the best places to kayak in the UK.
ABOUT US
Here at SportsCover Direct we are specialists in Kayaking Travel Insurance giving you the peace of mind you are covered whether you're kayaking in the UK or abroad. Our kayaking insurance and extreme sports cover policies include benefits such as medical expenses and repatriation cover, personal liability plus cover for your baggage and personal effects. Single trip and annual policies are also available.
Cover wherever you go – the best places to kayak UK
At the risk of overlooking some of your favourite stretches of water, the following are some suggestions for kayaking destinations around the UK – whatever your level of skills and expertise.
River kayaks tend to be shorter than their sea-faring counterpart, with sea kayaks longer, slimmer and pointier at the ends.
The Thames
If there's one river in the UK you'll want to kayak, it has to be "Old Father Thames". Practically anywhere along this most iconic of waterways will make for safe and easy-going exploration – with plenty of points of historic interest to stop off along the way.
There are 137 miles of navigable river, but for that sense of all that is quintessentially England, paddle the stretch between Oxford and Windsor. There are lots of quaint pubs along the stretch as well as camping facilities.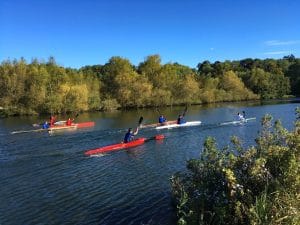 River Allen
If you want heart-stopping white-water kayaking take to the stretch of the River Allen, in Northumberland, between Cupola Bridge and Allen Banks – it offers one of the best kayaking routes for variety, spills, and challenges. Do note it is best suited to experienced white-water kayakers.
River Wye
As the River Wye makes its – mostly sedate – way through Wales to the sea, there are kayaking conditions to suit both the novice and the more experienced sportsman in search of faster-flowing rapids towards the end of the route.
Great Glen Canoe Trail
If it's a marathon cruise along relatively quiet and peaceful waters you crave, then there's nowhere that can touch this epic paddle from one side of Scotland to the other.
This long-distance canoe trail offers dedicated facilities such as low-level pontoons. It follows the 22 miles of the Caledonian Canal but for the remainder of the 38 miles it also takes in some of the most famous lochs of the Highlands – including Loch Ness – to make it one of the most stunning and picturesque routes to be followed anywhere in Scotland. It also offers a unique opportunity to paddle from the Atlantic to the North Sea.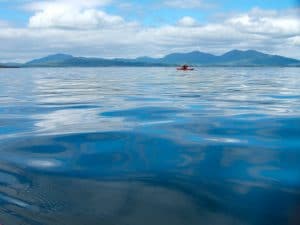 Pembrokeshire coast
Your introduction to coastal kayaking could start in no better place than in Pembrokeshire, South Wales.
Much of the coastline offers tranquil paddling with numerous caves, cliffs, and small secluded beaches to explore. But there is also much wilder kayaking to be had amid the world-famous "Bitches" near St Davids. Here, some of the strongest and fastest tidal flows of the British Isles create huge whirlpools, waves, and eddies to be braved only by the most experienced kayakers.
Lulworth Cove
Calmer waters might be found off the county of Dorset and its World Heritage Jurassic Coast.
The dramatic coastline can be explored by kayak, with resting places in the quiet and sheltered waters of Lulworth Cove or when exploring the geological wonder that is Durdle Door – a natural limestone archway you can get close to as you negotiate the natural "doorway".
Loch Lomond
For even more sheltered waters in the majesty of the Scotland's Trossachs National Park, the "bonnie banks of Loch Lomond" offer countless destinations to which any avid kayaker will want to return time and time again.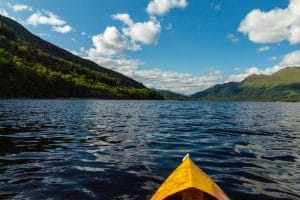 Summary
Here in Britain, we are blessed with a land full of variety and diversity – never more so than when viewed from the water. Whether your kayak takes to the river, lakes, lochs, or coastal waters, you will be spoilt for choice in coming up with your own list of the best places to Kayak UK.