This year marks the 10th anniversary of the comedy programme 'Benidorm'. In January, whilst the stars of the show gathered at a celebration in London, I was in the programme's namesake for a training holiday!
Whilst the Benidorm depicted in the show is a place for sun seeking, beer drinking Brits, in winter the town attracts a different type of holiday maker: cyclists and triathletes. When the temperature plummets in the UK, Benidorm and the surrounding areas in the Costa Blanca become a hot-spot for professional and amateur cyclists, seeking to take advantage of an average December maximum temperature of 17.9 degrees.
I try and head to Benidorm at least once a year and whilst I love the fact that it's one of cycling's best kept secrets, here I share with you why Benidorm is the ideal warm weather training destination.
1. You can ride with the pros
Well when I say "ride with" I mean "spot" or "try to keep up with!" Benidorm is situated at the bottom of a range of mountains and so the area attracts lots of professional cycling teams who head to the Costa Blanca not only for the warm winter climate but also to test themselves on the challenging hilly terrain ahead of the start of the race season.
This January there were quite a few teams trying out the roads of the Tour of Valencia, which started at the end of the month. Whilst out cycling I saw a number of teams including Astana, Sunweb, CCC Sprandi Polkowice and Nippo-Vini Fantini-Europa Ovini. In my experience, if you come across them having a break or fuel stop they are happy to have a photo taken or chat. It's a real buzz to spot the pros on the road and maybe even try and keep up for a bit!
2. You can try the climbs of the Vuelta a Espana
One of the reason the area attracts lots of pro teams is that it often features in the Veuelta a Espana, the Spanish Grand Tour. In 2015 '16 and '17 the Vuelta passed through Benidorm and went up many of the local climbs including Cumbre del Sol, Tarbena, Col de Rates and the infamous Port de Tudons, which reaches 1024 meters. It is great fun to try out these famous climbs and spot the names of the pros painted onto the roads.
The Costa Blanca tourist board have recently invested in signs at the bottom of many of the climbs, which show the profile and gradient of the climb as well as installing KM markers up to the summit, so you know exactly how far there is left until you reach the top!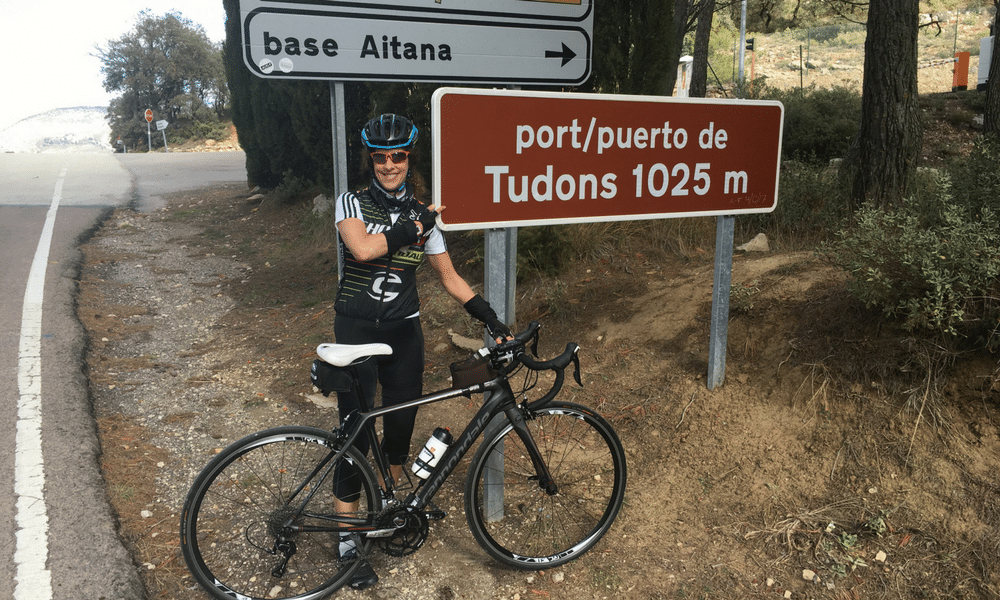 3. It's great for mountain biking
Benidorm doesn't just attract road cyclists – the challenging off road terrain also attracts mountain bikers. This year, whilst I was there the town was busy with competitors taking part in the Costa Blanca Bike Race, a four stage mountain bike race, which is part of the UCI calendar.
Just off the main coast is a large range of trails, usually dirt paths or farm roads with different levels of difficulty. There is a mixture of terrain including rough sweeping fire roads, tough technical single tracks and back to back switchback runs. The region of Valencia, where Benidorm is located, has ten MTB centres which offer signposted routes, maps and other support services.
4. It's not just for cyclists
Although well known as a cycling destination the area is attracting a growing number of triathletes. Alistair and Jonathan Brownlee are regular visitors and use the village of La Nucia/Polop, just outside of Benidorm, as their training base. They can sometimes be seen training on Benidorm's running track and have even been spotted doing a wetsuit photo shoot on the beach!
Benidorm has plenty to offer triathletes: a 400m running track, 25m public swimming pool, warm sea temperatures for open water swim practice and a range of off-road or sea front promenade run routes.
5. It's an ideal place to take families
As a parent it isn't as easy to get away for a warm weather training holiday. Those whose children are of school age have to wait until the school holidays and even once you get away it can be hard to balance training and looking after the kids. However, Benidorm is a great place to combine a training and family holiday.
Whilst you are training, family members can enjoy aquaparks, theme parks, and animal parks. Even during the winter there are plenty of things to keep families occupied including an open top bus ride, tourist-train tour, and excursions to mountain villages or just having fun on the beach or in the hotel pool!
There is also plenty to do together when you have finished training, such as enjoying the shops, cafes and bars in the old town. Some training camps or complexes are very expensive but Benidorm is a very affordable destination, especially in the winter, so you can afford to take your family with you.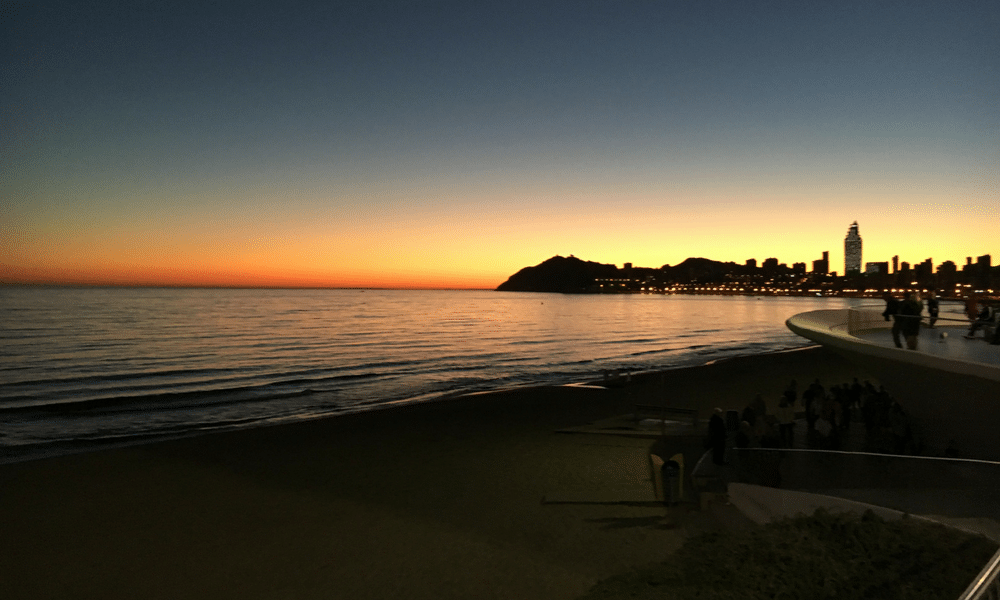 6. It's quiet!
With over 11 million visitors in 2015 you may be wondering how Benidorm is quiet but despite what you might think, in the winter the resort has a relaxed atmosphere with far fewer tourists. Yes, there are British holidaymakers there but the Poniente Beach side of the town is much quieter and relaxed than the Levante Beach side, where most of the British bars are situated.
What's more, the roads, especially in the villages and mountains, are extremely quiet. I've done rides and once off the beaten track have seen fewer cars than I have gears! Some cycling destinations are becoming a bit crowded (I'm thinking Mallorca) but the Costa Blanca has a nice amount of cyclists.
There are just enough fellow riders for you to find people to cycle with if that's your thing, but also enough room on the roads and in the cafes for a peaceful ride. This year in the Terralta Apartotel where I stayed, there were quite a few cyclists, including a club from Norway, which was great as we could share information on good routes and café stops!
As a quadrathlete and triathlete Benidorm offers everything I need for a winter training holiday and I can't wait to return next winter!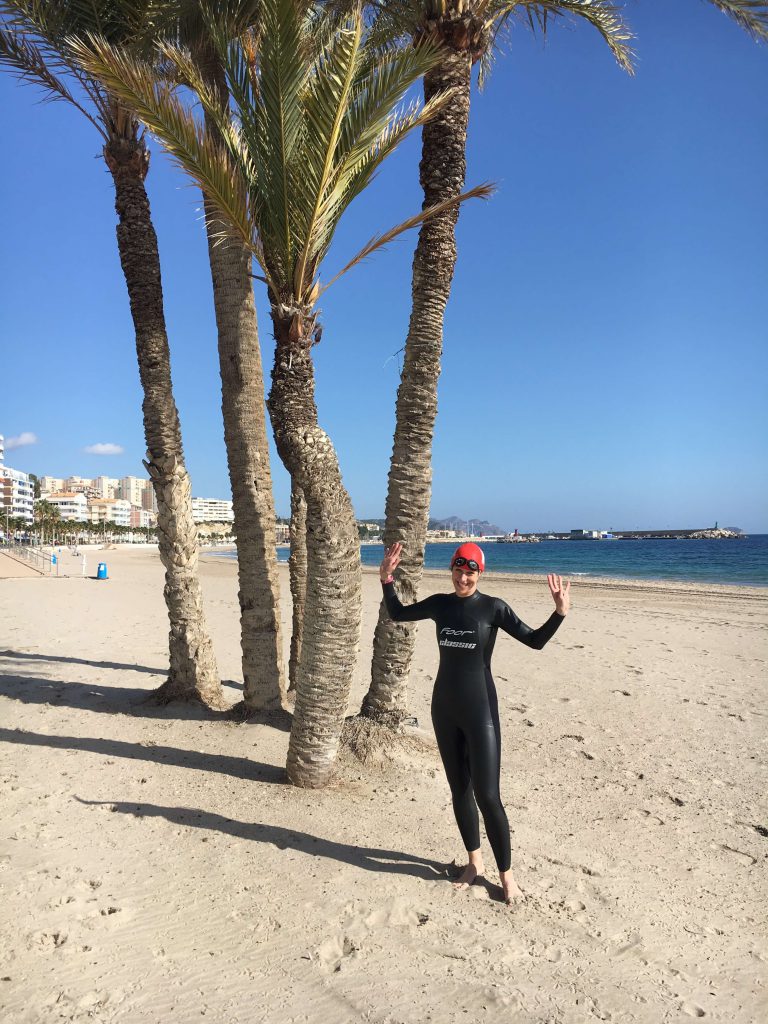 Helen is the current British Quadrathlon Champion and British Quadrathlon Trophy Series winner and a former age group World and European Duathlon champion and European Triathlon champion. In 2015 Helen was part of the One Day Ahead team, which raised £1m for Cure Leukaemia by riding the entire route of the Tour de France one day ahead of the pros. You can follow her on Twitter via @helengoth.
Helen was covered for her trip to Benidorm with SportsCover Direct's Sports Travel Insurance. With protection against cancellation, lost baggage and personal effects, plus cover for her sport, Helen's training break was covered if anything went wrong.
To get your quote, just visit our Sports Travel Insurance page.