Think of a cycling trip abroad and you'll most likely think of the sport's heartlands in continental Europe. France, Italy and Spain host the three Grand Tours each year, and so they tend to be the most popular choices.
But if you want to try something off the beaten track, with the same great Mediterranean weather and culture, then how about Greece? It's just as accessible but will give you a relatively unspoiled landscape to explore from a cycling perspective.
In this guide, we'll cover all the basics that you need to know about cycling tours in Greece: where to ride, what to plan before you go and why it's such a standout destination, as well as introducing our cycling travel insurance.
Why should I go on a cycling tour of Greece?
Greece is an excellent destination for a cycling holiday because it has a little bit of everything: shoreline views, mountain climbs, rolling countryside and much more. As a popular tourist destination, there's also plenty of choice in terms of flights and accommodation options, plus a flight time from the UK of around four hours making it realistic for a week or even a long weekend away.
Away from riding, Greece is a fantastic country to visit in its own right. The weather is excellent for most of the year, the people are friendly, there's plenty to see and do for tourists, and of course the food and drink is superb. Just make sure you don't overdo it on the ouzo the night before a big ride…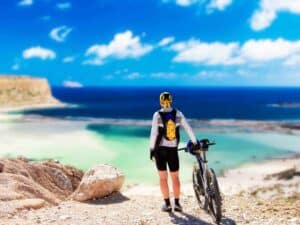 Where can I find the best cycling in Greece?
There are many different places in Greece that are great for a cycling holiday, and which is right for you depends on the type of riding you want. We've picked out five excellent areas, which vary significantly in what they offer, and collectively give you plenty of choice:
EuroVelo Routes 8, 11 and 13
Three of the EuroVelo network of cycle touring routes that run across the continent run into Greece, and while you may not want to take on a whole route, you can at least pick up some of the Greek sections. EuroVelo 8 (known as the Mediterranean route, runs all the way down the west coast of Greece, entering from Albania and running into the centre of Athens. EuroVelo 11 (the East Europe route) enters from Macedonia, and takes in Larisa, Volos and Lamia before heading for the capital. And EuroVelo 13 (the Iron Curtain Trail) criss-crosses Greece's borders with Macedonia and Bulgaria, and is ideal if you want to carry on towards Turkey and Istanbul.
Mount Parnitha
Just to the north of Athens, Mount Parnitha is located in the Tatoi Forest, just to the north of Athens. Although you won't be able to ride all the way to the summit, 1413 metres above sea level, you will be able to get most of the way up on tarmacked roads. Even better is the fact that some of the road is closed off to motorised vehicles, meaning that you won't have any traffic to worry about, other than your fellow cyclists and some hikers. The views you'll get from the upper slopes are something to behold, while the tree-lined route means you can find at least a little solace in the shade if the weather is particularly hot.
Peloponnese
This peninsula to the south and west of Athens is home to some of the most historic and iconic sites in Greece, such as Olympia and Delphi. It's therefore a highly popular region for cycle touring, with some stunning sights to explore across land and sea. There are also a number of tourist resorts in the area, so accommodation is plentiful, while the town of Kalamata is famous for its olives if you're hungry.
Crete
Being an island, Crete might sound like a place with limited choice for riding destinations, but don't be fooled: it's 160 miles long from west to east, meaning you can easily put together a tour spanning several days. It's an island with some challenging terrain to explore, such as in the White Mountains, or you can track the coast and find some beautiful fishing villages along the way. The south of the island, towards Asterousia, tends to be much quieter than the north.
Euboea
This island to the north-east of Athens is connected to the mainland by a road bridge and is the second-biggest Greek island after Crete. Other than Chalcis next to the bridge, there are no towns of any significant size, making it an unspoiled wilderness to explore without the difficulty of heavy traffic. And speaking of traffic, Euboea also benefits from being on the 'right' side of Athens for the airport, meaning you can avoid the worst of the city congestion during your transfer.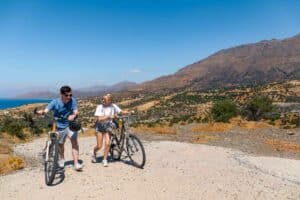 What should I consider before a cycling holiday in Greece?
While you might be extremely excited about the prospect of cycling in Greece, there's plenty of planning to do before you go. That way, you can get the most out of your trip and minimise any risks that may befall you.
Weather
It's very important to think carefully about which time of year you want to go. We strongly recommend avoiding July and August for two reasons: it will be extremely hot, and it will also be very expensive for travel and accommodation during the school holidays. The best times of year to go are the warmer periods in the spring and the autumn, while Greece is even suitable for a winter cycling trip as long as you don't stray too far into the mountains in the north.
Bike hire or transportation
Naturally, you will want to ride your own bike in Greece if you can, as it's what you'll be most used to. However, that will come with an additional cost of sourcing a bike box and booking it onto your flights. You may find that it's cheaper and easier to hire a road bike for the duration of your trip instead. These firms will be easier to find if you're staying in or near a tourist resort, although some may be willing to deliver and collect from your booked accommodation.
Accommodation
Connected to the previous point, you'll need to give careful thought about where you want to stay. This is not only in terms of location, relative to where you want to ride, but also in terms of where you'll store your bikes. Some places may not have secure storage available, while others may take a dim view of putting bikes inside apartments or on balconies. Make sure you check thoroughly before making any bookings.
Road hazards
Cycling in Greece does come with some hazards at a greater level than you might experience in some other countries on the Mediterranean. The conditions of roads can be poor in places, which can heighten the risk of a puncture or a crash. Driving standards can also vary, so it's advisable to keep away from busier main roads (and to exercise particular caution if riding through major cities like Athens!).
And finally, there is also the issue of stray dogs wandering out into the road. Canine interruptions can affect even the best riders (a dog managed to bring Remco Evenepoel down on the 2023 Giro d'Italia, for example), and while Greek strays aren't normally dangerous, they are a common obstacle to watch out for.
Healthcare
As a developed European country and member of the European Union, the quality of Greek healthcare is generally fairly good. However, while you should make sure you have a European or Global Health Insurance Card (EHIC or GHIC), the coverage that this gives you is limited. If you get ill or injured and you require more advanced care, or even rescue and repatriation, you could be liable for a bill that can run into thousands of pounds if you aren't insured.
As the information above will tell you, there's lots to enjoy about a cycling holiday in Greece – but there's also a lot to go wrong. In particular, if you get injured, or ill, or something happens to your bike (i.e. loss, theft or damage), the financial implications can be severe.
That's why it's essential to take out travel insurance for a cycling holiday – and at SportsCover Direct, we're happy to help. We've been insuring intrepid cyclists like you for more than a quarter of a century, giving you peace of mind when you're away and out on the road. With medical cover (including repatriation costs), equipment and bike insurance, and help if your travel plans get disrupted, we can ensure you have a great time and won't end up out of pocket.