Insurance policy documents are long, wordy articles that many travellers will simply choose not to read. However, sometimes you may find that an activity you may think is fairly 'normal' is excluded within your policy.
Without checking, you could end up with no cover for injuries you sustain while taking part in these leisure activities.
As a specialist sports travel insurance provider, we are able to provide cover for over 500 sports. But many of these will not be included as standard for more well-known, high profile insurance providers and will require you to pay a special add-on to have them included.
Many insurers will only offer the option of adding that sport for the full duration of the policy which can increase the premium hugely, whereas we can just upgrade your cover for the dates it is needed. Other insurers may not allow cover to be added on at all.
Here are five sports that are in our sports groups one and two, our lowest risk groups, that may not be covered in your standard policy.
Sea Kayaking
A leisurely paddle along the coast, exploring hidden coves and tiny islets doesn't have to be particularly out-there. However, some major providers won't include this on your policy as standard.
Sea Kayaking has become increasingly popular in recent years, especially for travellers heading to Croatia, Greece and other Mediterranean countries. Many excursions are well-controlled affairs with instructors taking out explorers in groups, so the risk factor isn't overtly excessive.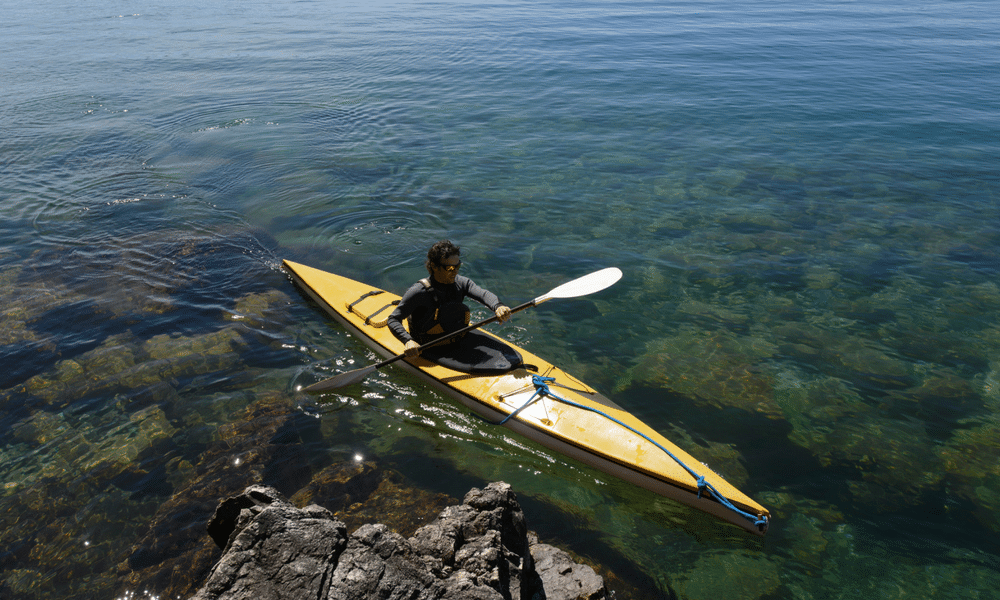 High Diving
A leap off a board some 20 metres in the air may sound risky, but for us High Diving falls into our risk group 1, meaning our lowest policy price around.
What's more, our policy covers those heading overseas to compete in competitions. This is another exemption travellers and sportspeople may find with other 'standard' travel insurance.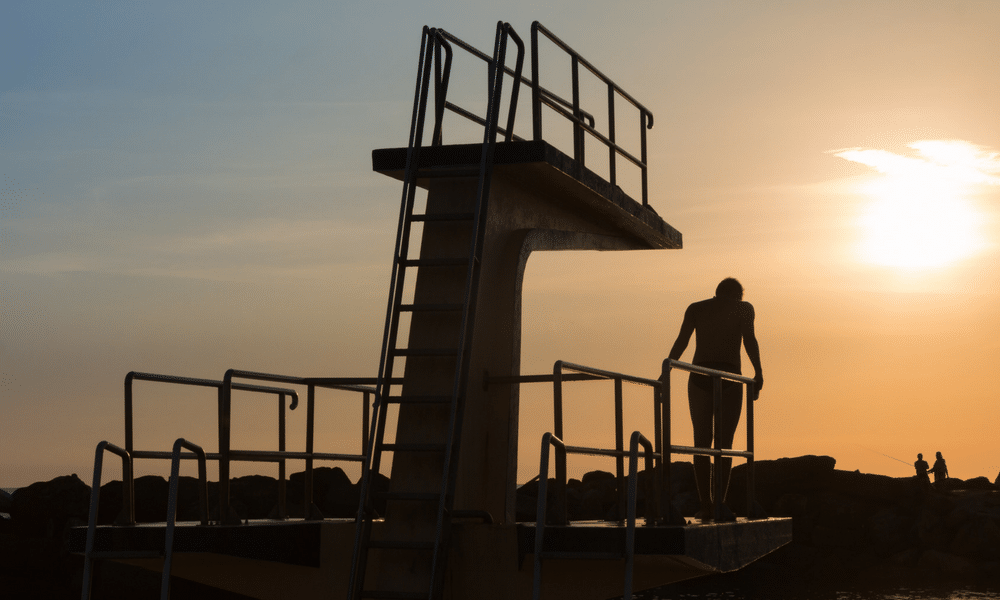 Via Ferrata
Rock climbing is one of SportsCover Direct's biggest sellers, with a day on the rock face often excluded by insurers. However, so too is the slightly less risky sport of Via Ferrata.
Following a fixed route, with steel cables attached to the rock along the way, the sport has its home in the Alps. However, more and more Via Ferrata (Iron Road in Italian) are popping up all over the world.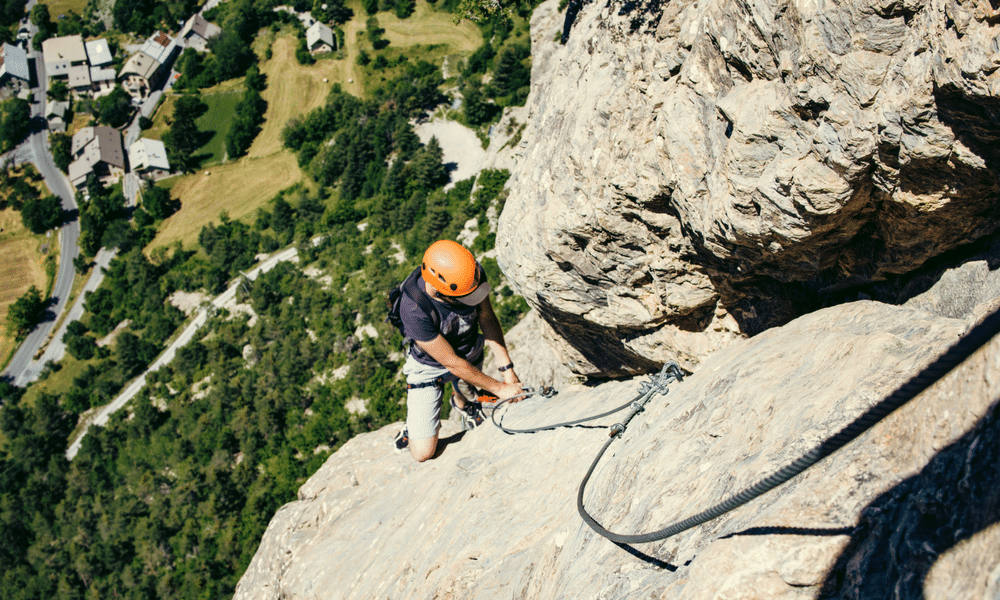 Bungee Jumping
It may be an 'extreme' sport, but bungee jumping is far less risky compared to a number of other sports. Jumping through a reliable operator with all the safety instructions adhered to, bungee comes in on the same risk level as gymnastics or running an ironman race.
Not only will a lot of travel insurance providers not include cover for bungee jumping, but if you opt to do a jump while you are overseas, cover can be hard to find (our Activity TopUp policy could be of use here).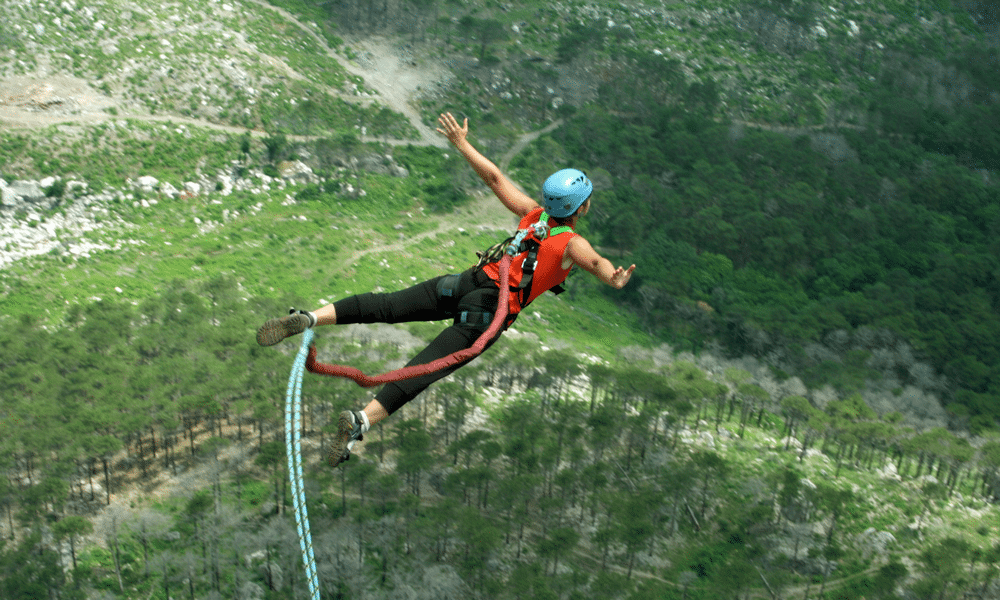 Competitive cycling events/mountain biking
The type of cycling or mountain biking that you plan to do while you are away can have a massive impact on your insurance. Some insurers will only cover road cycling, some will allow you to take part in races or events, while some will cover mountain biking, so long as it is not classed as 'Downhill mountain biking'.
Even at SportsCover Direct, we class downhill mountain biking as a much higher risk than road cycling, for example. Remember to always check that the specific sport is covered under your policy.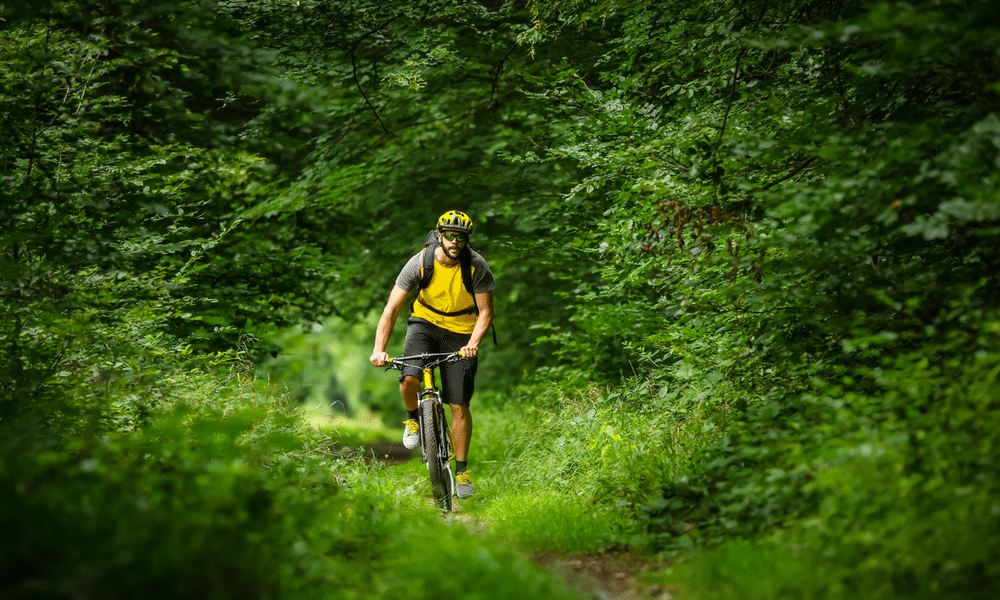 Who covers what?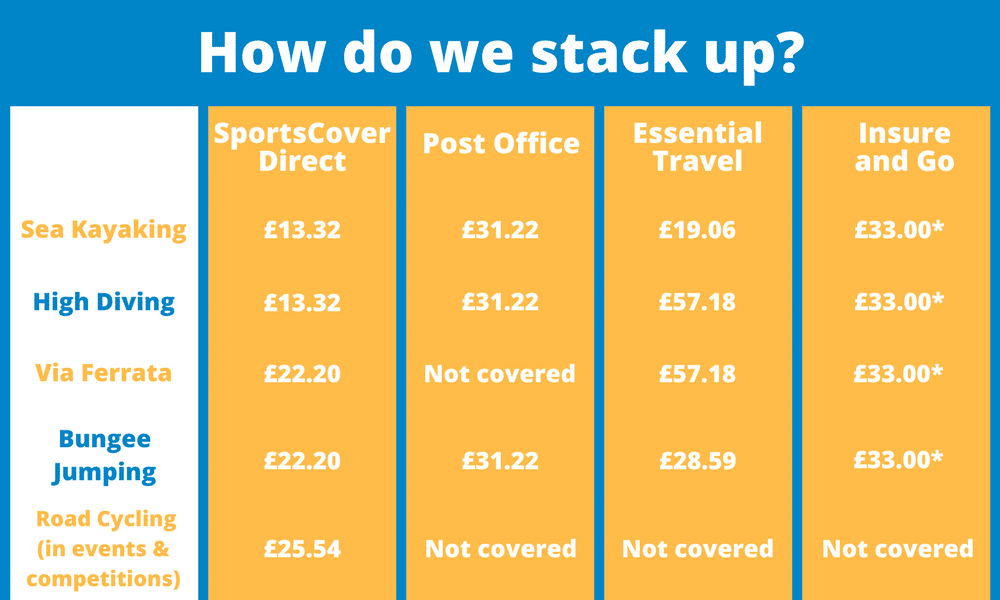 *Doesn't include cover for Personal Accident or Personal Liability
Prices based on a five day trip to Europe to undertake the named sports and are correct at the time of publishing.
Prices are reflective of comparable levels of cover between each brand. Post Office prices include the standard policy price, plus 'Additional Activities' cover where applicable, while Insure and Go prices include the 'Dangerous Activities' add-on. Essential Travel prices are determined by the type of 'Hazardous Activity' that you will be doing.
The levels of cover will vary from insurance provider to insurance provider, and from sport to sport. While we have included the three providers as a comparison, always check you are fully covered when you head overseas.
Get a quote for your Sports Travel Insurance today!