Mention extreme sports, and most people think of skydiving, abseiling or snowboarding, but for the most daredevil adrenaline junkies, being trapped into a rolling plastic zorb, jumping off jaw-dropping waterfalls or landing on the top of the world for off-piste skiing are a few of the extreme sports thrills. If you get your adrenaline fix by dicing with death, these ideas might be perfect for you.
About Us
We have been providing specialist Sports Travel Insurance for over 25 years to UK citizens. Our comprehensive policy can protect you to take part in over 500 different sports and activities in the UK and across the globe.
Slacklining is quite literally balancing on a strip of one-inch-wide nylon held tight between two anchor points being mountains, buildings or trees. Experienced 'slackliners' perform it alone, without any safety equipment, relying only on their agility and balance to save them from the 20 meters fall to death.
Keen to try? You can check the UK Slackline Association with a 'slack map' showing different groups across the country. Or you can easily take part in slackline events in various locations across the globe – Spain, Thailand, Brazil, Argentina, Mexico and South Africa to name just a few. If you love outdoor exercise in remote and wild locations then this is a sport that you should certainly become involved with.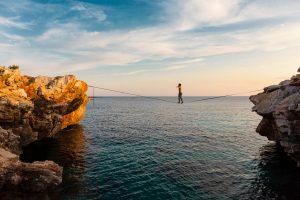 Zorbing or sometimes called globe-riding, sphering, or orbing, is another odd extreme sport where a person climbs inside a large inflatable ball called a "zorb" and then is rolled down a steep slope or across a body of water.
What makes zorbing an extreme sport is the inability to control the speed or direction of the zorb, flying down a hill at speeds up to 35mph. If you wish to experience the best of zorbing, you should head to its home country New Zealand to top up your adrenaline levels. Prefer to stay at home to do it? You can find out where it's possible to do it in the UK here.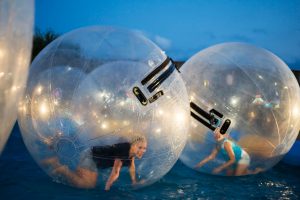 It might not be the ideal spectator sport, but once you try it yourself, you'll appreciate the extreme challenge that participants face when playing underwater hockey. The British Octopush Association claims it's "the supreme aerobic game" because "all other sports allow the participants to breathe as they play." Certainly, a definition which sticks to your mind.
Players wear a snorkel, mask, fins and water polo cap and carry in one hand a short stick or pusher for playing the puck. The real skill of the game is judging when to dive in and battle your opponents.
If you prefer group sports and battling opponents underwater, then  why not try one of the 107 Octopus clubs dotted around the UK.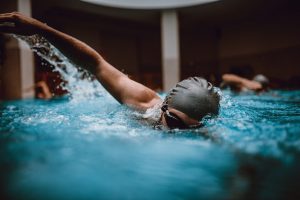 Heliskiing or helicopter skiing is the ultimate extreme sport, which as the name suggests, combines flying and skiing for a maximum adrenaline thrill . Skiers or snowboarders are flown to the top of hard to access mountain slope by helicopter, where they will ski or snowboard downhill in often untouched snow.
From experienced free-riders to off-piste first timers, heliskiing is incredibly popular among skiers and snowboarders, and some of the best spots in the world can be found in Alaska and British Colombia. It is currently banned in Germany and France, so make sure you pick a destination that allows it.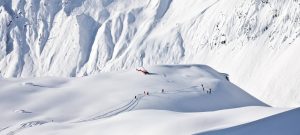 Some people claim it's the white water rafting but without the raft. You can enjoy jumps from different heights, flumes, vertical rock slides and awesome waterfall abseils. Depending on the canyons, the sport can be very easy or extremely tricky, though emphasis in canyoning is usually on aesthetics and fun rather than pure difficulty.
A large variety of canyoning spots are found throughout the world, and it can be easily enjoyed by people of all ages and skill levels.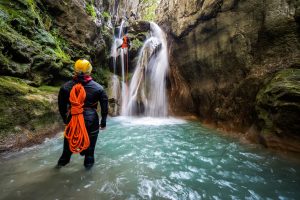 If you're thinking of adding a serious dose of adrenaline to your every day, these craziest extreme sports in the world are certain to do the trick.
Planning to escape on an action-packed family holiday in the UK? Then our TOP 10 FAMILY ACTIVITY HOLIDAYS UK IN 2021 might help you choose your spot.
Useful resources:
https://en.wikipedia.org/wiki/Main_Page