The EHIC card, or European Health Insurance Card to give it it's full title, has come the rescue of many a Brit taken ill abroad. But while the card undoubtedly has it's benefits, it is by no means the complete package.
According to research by MoneyFacts, 80% of Brits carry an EHIC card when they travel to Europe, but just 53% take out travel insurance. This leaves a huge number of people potentially open to massive expenses should they fall ill or suffer an injury.
So what is the EHIC card good for?
The EHIC card gives UK citizens discounted or free healthcare in all EEA countries plus Switzerland.
Effectively holders can claim treatment at state-funded hospitals and clinics when overseas without having to pay lofty fees. Should you become ill, or hurt yourself, you can visit a local GP safe in the knowledge that your EHIC card will bear most, if not all, of the financial burden.
However, state healthcare may not be free as it is in the UK, with many nations requiring citizens to pay a portion of the costs. The fees may not be massive amounts, but most people can certainly do without them.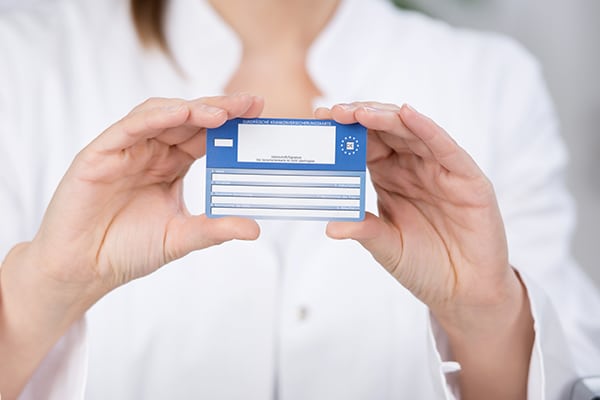 The problem
The issue of the EHIC card's shortcomings become more obvious when you take into consideration that you could be holidaying somewhere that a state hospital or doctor is not nearby. For example, you could be cycling around one of the small Greek islands, where there are only private health centres, or climbing deep in the heart of the Spanish countryside.
If you needed urgent care but were unable to get to a state hospital, the costs could fall onto you.
Even bigger costs
The real issue would be if a traveller were to seriously injure themselves whilst relying on an EHIC card.
The card offers no cover should you need emergency repatriation or mountain rescue. So for example, a skier who seriously injured themselves on a mountain in a remote part of the Alps could be facing a bill of tens of thousands of pounds.
First up there is the cost of the mountain rescue, this can reach £2,500 if a helicopter is needed. Then comes medical treatment – surgery on a broken leg in a private hospital can cost up to £6,000.
The biggest cost though comes when a traveller needs emergency repatriation. A private air ambulance returning to the UK from France costs in excess of £4,500 – all at the patient's expense.
The alternative
Of course, those people having to shell out £13,000 are few and far between. That figure is just an example of the potential fees for travellers relying on their EHIC card.
The alternative is ensuring you have comprehensive insurance in place, as well as being an EHIC card holder. A good policy would cover all of the above costs, and more. For example, an EHIC card would offer nothing in the way of protection when it comes to cancellations, lost or stolen baggage or public liability.
The ideal situation for anyone travelling overseas, in particular in Europe, is that they are carrying not only their EHIC card but also a valid travel insurance policy.
Do you need a quote on your Sports Travel Insurance? Click here to purchase your insurance in just a few minutes.