The popularity of climbing activities in the UK is on rise with statistics* indicating that around 1 million people take part in indoor rock climbing each year, with around 100,000 climbers being regulars at the sport.
Sports climbing also made its first debut at the Tokyo 2020 Olympics featured in three main disciplines: speed, bouldering and lead climbing.
With so many different types of climbing, it's no wonder there is a lot of confusion about what each climbing activity involves. Read this simple guide and take your climbing knowledge up a grade.
About Us
Whether you are trying sport climbing for the first time at home in the UK or abroad, it is important that you have appropriate insurance cover in place.  SportsCover Direct offer Sports Accident Insurance policy if you're scaling the walls in the UK, while our Rock Climbing Insurance will protect climbers travelling abroad to take part in the activity.
Rock Climbing is the sport or activity of climbing rock faces usually with the aid of ropes and special equipment. The below activities are the main types of rock climbing: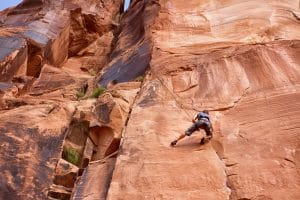 – Mountaineering (alpine climbing), also called mountain climbing is the oldest and most dangerous type of climbing, which requires a lot of skills to safely climb on rock, snow and ice. It's an outdoor sport which normally involves a set of activities such as walking, climbing and scrambling and usually requires the use of technical equipment such as a rope, a harness, crampons and ice axes.
– Trad Climbing or traditional climbing is where the first climber or the "lead" places their own gear on their way up the rock face and their partner or second climber removes it when they complete the passage. Trad climbing can be as short as the length of one rope or very long and involve multi-pitch climbing.
– Sport Climbing is another form of rock climbing where climbers rely on permanent anchors or bolts already fixed to the rock for protection. Sport climbing is also considered a type of free climbing, as the artificial means are mainly used for safety rather than ascending reasons and the emphasis here is on strength and endurance as opposed to risk and adventure.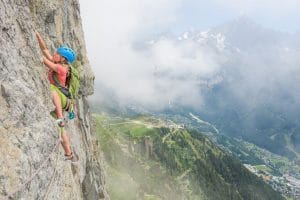 – Bouldering is a style of climbing usually practised on small rocks and boulders, but sometimes at indoor walls as well. The main difference between rock climbing and bouldering is the way these activities are executed and the protective gear in use. While you need a rope and protective gear for your rock climbing, with bouldering all you require is climbing shoes and a crashpad to break your landings.
 – Ice Climbing consists of ascending an iced surface, which may be a frozen waterfall, a glacier or steep ice gully. Like rock climbing, it is most often practiced outdoors using ropes and more serous protective gear such as helmets, mountaineering boots, crampons and ice axes. Climbers usually work in pairs similar to sports climbing while the first climber serves as an anchor while the other climbs, and vice versa.
– Via ferrata – often described as a bridge between rock climbing and scrambling, this sport involves ascending a route marked by a metal rail bolted into the mountain, that you clip into and use as a safety line for the duration of the route. This discipline doesn't require a previous mountain experience, but you need to be in a good physical condition with no fear of fights.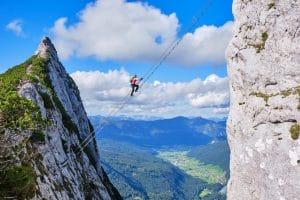 Depending on the technique a climber uses to ascend the route – either just the face rock alone or helping themselves with ropes – then there is a free climbing and aid climbing. This is often wrongly confused with "free soloing", which is very different and far more dangerous approach of climbing that is completely free, without a rope.
Other differentiations are based on the roping choice and how to set up your safety. In this category fall top or bottom roping, as well as lead and multi-pitch climbing which allows climbers to overtake much longer routes and ascend more challenging rock faces, sometimes even sleeping and hanging from the big rocks.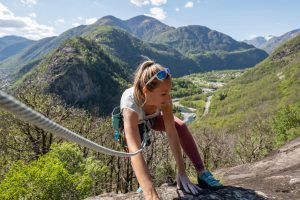 Haven't tried Sport Climbing yet? Read our blog How and Where to get into Sport Climbing?
*Resources: