It is important to warm up before practising any sport. Warming up before you play golf has the added advantage of helping to get the best results from your swing maximising your performance on the golf course.
Light walking is well known for having lots of benefits and is a great warm up in itself, however if you are able to complete a series of golf stretches before you pick up your club you might give yourself more of an advantage when you start playing and reduce the risk of injury.
Golf is a sport which uses a lot of upper body when practising your swing but also requires strength in your legs due to the distance covered when travelling across a golf course, so these are both important areas to focus on when stretching and warming up.
Here are a few examples of stretching exercises that you could do at the start of each round:
ABOUT US
With a 25+ year history, we are today one of the UK's leading online providers of Golf Insurance. Our policy, which is underwritten by AXA XL, will protect you should you accidentally injure someone or damage their property whilst playing, which then results in a compensation claim against you. It will also protect your golf equipment 24/7, 7 days a week, from the risk of it being lost, stolen or damaged.
Shoulders
By stretching and opening up your shoulders you can improve the range of movement in your swing.
Start by standing with your legs shoulder width apart and hold your golf club in front of you with one hand at each end.
Lift your club up and over your head, remembering to keep your elbows straight. Gently stretch your shoulders and move your arms back. You should start to feel some tension across your shoulders.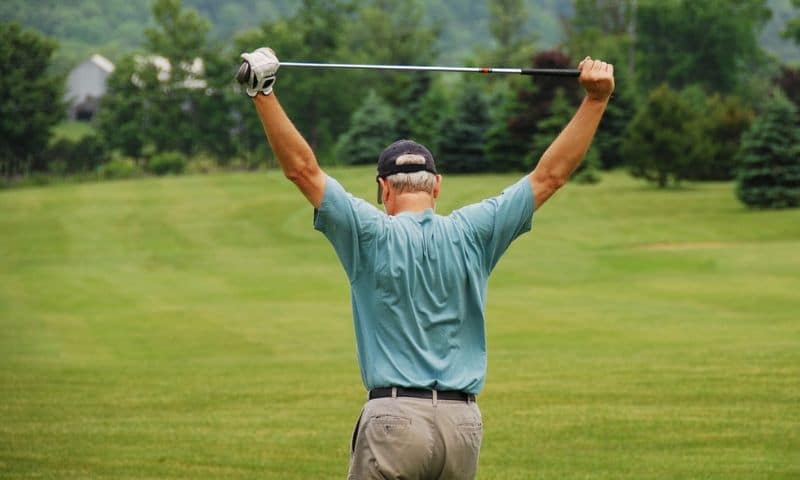 When you first start this stretch, hold for 10 seconds and then repeat. You can increase the amount that you hold this position as your body gets used to it until you can hold the position for 20 seconds and repeat three times.
Back
Stand straight with your shoulders back, gently stretch your hands behind your back and lock your fingers together. As you gently raise your shoulders and lift your arms, slowly bend forward. Make sure that you keep your back flat, not rounded.
Continue bending forward, stretching as far as you feel comfortable. It is important with all stretching exercises that you don't push yourself further than your capabilities as you can cause an injury. Repeat as you did the shoulder stretching exercise.
Quads
Your quads (Quadriceps) are a group of muscles along the top of your thigh. There is a fairly well- known exercise for stretching these that many athletes and sports players will do before playing.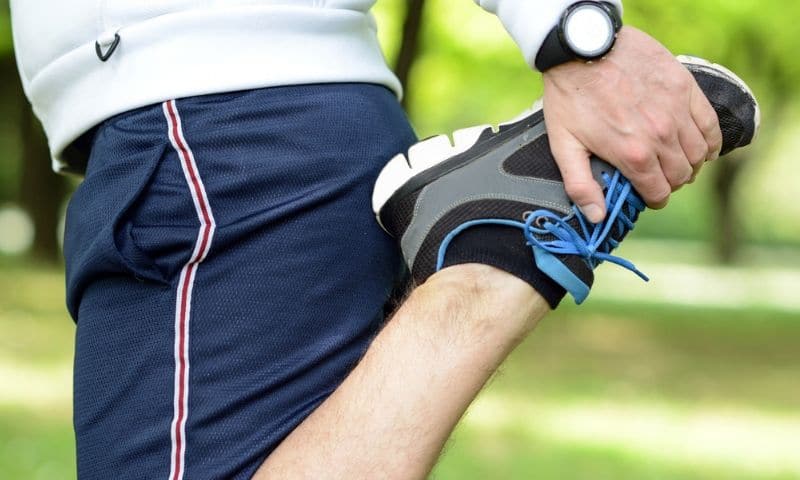 Stand on one leg, hold the other leg at the ankle and bend backwards to bring your foot up to your buttock. Hold and repeat as with the other exercises above. Don't pull on your leg, you should only stretch enough to feel a little tension, you don't want to pull a muscle!
Hips
Lunging exercises are a great way to warm up your hips, essential for a great golf swing. Get into a forward lunge position and drop the back knee down to the floor. Raise your arms and hands up in the air and look up. At the same time, gently push your hips down towards the floor.
You should feel a gentle pull but don't overdo it. Hold for 10 – 20 seconds as above and then do it on the other side.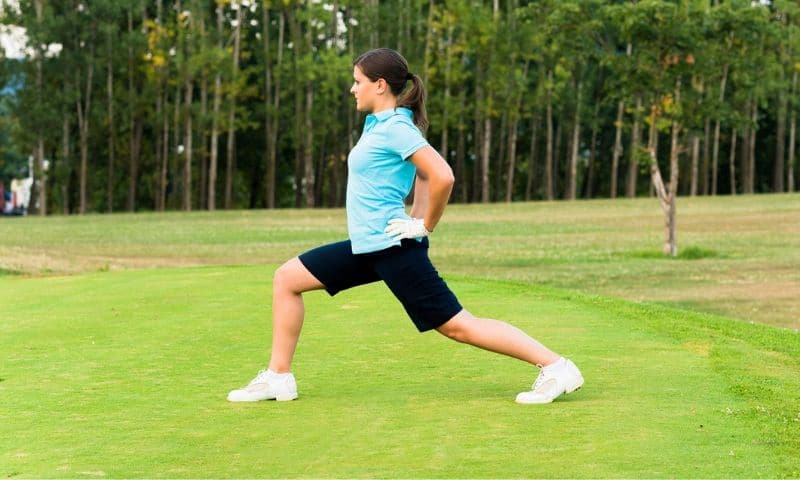 So, follow this golf warm up programme to get the best out of your performance on the course and to reduce the risk of injury.
Always remember to only push yourself as much as your body will let you. When you are completing your golf stretches, if you feel pain then you are pushing yourself too hard.