When you go somewhere slightly off the beaten path, you can discover a hidden gem which may become a firm favourite holiday destination in future. There are many debates online about which locations are truly underrated and which areas deserve much more praise and attention than popular destinations. 
To uncover which skiing, hiking and golf areas are underrated, we analysed 1,000s of comments on reddit which mentioned the word underrated in conjunction with a location and sport. We then totalled up the number of mentions to reveal the most underrated countries to visit for different sports across the globe.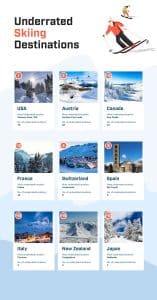 Where are the most underrated locations to go skiing? 
Ski holidays are favourites amongst many travellers, which is understandable as the trips are a combination of adrenaline mixed with natural beauty. 
When it comes to planning your next skiing holiday, the U.S. should be on your list if you're looking to discover a hidden gem. America was found to have the most underrated skiing destinations according to reddit users, with 75 different locations being named as underrated. 
The most underrated area in the U.S. (and the world) is Stevens Pass. Fans of the Washington State ski area wrote on reddit that it is "probably the most fun mountain" they've skied, with other strengths of the area being its snow and terrain. 
Austria is the second most underrated ski country in the world and takes the number one spot in Europe thanks to its 16 underrated locations. With a long and lavish snow season, it's no surprise it ranked so highly amongst reddit users. The Serfaus-Fiss-Ladis area is the most underrated destination in Austria. Fans of the location cite its 200 km runs and food options as the top reasons why it's worth a visit. 
In joint third place are Canada and France, both with 14 underrated locations. Despite being the second-largest ski resort in Canada, Sun Peaks is still the most underrated location according to reddit users. It has 137 named trails which span across three mountains – plenty of fun for everyone. 
The most underrated location in France was revealed to be Flaine. Located in the northern French Alps, skiers can follow the mountain's natural contours across 64 ski runs for a thrilling ride!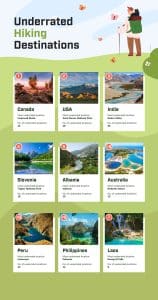 Where are the most underrated locations to go hiking?
If you want to be close to nature, but have a more relaxing holiday, hiking may be the perfect option for you. A walking holiday has the dreamy mixture of fresh air, exercise and views of nature. 
The country which has the most underrated hiking destinations is Canada, with a total of 31 areas being mentioned on reddit. The area which was featured the most in reddit comments and threads was Hopewell Rocks. Located on the shores of Bay of Fundy, the rocks can only be seen at low tide, so hikers need to plan their visit at the right time. 
The U.S. is close behind as the second most underrated country for hiking with 29 underrated locations. The Great Sand Dunes National Park appeared in the most comments. Despite having over 600 thousand visitors in 2021, many users of the park believe its natural beauty is one of the reasons people should visit. 
India is third with 20 different areas being listed as underrated on reddit. In particular, Northern India received many mentions, with Nubra Valley being crowned the most underrated area for Hikers in India. Located 10,000ft above sea level, Nubra Valley offers some of the most beautiful scenery in the country, famous for its stunning lakes, ancient monasteries and apricot orchards.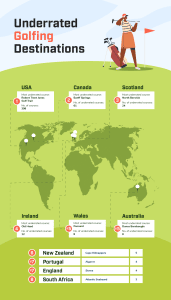 Where are the most underrated golf courses?
If you have caught the golfing bug, a holiday dedicated to playing your favourite sport is just around the corner. There are courses all over the world, from Portugal to Canada, and whether you're going away with friends or family there are many things to consider when booking a golf holiday. 
According to reddit users, the U.S. is the most underrated country in the world for golf – a staggering 398 different golf locations were listed on reddit as underrated with the Robert Trent Jones Golf Trail (RTJ Golf Trail) coming out on top. Situated in Alabama, the RTJ Golf Trail has tree-lined fairways and views golfers can soak in whilst enjoying a game. 
Canada is the second most underrated location for a golfing holiday, with  Banff Springs being one of the mentioned courses. Surrounded by mountains and picturesque greenery, the course is arguably one the most beautiful in the world and makes great use of its setting by funnelling tee shots onto stunning backdrops. 
Scotland – famous for golfing – came in third place with 24 different underrated courses in the country. The one that came out as most underrated was North Berwick. Founded in 1832, this course is the 13th oldest golf club in the world and offers golfers the chance to enjoy stunning sea views whilst playing one of their favourite sports. 
Taking a sporting trip? 
Sports Travel Insurance differs from basic travel policies as it covers you whilst participating in a large range of sports abroad, which in most cases would not be covered under standard travel insurance policies. 
You can also get specific insurance for the sport you are travelling for. For example, golf travel insurance covers you if you get accidentally injured or require medical assistance whilst playing golf overseas. It also includes golf equipment cover, so if you're travelling with your clubs you don't have to worry about them getting lost or broken. 
It's also important to remember that some travel insurance policies exclude skiing, snowboarding and other activities on the slopes. As the risk of getting injured during skiing is high, ski travel insurance is important for protecting you against the costs of receiving medical treatment. 
Although hiking may be a relaxing idea for a holiday, it still comes with many risks. The higher you intend to trek, the higher the risk group you fall into. Whether you're climbing a mountain, or hill walking there is still an element of danger with common injuries including falls, twists, and sprains so it's important to be covered against a potential injury. 
Methodology: 
To uncover which destinations are the most underrated across the world, we scraped popular skiing, hiking and golf subreddits for all comments and threads which used the word underrated. 
We then totalled mentions of all destinations and locations, taking into consideration sentiment and tone. The areas which were commented the  most were rated the most underrated. 
All data correct as of January 2023. 
Seed List: 
https://www.reddit.com/r/skiing/ 
https://www.reddit.com/r/hiking/