In a recent blog we explained the difference between canoeing and kayaking and also looked at the different types of kayaking that you can try, such as sea kayaking or touring.
Now, British Quadrathlon Champion (Swim/Bike/Kayak/Run), Helen Russell, shares her five top tips on kayaking for beginners or those looking to give the sport a go.
1. Have some lessons
Kayaking is easy, right- you just get in and paddle! Well not so fast-it's not quite as easy as it looks. It can be frustrating to get on the water and just go around in circles, or even worse, capsize.
The best way to stay safe and learn the basic skills is to join in with a lesson or taster session. Lots of kayak clubs or boat hire companies to have taster sessions and not only is this the safest option but you will be taught the technique of good paddling. Some clubs will actually start you out on an ergo indoor kayak machine, which whilst not as exciting as getting straight on the water, is the perfect setting to learn the correct paddle action that will help you stay upright.
The Go Paddling website, run by British Canoeing has information on where to find classes/taster sessions near you.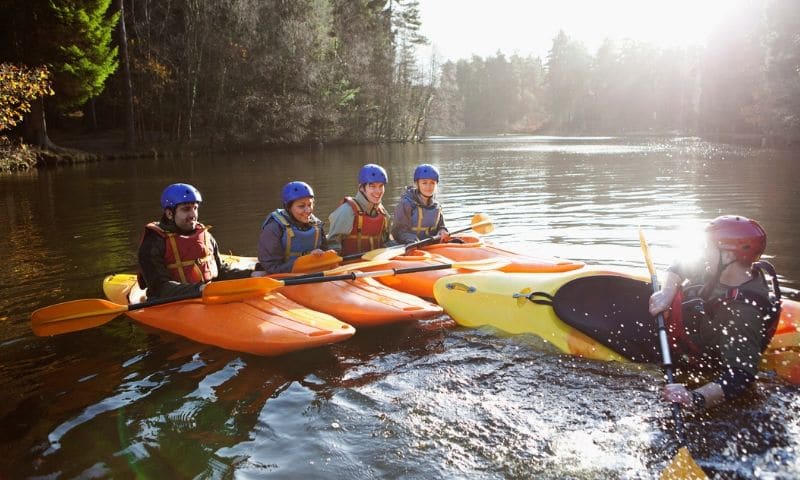 2. Develop your core
The first aim when starting out is, of course, to stay upright! You stand a better chance of this if you have good core stability. Balance exercises on a stability ball or Pilates are a great way of developing your core.
When I first started kayaking I didn't realise that there is a variety of stability in kayaks. As kayakers get more proficient they will progress to narrower and more lightweight kayaks which are faster but more unstable. Make sure you chose the correct one for your ability. The good thing about going to a taster class or lesson is that you will be put in a suitable kayak and if the club has a variety of boats in its clubhouse you can progress through the stability as you improve.
Once in the kayak try and think about the centre of balance – sit in the middle of the kayak and hold the paddle the same distance from each end. Think about your posture – sit up tall, rather than slouching and look forward, as this will help you avoid capsizing.
3. Dress appropriately
Make sure you dress for the conditions. As a beginner, you are more likely to fall in the water so wear waterproof clothing. It's a good idea to wear some kind of footwear, either surf shoes or neoprene socks, as these will protect your feet if you fall in. There is often debris or stones on the bottom of rivers and lakes and it is easy to cut your feet when getting out.
Beginners should always wear buoyancy aids. As a good swimmer, I questioned the necessity of this when I first started but the aid isn't to help you swim but rather keep you afloat if you knock yourself out on the kayak when capsizing!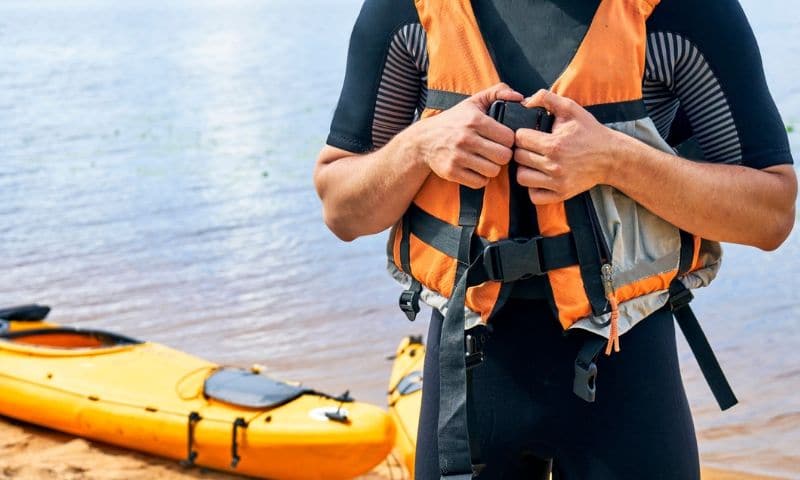 4. Have company
When starting out always paddle with someone, preferably someone that is experienced. The water can be unpredictable and you can't see what lies beneath the surface, so play safe and either paddle with a partner or with a group at a club or in a class.
Anyway, getting out on the water is more fun when you have someone to share the views and laughs with!
5. Stretch afterwards
If you are new to kayaking you will be engaging muscles that you may not have used in a while. Also sitting down for a period of time means that your muscles may have become slightly restricted and tight. Therefore make sure to stretch afterwards to reduce the chance of soreness, or even worse, injury.
Lots of people think that kayaking is all about the arms but it is actually a whole-body workout as you also use your torso to rotate and legs to push against the footrest of the kayak. Therefore stretch both your upper body and legs.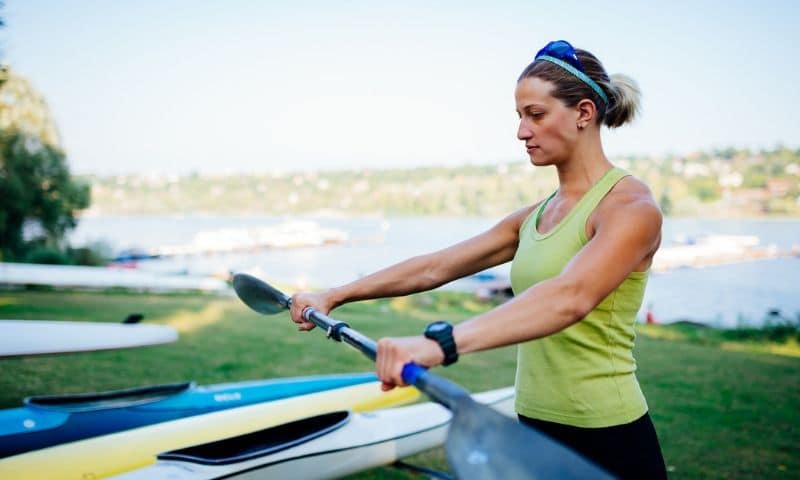 Whether you are trying kayaking for the first time at home in the UK or abroad, it is important that you have proper insurance cover in place. SportsCover Direct can help with their Sports Travel Insurance as well as Kayaking Insurance protecting kayakers abroad, while their Sports Accident Insurance policy is the one for you if you're taking the plunge (hopefully not literally) in the UK.
About the author: Helen is the current overall British Quadrathlon Champion and British Quadrathlon Trophy Series winner. She is also the World Cup Series winner and the World Quadrathlon Champion in both sprint and middle distance in her age group. Before turning to quadrathlon, Helen was age group World and European Duathlon champion and European Triathlon champion. In 2015 she was part of the One Day Ahead team, which raised £1m for Cure Leukaemia by riding the entire route of the Tour de France one day ahead of the pros. You can follow her on Twitter via @helengoth