Kayaking is a great alternative way to explore the world – we've picked out some of our favourite locations to do just that from the water!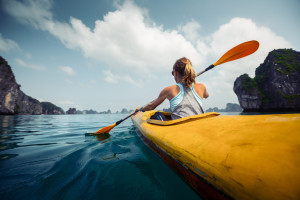 5. Johnstone Straight, Canada
If you don't mind being joined by one of the largest species of mammals on the planet, then this is the place for you to go kayaking. This 70-mile long stretch of water in Vancouver is home to Orca's or killer whales as they are better known making it the best place in the world to view them in their natural habitat.
4. The Selinda Slipway, Botswana
It may not have Orca's but being in the heart of a nature reserve, its got a lot more! Over 300 species of bird and if you're lucky you may even see elephants, buffalo and antelope! Kayaking is a truly magical way of seeing what Africa has to offer!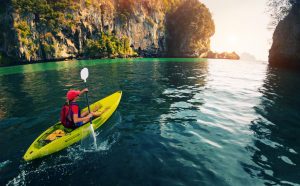 3. The Amazon, Ecuador
It may be home to the largest river in the world but it also homes a system of lagoons, rivers and waterways within the rainforest making it the perfect place to explore. Being within the Amazon rainforest you are not short of an animal or two to see whilst kayaking, if your lucky you may get a sighting of river dolphins, tapirs, caimans, anacondas, ocelot or piranha just to name but a few. Not to mention the 515 species of bird you may come across!
2. Baja, Mexico
There are no clearer waters to kayak on that those of the Sea of Cortez in Mexico. The sandy beaches and turquoise waters make this the perfect destination for idyllic scenery and whale watching!
1. Glacier Bay, Alaska
This national park has it all; rainforest, coastlines, snow-capped mountains and more! There is nowhere better to experience such a vast array of scenery. As the name would suggest, the most impressive is the Glaciers which the waterway is lined with. Paddle slow to make sure you take in all of this awe-inspiring landscape!