Escape on an action-packed family holiday and explore the adventures that the UK has to offer. Whether you choose to go kayaking in Pembrokeshire, abseiling in the Lake District, surfing in Cornwall, mountain biking in the Peak District or horse riding in the Brecon Beacons, you will be amazed by the abundance of outdoor family activity holidays in the UK. Here is our list of the top 10.
We have been providing specialist Sports Travel Insurance for over 25 years to UK citizens. Our comprehensive policy can protect you to take part in over 500 different sports and activities in the UK and across the globe.

1. Horse Riding from Coast to Coast
There are hundreds of great places to ride in the UK. Gallop through the most famous scenic areas from the Lake District in England to Scotland, the Brecon Beacons in Wales, the private estates and historic villages, beaches, meadows and rural lanes, and meet fellow riders on the way. You can choose the duration of your trip as well as your ability level. It is a perfect holiday for families with older children (10 years upwards) if you would like to make the most of it.
If you are going on a horse riding holiday with your family, don't forget to pack your Horse Riding Travel Insurance.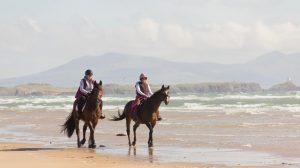 2. Sailing Holidays
Sailing away in clear waters, soaking up the sunshine and discovering new places are just a few of the things you can enjoy on a sailing holiday around the UK. Whether you are a newbie on your first trip or an old hand who already knows the ropes, you can find a sailing holiday that suits your needs. From the luxurious seaside resort of Salcombe, through the iconic beach towns of Dorset to the rugged Kyles of Bute in Scotland there are hundreds of beautiful places waiting to be explored.
If you are going on a sailing holiday with your family, don't forget to pack your Sailing Travel Insurance.
3. Rock Climbing
With a huge diversity of rock types and world-class climbing venues, the UK is the perfect place for your family to learn, practice and improve their climbing skills. Whether you choose the limestone sea-cliffs in Portland, Pembrokeshire and Swanage or the gritstone escarpment ridges of the Peak District, you can be sure that each one of you will have a memorable time.
If you are going on a rock climbing holiday with your family, don't forget to pack your Rock Climbing Travel Insurance.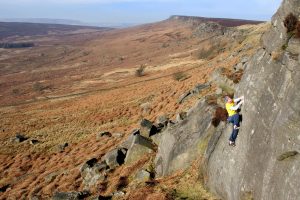 4. Cycling
If you are looking to make the most of the British countryside, cycling holidays could be your best choice. You will have the chance to explore the UK from the South of England right up to the Highland Coast. Most cycling holidays run from March right the way through October, giving you the opportunity to make most of the better weather. Cycling for softies offer a self-guided family holiday for 3 days starts from £313 per person and includes accommodation, food and luggage transfer.
If you are going on a cycling holiday with your family, don't forget to pack your Cycling Travel Insurance.
5. Adventure Activities in Pembrokeshire Coast, Wales
This is a perfect chance to pack plenty of adventure and spend time together as a family while exploring and discovering the magic and wonder of the wild North Pembrokeshire Coast. Surfing, coasteering, half-day hikes and kayaking are among the activities on offer. Whichever activity you pick, you're sure to leave with extraordinary memories, feeling inspired and reconnected!
6. Water Sports in Lake District, Cumbria
With the Lake District claiming to be England's adventure playground and its inexhaustible list of activities, we are certain there is something exciting for every sort of traveller. From ghyll scrambling, canyoning and hydrospeeding to kayaking, paddle boarding and abseiling you can test your mind and muscle. Responsive Travel offer 7 days family activity holiday and their prices start from £655 per person, which includes flights, food, accommodation and activities (children 8-13 years from £375).
If you are going on a water sports holiday with your family, don't forget to pack your Water Sports Travel Insurance.
7. Hiking Holidays
Walking holidays are an incredible way to explore the UK's rich cultural heritage and gorgeous landscapes with a guide or under your own pace. If you are looking for a dramatic coastline take in the Dorset or Cornish shore. Or you might have a particular desire towards mountain trails – if that's you then pick the Scottish Highlands or Snowdonia. Then for a picture-postcard valleys visit the Lake District and look out over the patchwork colours of the Shropshire moorlands and Peak District.
If you are going on a hiking holiday with your family, don't forget to pack your Trekking Travel Insurance.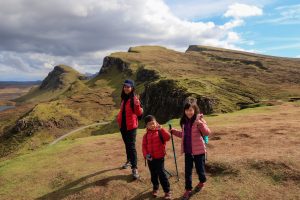 8. Surfing Holidays
If you are looking to catch some great waves then you may not need to go to Hawaii, Australia or Bali. The British weather may not be so hot and the water not so warm, but there are hundreds of surf beaches and coastal scenery that are nothing short of amazing. So, grab a board, wetsuit and a sense of adventure and head to Newquay (England), Port Neigwl (Wales) or Pease Bay (Scotland).
If you are going on a surfing holiday with your family, don't forget to pack your Surfing Travel Insurance.
9. Kayaking Holidays
Whether you are trying kayaking for a first time or you are an experienced kayaker looking for action, you are spoiled with choice in the UK. From calm Scottish locks to white water adventures, and even coastal kayaking adrenaline you can pick a holiday that is right for your family. If you want to learn the best way forward with your kayaking and paddling technique, join some paddle tuition session for a fun and safe time.
If you are going on a kayaking holiday with your family, don't forget to pack your Kayaking Travel Insurance.
10. Golfing Holidays
It's always hard finding a destination which will please the whole family, but when you have to include golf into your trip, it gets even harder. The good news is there are plenty of family friendly golf destinations in the UK. Formby Hall Golf Resort and Spa (Liverpool), Bovey Castle (Devon) or Dukes Meadow (London) are only a few of the venues with activities and amenities which everyone can enjoy. 7 nights at the Formby Hall Golf Resorts start at £254.57 per person and includes bed and breakfast.
If you are going on a golf holiday with your family, don't forget to pack your Golf Insurance.
If you would rather be cycling than sunbathing, searching out peak trails rather than beach spots, then you might have picked one of our top 10 activity holidays. Whether you choose to go hiking in Snowdonia, try your hand at surfing in Cornwall or find a mythical creature by kayaking in the Scottish Highlands lochs, UK might be the perfect place to enjoy a family holiday. Your kids may not get their face painted but they will remember their adventure for the rest of their lives. 
Sources:
*Illustrative pricing based on a family of 4 with two adults and two children. Prices correct as of February 2021.
https://www.responsibletravel.com/
https://rockandsun.com/climbing-locations/uk/
https://www.booksurfcamps.com/news/surf-spots-united-kingdom