Whether it is decorated with cycling memorabilia, at a key place on a popular cycling route or just somewhere to meet other riders and watch cycling on TV, there are now plenty of options for somewhere to grab a coffee for keen cyclists. Here is a guide to 10 of the best.
Before we start, however, don't forget the importance of cycling insurance. SportsCover Direct offer a range of insurance options, so that you can have peace of mind and focus on your cycling.
A café bar with bike workshop, this trendy café is a popular spot for cycling enthusiasts in East London. There is the option to enjoy a coffee or beer and watch cycling races with fellow fans, surrounded by cycling paraphanalia. There is a branch on Old Street and another in Hackney, so there are even more opportunities to socialise with like-minded cycling fans.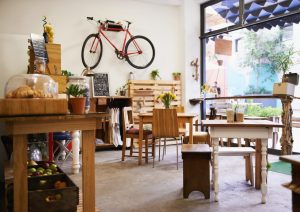 A social enterprise promoting cycling, this café really does offer it all. There is coffee and cake if you simply want to relax plus a workshop where you can work on your bike. Velocity also provides courses in the evening enabling you to learn new skills.
This site is a great venture providing the local community access to all things cycling including offering self-guided rides. It's location on the coast to coast trail also makes it perfect for cyclists looking for a rest point.
Designed as a more aspirational venue, the Rapha Cycle Club was set up by the Marmite bike brand. It offers a great menu with a good stop off point for cycling enthusiasts right in the middle of Soho.
A long-established venue opened in the early nineties, Mud Dock offers views across the harbour. Set over 2 floors, this iconic bike shop and café comes complete with a workshop, bike shed and large outdoor terrace. With an extensive menu, it is now popular with more than just local cycling enthusiasts, you can even get married there!
Also known as 'The Spotty Café' this is a popular venue for both cyclists and walkers. Home cooked food from local producers is served in a cosy environment welcoming children and dogs and  supplying a library of newspapers and books to browse. In 2014 the outside was
painted in polka dots to celebrate the Tour de France cycling past their door!
Although their primary business is selling bikes, Maison du Velo offers bike sales, builds and hires with a café facility alongside. Describing themselves as Road and Coffee Specialists, this buzzing venue really does provide a one stop shop for all things cycling.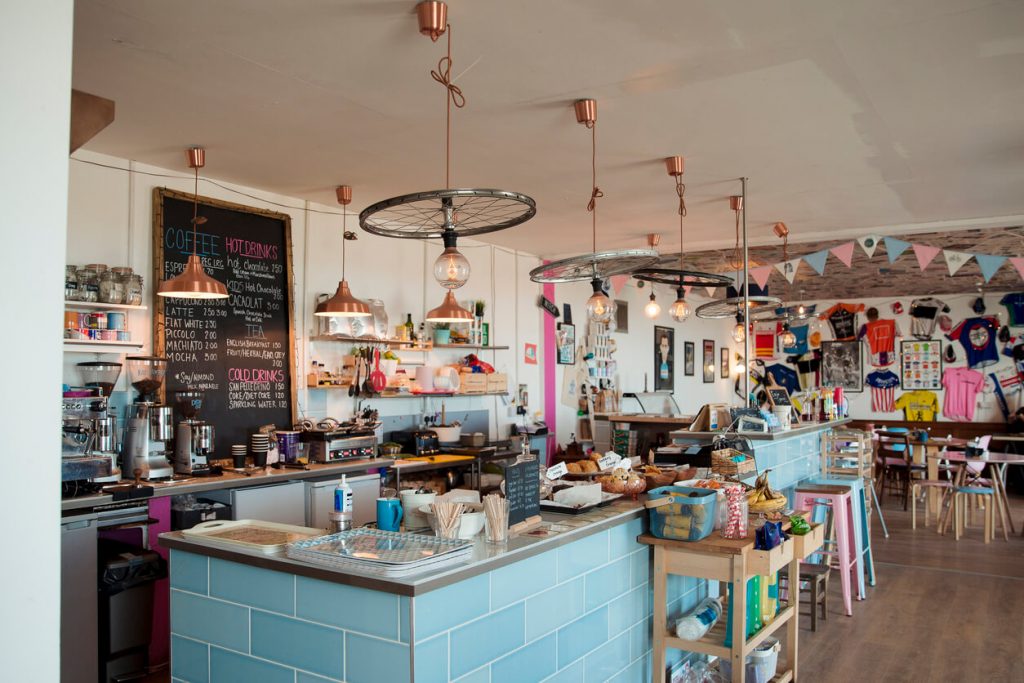 The first cycle café in Brighton, this café has become a popular destination within the Level Park development. Incorporating a cycle maintenance centre, coffee and food, Velo Café appeals to many within the local community, not just cyclists!
Located directly on the National Cycle Network, Route 2 offers the perfect stop off for Cyclists. Serving breakfast, light lunches, delicious home-baked foods, afternoon tea, and nibbles or snacks, Route 2 is also licensed so ideal if you fancy a pint or glass of wine when cycling the Exe Estuary Trail.
A new cycle friendly café and social space, Common Ground is located deep in Oxford University heartland. It offers a great destination for students and non-students alike though, providing a range of refreshments with a free drop-in bicycle workshop for paying customers.
So, when you are planning your next cycle ride, why not pay one of these great cafes a visit?