From Facebook to Instagram, social media is a great way to keep up-to-date with friends and family. In addition, many of us go to these apps to find tips and tricks, especially for travel, and new reports suggest that TikTok is slowly taking over Google as a search engine, especially when it comes to Gen Z. 
Over one billion videos are viewed every day on TikTok, with users sharing their real-life experiences and expertise. We wanted to use these videos to uncover which locations in the world travellers should add to their bucket lists for 2023. We analysed mentions of cities, countries and sports when combined with travel on TikTok to see which are getting the most views.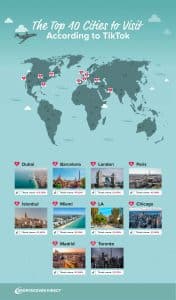 Top 10 must-see cities according to TikTok
The number one city you should have on your travel bucket list is Dubai according to TikTok. With 105 billion views on the app, many fans of the city have shared their travel tips and experiences to help potential visitors. Dubai has something for everyone, there are Michelin-star restaurants for foodies, and it is home to the highest tennis court in the world, for those looking for a more active holiday. There are also many golf holidays in Dubai that you can go on if that is more to your style.  
Barcelona is the second must-visit city in the world according to TikTok with 74.9 billion views. The infamous Cathedral is a must-see and is advised by many TikTokkers to visit, as is watching a football match at Camp Nou. For those who enjoy taking part in sports and not just spectating them, they can participate in a game of football at many of the public fields across the city. 
Coming in third place is London, which has 51 billion views. The bucket-list activities that should be on your list according to TikTok range from visiting Big Ben to climbing the O2. One of the best ways to see the city is taking part in a cycling tour, which will let you take in as much of the city as possible and tick off as many items from your bucket list.  
A road trip across America may be in order, as three of the top 10 locations are based in the U.S. Miami, LA and Chicago are all vacation spots to visit according to TikTok. If you're unsure of what to do, travellers advise surfing along Miami Beach, visiting the Griffith Observatory in L.A. or eating a famous deep-dish pizza in Chicago.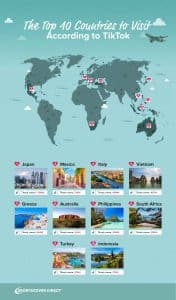 The top 10 countries to visit according to TikTok
Japan should be at the top of your list of countries to visit, on TikTok it has 1.78 billion views for travel-themed videos. Japan has some of the most exciting things to do in the world, from hiking the Kumano Kodo Trail to watching a sumo wrestling match in Tokyo. 
Mexico is the second country you should visit in 2023, TikTok videos suggest going to the colourful Guanajuato instead of the famous Cancun and popular activities include snorkelling, kayaking and swimming, so it is perfect for any travellers who are fans of watersports. 
In third place on our TikTok travel bucket list is Italy. In one video which has been saved 191 thousand times by users on the app, a traveller suggests visiting Puglia, Portofino, Venice, Cinque and Sorrento.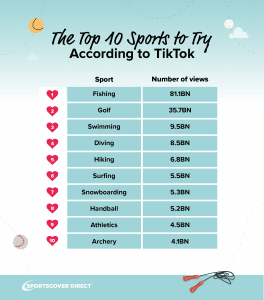 When it comes to sports, which should we be trying out in 2023?
According to TikTok, the most popular sport is fishing. It has 81.1 billion views on the app. The activity ranges from river to sea fishing. There is also deep sea fishing, however, this can be very dangerous so it's advised to buy insurance to protect you from any medical expenses you may face if you are injured whilst taking part. 
The second sport you should add to your holiday bucket list is golf. There are many destinations around the world to take a golfing holiday, from Singapore to LA. When you are considering booking a golfing holiday there are many different factors you should think of, including budget and location. 
Swimming is in third place with 9.5 billion views on the app. There are many videos of people sharing their experiences of swimming in the dead sea on TikTok, and sharing tips on how easy it is to float due to the high volume of salt in the water.