The current individualised, achievement-based society in which most people have sedentary jobs and very busy daily schedules, and the therefore growing importance of staying healthy and fit, have had their influence on climbing becoming more and more popular.
Indoor climbing facilities allow people to get some exercise while doing a fun activity at whatever time suits them. Not surprisingly, new climbing facilities as well as bouldering walls are springing up in many towns and cities. More and more they are used not by climbers alone, but also by people that used to go to a regular gym.
Decades ago, most climbers had been introduced to climbing in the outdoors and then made their way indoors when climbing walls started to become popular in the early 1990's; using the gym as a training facility during periods of poor weather. This has turned completely the other way around. Nowadays most climbers get introduced to climbing via indoor climbing walls. After a year or two of climbing indoors, most of them would like to take the next step and explore opportunities for climbing outdoors.
The immense popularity of indoor climbing, has gone hand in hand with more climbing competitions, and adding to that, with the recent announcement of climbing as an Olympic Sport in Tokyo 2020, you could say that there is a shift from climbing being an outdoor, active, adventurous lifestyle towards climbing becoming a sport; with certain 'rules', measuring 'success' and 'failure', resulting in 'winners' and 'losers'. In line with this transformation from lifestyle to sport, more people want to improve their climbing and are looking for good coaching.
The emergence of climbing coaching
Given the growth of climbing as a phenomenon and the evolution from climbing as a lifestyle to a sport, the popularity of coaching outdoor climbing is completely normal and to be expected. For other sports it is not even a question whether or not to get coaching. There is football training, coaching and competitions for children of very young age. Everyone learns to swim from a teacher. And of course there are tennis coaches who teach how to play backhands, forehands, and move on the court. So we all need a climbing coach too! With climbing though some people still have this idea that climbers should figure it out for themselves. Which is in line with history, where people were introduced to climbing by their mates who taught them the necessary things to keep themselves safe, but after that it was everybody's own adventure and a process of trial-and-error in order to become a safer and better climber.
As a consequence, climbing coaching is still in its infancy. Much of the information people find or are taught about becoming better climbers involves training to get fitter and stronger. But for most people it is moving more efficiently and gracefully that they would benefit the most from. Plus, most people prefer to get better while climbing, rather than pulling on fingerboards. Which is why they go to the climbing wall in the first place – not a regular gym. Training movement is way more fun than just training the body!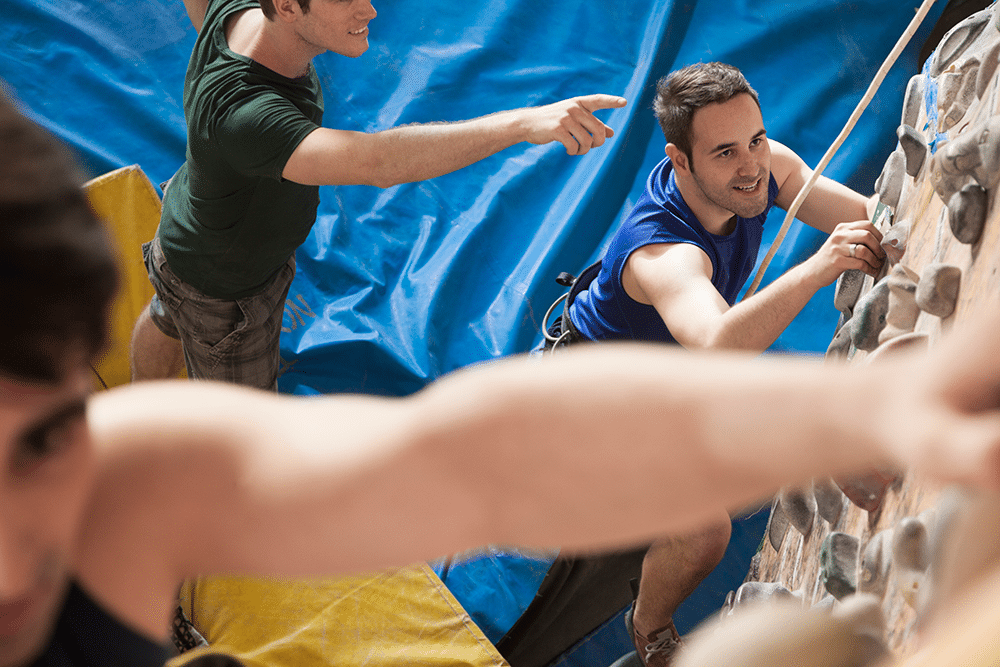 Moving on rock is very different to climbing on artificial walls so in outdoor climbing coaching new skills and more efficient ways of moving are introduced. There are experienced climbing coaches out there who have analysed climbing movement to the very fine detail. They have figured out how to move efficiently on rock. How to create the upward movement from the lower half of the body, conserving upper body strength as much as possible – saving it for the harder moves on the routes where it's hard to figure out an efficient solution from the legs. Following a performance coaching course will turn you into a more proficient and skilled climber. With better technique, you will save energy, will be able to climb more, with less injuries, and you will improve your grade. As a consequence, this opens up a greater number of possibilities and options when arriving at the chosen destination or crag.
Want to take a climbing course?
The Rock & Sun Performance Coaching Course is completely organised around improving people's climbing technique. Based on years of experience in climbing coaching, we developed a programme for the week which, if followed with discipline, will make you climb on average 2 grades harder by the end of it! Rock & Sun organises everything from airport pick up to airport drop off; transport and accommodation are included in the price. All clients need to do is book their flight and jump on it – we'll take care of the rest.
To find out about Rock & Sun's range of coaching courses and climbing holidays, click here.