Delicious recipes to celebrate Great British Game Week
As game shooting increases in popularity, across all age groups and genders, it is important to recognise the economic, environmental and social contribution it makes to the UK.
2018 marks the fifth year of the Great British Game Week. It runs from 18th to 25th November and is designed to promote the health, taste and environmental benefits of eating wild game. Gamebirds, such as pheasant and grouse, and venison are the most popular meats with woodpigeon and rabbit closely following.
Awareness of game meat is increasing amongst the general public and it is starting to appear beyond restaurant menus and specialist retailers to supermarkets and the kitchen table. The continued enjoyment of game shooting lies in respect for the animals and the safety of all taking part. Shooting insurance is required on all game shoots and there is a defined shooting etiquette to adhere to that is designed for the protection of both animals and people taking part.
Game meat is full of flavour. Venison is a great alternative to beef and pheasant and partridge can be used in place of chicken in most recipes. Game meat is one of the healthiest meats available as it is low in fat and cholesterol.
In recognition of the Great British Game Week, Sports Cover Direct have linked up with Arnaud Stevens, Owner and Head Chef of Plate Catering , to bring you 2 delicious game recipes that you could easily make at home.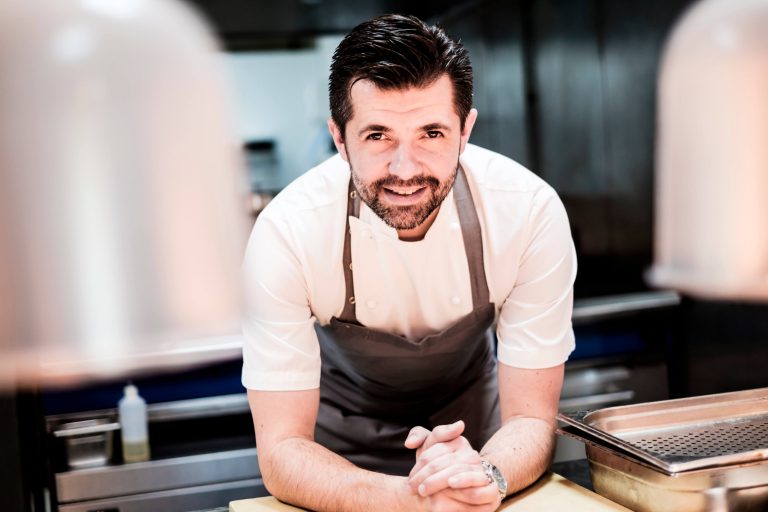 Arnaud is a classically trained chef and restauranteur running Plate Catering. He has over 20 years of experience in the catering industry and has worked alongside Gordon Ramsay, Jason Atherton, Gary Rhodes and Richard Corrigan. The Plate family is made up of a restaurant, bar and bakery in Old Street in London and event catering at luxury venues in the UK.
Growing up in Devon and spending summers in his mother's home town in France has heavily influenced Arnaud's cooking and restaurant.
• 4 tbsp vegetable oil
• 1 tbsp unsalted butter
• 2kg mixed game, diced
• 1kg diced sweet cured streaky bacon
• 1kg mixed cultivated wild mushrooms
• 500g frozen baby silver skin onions
• 1 bunch fresh thyme
• 1 tbsp sugar
• 1 litre chicken stock
• 1 litre veal or beef stock
• ¼ bottle of Port
• ¼ bottle of brandy
• 4 cloves of garlic
• Bunch of chopped parsley
• 1 packet of ready made puff pastry
• Flour your work surface and roll out your puff pastry to the thickness of a pound coin.
• Cut a circle of pastry slightly larger than the circumference of the pan you are using.


• Heat 2 tbsps vegetable oil in the pan, seal the game meat and bacon until golden brown on all sides. Strain the contents of a pan through a colander, reserve the meat.


• In a clean flat, round pan or casserole sauté the wild mushrooms with butter until golden brown. Strain the mushrooms through the colander.


• Heat another 2tbsps of oil in the same pan. Brown the baby onions, season with a good pinch of salt and sugar. Add the thyme. Strain the contents of a pan through the colander, reserve the onions.


• Deglaze the pan with the Port and Brandy, allow the alcohol to bubble and reduce by half.


• Then add back all the meat and vegetables from the colander, pour in the stocks and simmer for 2 hours on a very low heat. Add the chopped parsley, season and allow to cool.


• Lay the puff pastry circle on top of the cooled pot, crimp to seal


• Brush the pastry with egg yolk and bake at 170c / 325f / gas mark 3 for 18 to 20 minutes until golden brown.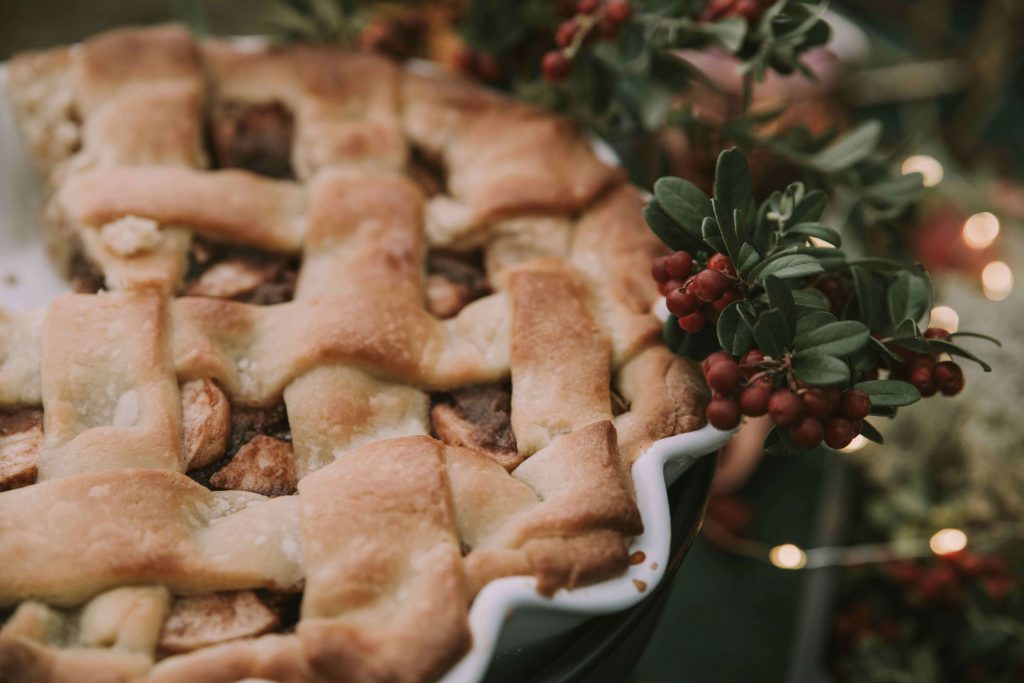 Venison Loin with white haricot beans & basil dressing
• 450g of venison loin (typically two loins)
• 4 rashers of good quality smoked streaky bacon cut into thin strips
• 150g White Haricot beans
• 2 cloves garlic chopped
• 6 sprigs of thyme
• 300ml chicken stock
• 1 tbsp olive oil
• 1 knob butter
• Leaves from 1 bunch of basil
• 1 x garlic clove
• 50g grated parmesan
• 150ml good quality olive oil
• In a large bowl add the beans, garlic and thyme then cover with water and cling film the bowl. Leave overnight in the fridge.

• Strain the beans from the water keeping the garlic & thyme, place into a pan and cover with chicken stock. Bring to a simmer and cook slowly until beans are soft (about 10 minutes).

• Remove the beans from the stock and set aside for later.
• Reduce stock on a high heat by 2/3 then leave to one side.
• Place all of the basil dressing ingredients into a blender and blend until smooth. Season with salt to taste. Leave at room temperature ready to serve.
• Preheat the oven to 180c/ 355f/ gas mark 4
• In a non-stick pan on a medium heat, add the tablespoon of olive oil and seal the venison loins until golden brown all over.
• Place into the oven for 4-6 minutes.
• Remove from the oven and allow to rest for 2-3 minutes.
• Whilst the meat is resting, cook the bacon until golden then add the beans and 100ml of the reduced chicken stock.
• Simmer for 2-3 minutes. Remove from heat, add a large table spoon of the basil dressing to the beans and a knob butter. Stir until butter has dissolved, sauce should have a glossy finish and lightly coat the back of a spoon.
• Taste to check seasoning, add more basil dressing if required.
• Place a large serving spoon of beans in the middle of each plate, carve the venison and serve on top of beans. Drizzle the remaining basil dressing over the dish.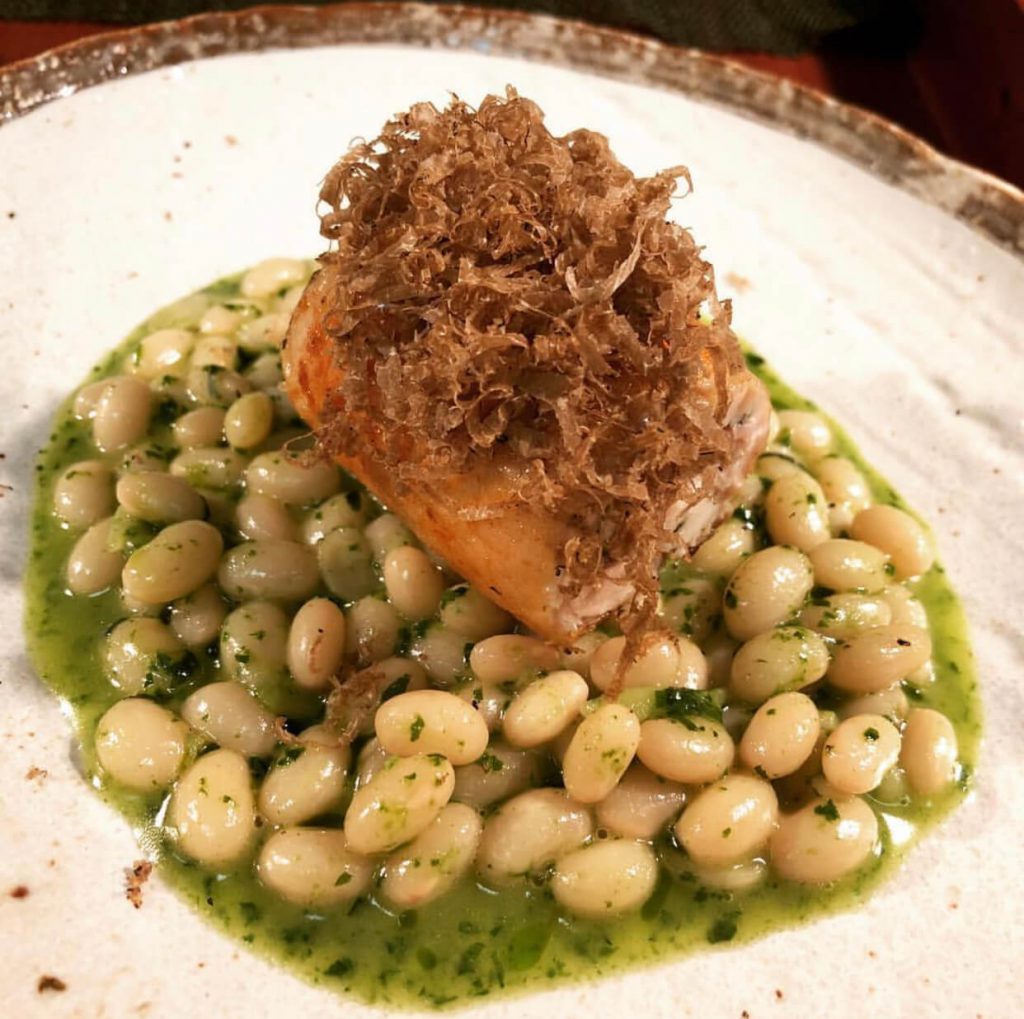 The continued enjoyment of game shooting lies in respect for the animals and the safety of all taking part. Make sure you have suitable insurance to cover you when you next go out in the field.