Heading off to the mountains for a skiing holiday can be a pricey trip to start with. But what happens when the unexpected derails even the best laid plans?
The simplest flight delay, or a mishap on the slopes resulting in a badly broken leg can leave holidaymakers facing bills of thousands of pounds.
As insurers, we know that accidents do happen. And when they do, there are many aspects that can add extra spend to your trip.
Many Brits will be holders of the European Health Insurance Card. While this will provide a discount to the state healthcare of the country you are in, it won't cover everything.
Should your skiing injuries mean you need to be flown home in a private air ambulance, the cost without skiing insurance falls directly on you. Considering the price for these starts at around £4,500, it's not an outlay everyone can afford.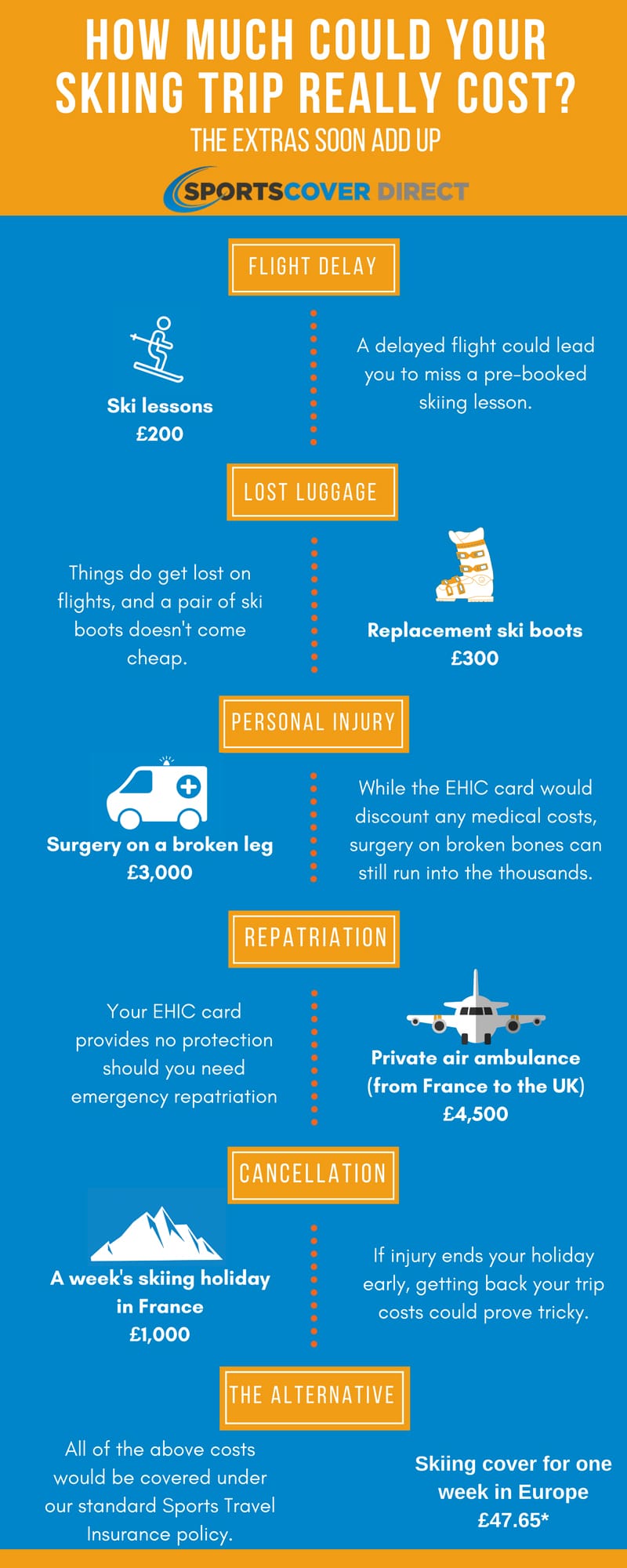 Of course, most people won't find themselves in this situation, but why take the risk?
SportsCover Direct's Sports Travel Insurance would cover you for all of the above costs, and more. Taking a week-long skiing holiday in France as an example, our Gold-level cover can be had for just £47.65.
For those that take more than one trip within a calendar year annual protection is available for just £152.99 too!
Taking risks probably goes hand-in-hand with those people who love hurtling down snowy pistes on skis or board. However, this is one risk that is not worth taking.
Problems do happen, and with hundreds of people every year claiming on their insurance for accidents whilst taking part in sport,particularly for skiing injuries, we've seen the costs involved too.
In January, SportsCover Direct will begin highlighting the biggest injury claims received to hammer home the amounts of money you could be liable for if you don't have the correct insurance. Keep your eyes peeled on the Blog pages of the website and our Twitter and Facebook pages for more info.