When it comes to sport, setting goals is a major factor when it comes to success. Former World Duathlon Champion Helen Russell describes how she approaches her goals and how that affects her sporting success.
This year I had two main goals for my first quadrathlon (swim/kayak/bike/run) season: to win the British Championship in May and win the British Race Series, which rewards consistency over the whole quadrathlon season. Coming from a triathlon background, I had only raced one quadrathlon before and started kayaking just last spring. The goals were ambitious but I knew that years of doing triathlons would give me a good grounding in three quarters of the race and over the years I had also learnt how to build mental strength that would help me achieve my aims.
There are many different methods of working towards your goals but I use a really simple one involving flip chart paper and post-it notes, which I'd like to share with you. Maybe it can help you achieve your own goals.
Set the right goals
At the end of my race season I take time to evaluate how things went, review some learning points and think about setting my objectives for the next season. The rest period, at the end of a sports season, is a great opportunity to reflect on the past year and begin to plan. Start to consider what your aims and goals will be for 2018, whether it is a particular race or sportive, getting a PB or doing Couch to 5K. Then you can start to plan the training you need to do to meet this goal. The goal should push you, so that you are motivated to work towards it but it should be achievable. There is no point in just setting yourself up for failure.
I divide my goals into three groups: Main Goals, Process Goals and Sub Goals. Last year I had two main goals 1) Win the British Quadrathlon Championship race 2) Win the British Quadrathlon Race Series title. These two targets were my focus and the reason I would be committing to hours of training through the cold winter months. I then had a number of process goals, which are goals to help you achieve your main goals. These can be any size goal, even really small.
My process goals were: keep kayaking through the winter, try kayaking on an indoor kayaking machine, take mountain biking skills lessons (some races were off-road), run cross country races in the winter and the smallest – wear in my new racing trainers (for some reason I liked the comfort blanket of my old trainers and had been putting off racing in new ones!).
Finally I had my sub goals, which were really my B type goals, so things I wanted to achieve but I wouldn't get hung up if I didn't. In the end I only had one sub goal, which was to be one of the point scorers for my running club in the local county cross country championships. I managed to achieve this and our team won the team gold medal!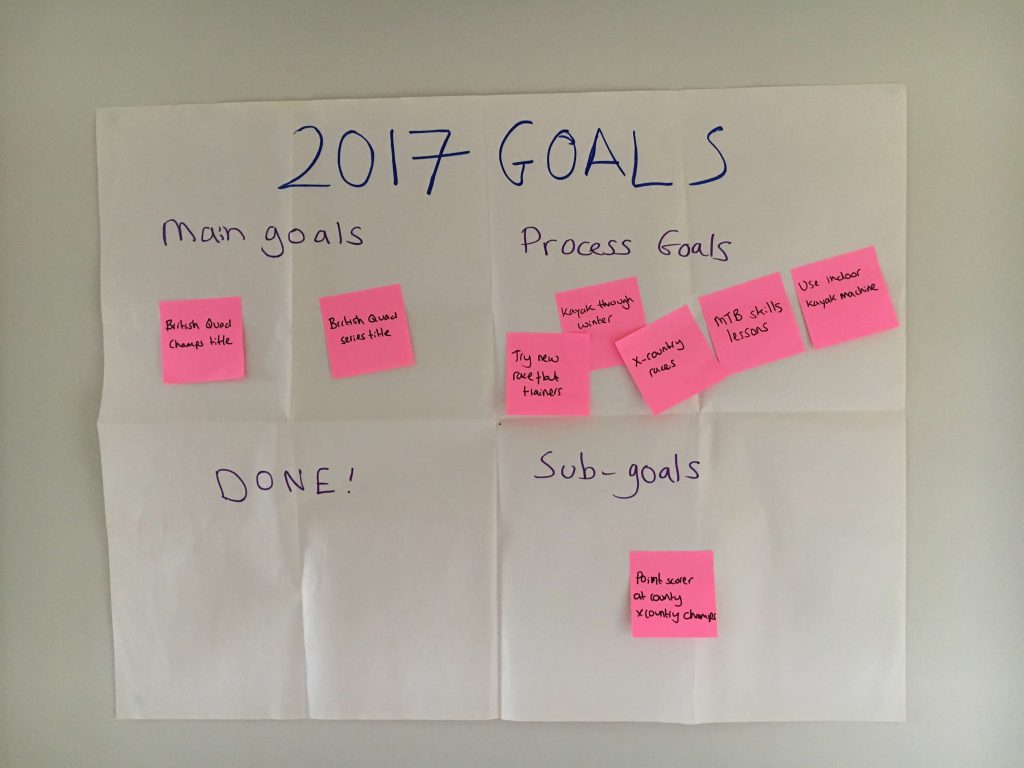 Evaluate
Once I have decided on my main, process and sub goals I write them on post-it notes – one goal per post-it. I then divide a piece of flip chart paper into four sections – one for each of the goals and then a DONE section and stick the post-it into the corresponding section. Obviously the DONE section is empty at this point – but not for long! I put the flip chart on the wall of my study where I would see it every day.
It didn't take long for me to start to achieve the process goals and I had the satisfaction of moving the post-its into the DONE section of the flip chart. This may sound very simple but the process of moving the post-its was very satisfying and a great visual reiteration of movement towards the main goals.
The chart also acts as a reminder of those goals that still need doing, rather than them just being on a to-do list in a closed notebook. If you aren't moving any post-its then it is unlikely that you will achieve your main goal, as these mini-goals are what will enable you to achieve your season's ambitions.
If this is the case then you might need to change your aims. There is nothing wrong with this, as something may have happened that prevents you from going for the goal at this point in time, or you may be offered a different opportunity that you just can't say no to. This happened to me in 2015 where my main aim was to win gold at the European Aquathlon Championships but that all changed when I was offered a place on the One Day Ahead team, which cycled the entire route of the Tour de France for Cure Leukaemia!
Both my main goal and process goals changed and the post-its changed from swimming and running related ones to just cycling ones! You need to be focused to achieve goals but also flexible and open to change direction if that is the best thing to do.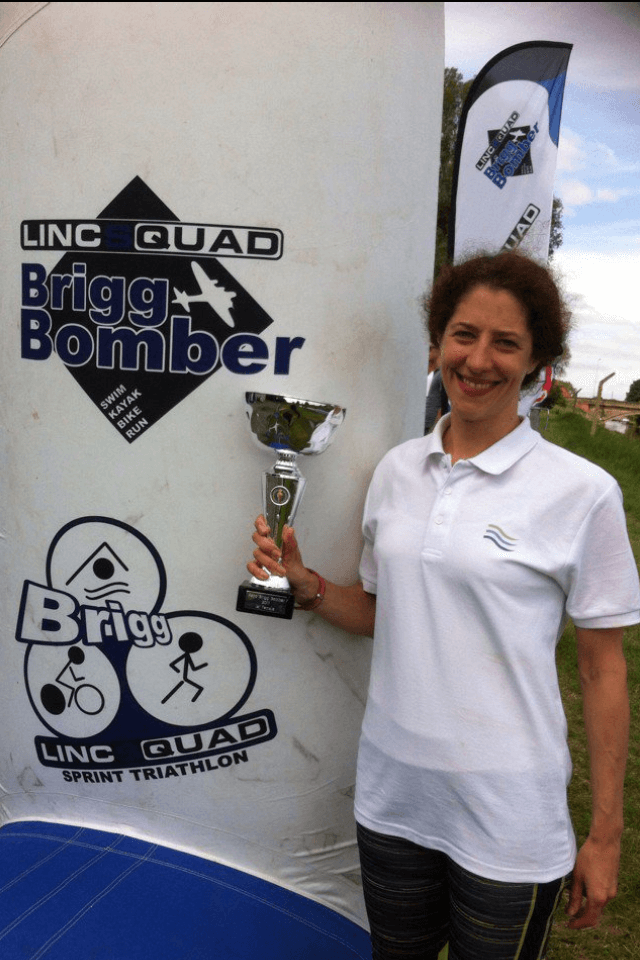 Celebrate
Achieving your goals, both process and main ones is a great accomplishment and make sure you recognise this. Move your post-its into the DONE section and also reward yourself – you deserve it! This is a really important part of achieving your goals. Some people find it motivates them to decide on what reward they will have in advance e.g. a special meal, a new piece of bike kit. Keeping on track with your training and racing takes a lot of dedication and hard work and it is important that you recognise this for yourself and celebrate both the process goals and the main goals.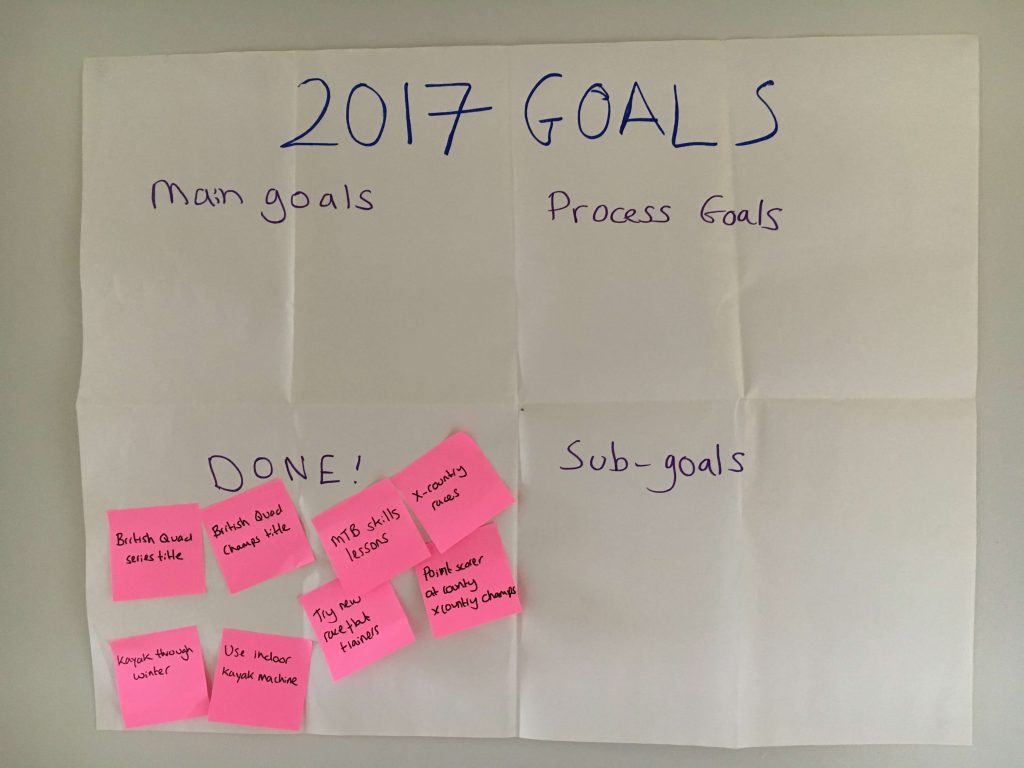 Our minds love reinforcement, so rewarding yourself will make the mind want more rewards, almost like an addiction to progress, which means you will want to carry on working towards achieving more goals! It's obvious really isn't it, as everyone likes presents, even if they are to yourself! Don't be afraid to share your success stories with others – vocalising your successes reinforces them in your mind. Is your achievement news worthy? Seeing reports of what you have done in a local newspaper reminds you of how well you have done and again is 'juice for the mind'. You could create a success vision board with photos and newspaper cuttings that again will regularly remind your mind of the success you achieved and how you did it! The mind is a powerful muscle and like any other muscle need training!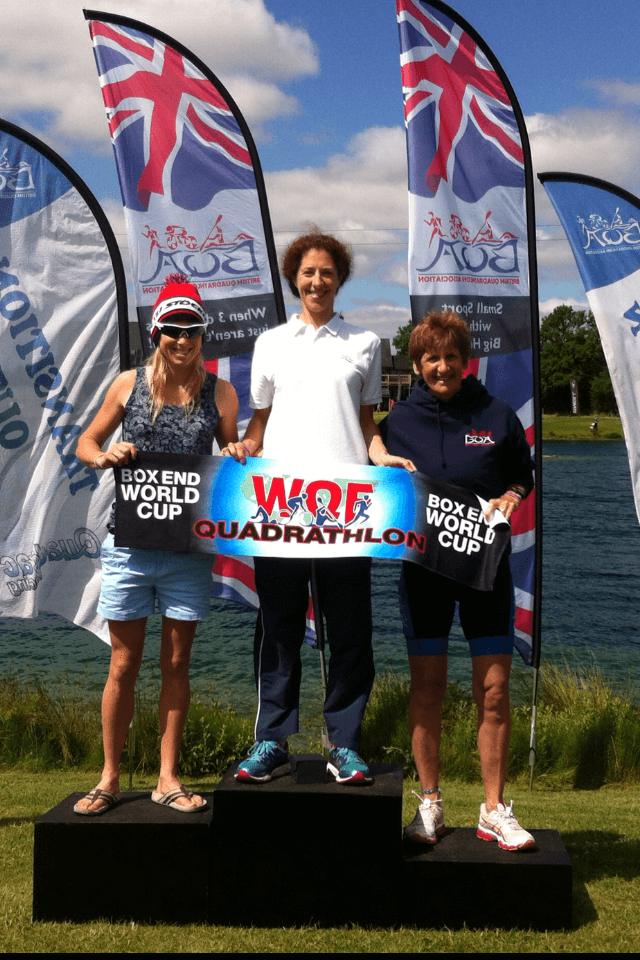 I'm now at the end of my race season, so will be taking some time out to rest, recover and of course celebrate. I will take stock of how the season went, identify any learning points and start to think about my 2018 goals. It won't be long until I start to stick those post-it notes on my flip chart paper again! Whatever your own personal targets, I wish you all the best for achieving them. Feel free to share your aims and progress with me or ask me any questions on Twitter @helengoth.
Helen is the current British Quadrathlon Champion and former age group World and European Duathlon champion and European Triathlon champion. In 2015 Helen was part of the One Day Ahead team, which raised £1m for Cure Leukaemia by riding the entire route of the Tour de France one day ahead of the pros. You can follow her on Twitter via @helengoth.