Martin Bennett is a keen rock climber and SportsCover Direct customer – we asked him to tell us all about his latest rock climbing trip to Morocco.
Although the granite to the South of Tafraoute in the Ameln Valley had seen some sporadic sport climbing development since the early eighties it wasn't until 1991 that the true raison d'etre of Anti Atlas climbing was discovered.
This was when a small group of British climbers, including some of the best known of the 1950s, '60s and '70s, looking for new places to have fun, and keen to avoid the bolting epidemic which was already turning European adventure into sport, found that the quartzite of Jebel El Kest, to the North of Tafraoute, lent itself perfectly to traditionally protected climbing at all grades.
Even then, since this tight knit group kept it to themselves for a decade or so, it wasn't until the mid noughties that the explosion of development really took off when the publication of a slim guide book coincided with a road building programme that brought access to further aspects of Jebel el Kest and surrounding mountains and valleys, providing access to yet more new crags and mountain faces ranging from 30 to 600 metres in height.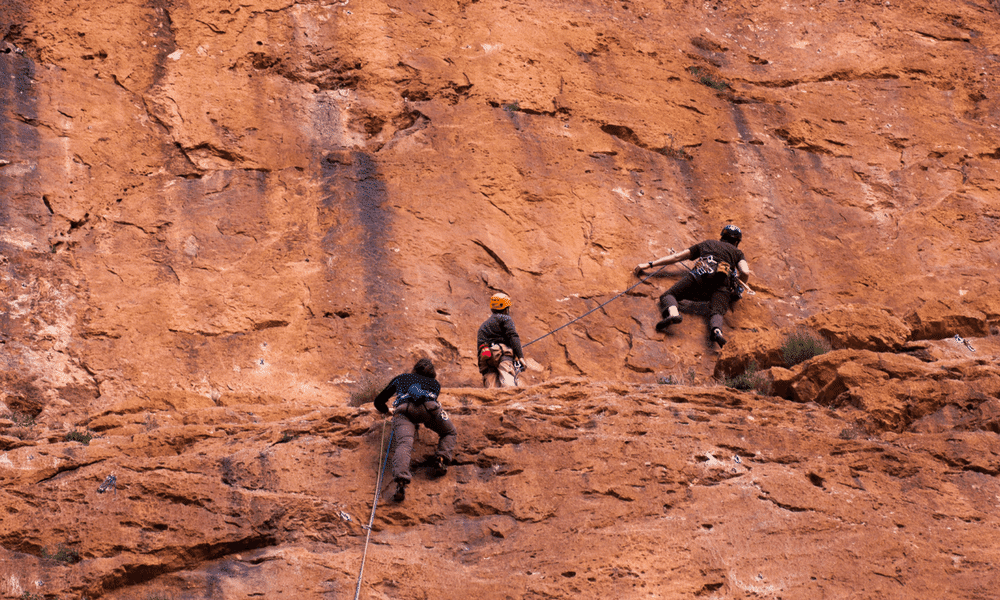 My friends and I first visited in 2009 and were immediately "hooked" by the region, the town, the people, the weather, the climbing itself, and the refreshingly British i.e. "trad" approach that was being taken to it's development. We've since returned many times, mainly to repeat the highest quality climbs pioneered by others, but also to make our mark on the area with a few newly discovered crags and routes of our own.
Getting there is surprisingly easy as Agadir has become a popular beach holiday resort so there are cheap flights to be had, and from the airport it's only around two hours drive to Tafraoute; less if you are staying at the only other viable accommodation, the Kasbah Tizourgane at the small town of Ida Ouagnidif. Here is to be had one of the most quaint B&B experiences imaginable. Don't miss it. Tafraoute itself has hotels for every budget (It even has one with a pool and a bar!) and is a delightful and bustling rural market town.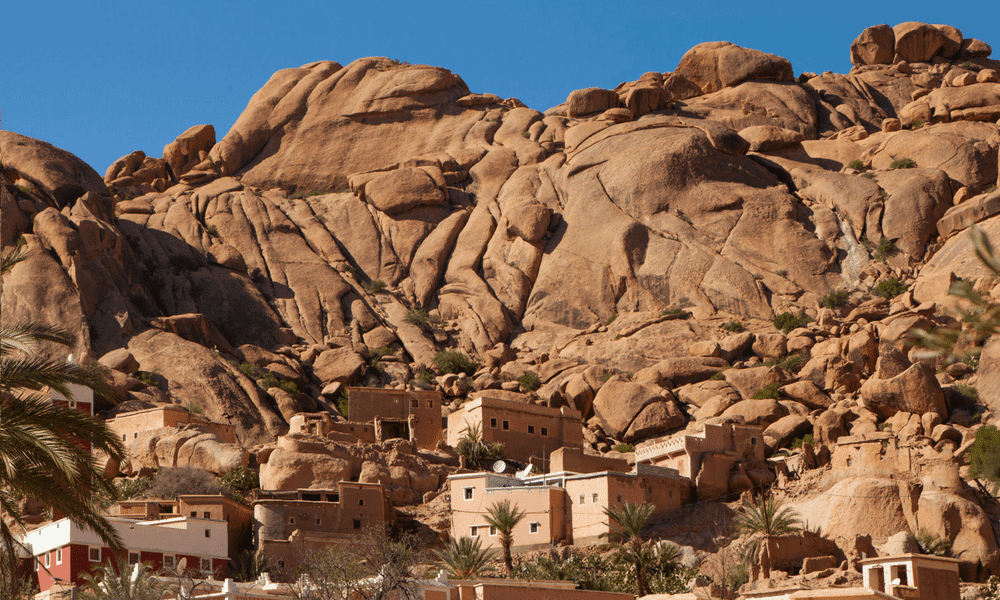 Too hot for climbing in the Summer, this semi desert area provides opportunities throughout the Winter but we've found it to be at it's best in late March/early April and late October/early November when we typically get one or two cooler or wet days out of a fortnight. Because of the "pure" approach to climbing on the quartzite – bolts are completely absent – the region is still almost wholly the domain of British traditionalists, happily not all of them geriatric – "trad" climbing is alive and well among a large number of younger British climbers. There are notable exceptions – an Italian pair who visit every year putting up new climbs on newly discovered cliffs, and a couple of French guides who bring clients to see what adventure climbing is about.
The adventurous aspect of the climbing is heightened by the lack of any rescue facilities. Here there is no rescue team, and no helicopter. Though the local people are always kind and keen to do all they can, parties climbing here have to be self reliant. Many crags are a good hike from a dirt road and many of your climbs will be first ascents or early repeats meaning the rock is sometimes less dependable than you're used to – this spells Adventure with a capital A. However there are many roadside single pitch crags as well as easier slabby venues with friendly climbs; something for everyone who prefers what these days has become known as "trad" rock climbing.