As winter turns to spring and the warmer weather makes outdoor activities more appealing, for many the lure of getting in a kayak might be too much to resist this year.
The popularity of paddlesports has been on the up in recent years, with some sources expecting the activity to become the next 'fitness fad', due to it's appeal as a low-impact, multi-targeted, cardio exercise.
But for those looking to take up kayaking (or for those with a bit more experience), there's a decision to be made – which discipline will you try first?
There are pros and cons to both, so we've highlighted the differences between river and sea kayaking to help you make your choice.
ABOUT US
We have been providing specialist Sports Travel Insurance for over 25 years to UK citizens. Our comprehensive policy can protect you to take part in over 500 different sports and activities across the globe. Get an instant quote for Sports Travel Insurance online now! Some of our other products include Kayaking Insurance and Extreme Sports Insurance.
Size of the kayak
One of the fundamental differences is the size and shape of the kayak you'll be using for river versus one designed for time in the sea.
River kayaks tend to be shorter than their sea-faring counterpart, with sea kayaks longer, slimmer and pointier at the ends.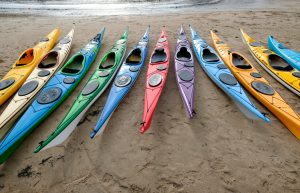 Think of the practicalities
Something to consider with the different designs in mind, is that a river kayak is going to be easier to transport than a sea kayak.
Smaller, lighter and sometimes inflatable kayaks make getting around on dry land much easier with a river kayak in tow, than with a sea kayak, which are heavier and require a fair amount of extra storage space.
Manoeuvrability varies too
Sea kayaks aren't long and pointy just to frustrate beginners, they're manufactured to travel well in a straight line across the open seas.
While they're great to go from A to B, it can be a little trickier to turn than in a river kayak.
The smaller of the kayak cousins is designed to be manoeuvrable to avoid the rocks, branches and other river debris as you let rush downstream. Making a full turn is much easier in a river kayak.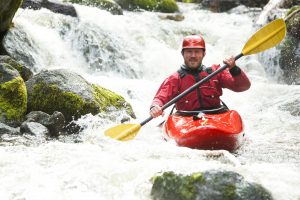 Differing costs
As well as their design, you're also looking at a different cost for the two types of kayak. Neither will come cheap, but there is a fair range in price between the two.
A recreational river kayak will come in from around the £500 mark, not pocket change by any stretch, but compared to the £800 minimum for a sea touring kayak, reaching as much as £5,000, it's a smaller initial outlay.
Considering a kayaking holiday?
There are a number of organised kayaking holiday operators available should you wish to dedicate a whole trip to spending time on the water.
It's much easier to find a whole holiday dedicated to sea kayaking, than river kayaking, but there's plenty of choice for those looking to spend their time away on the river.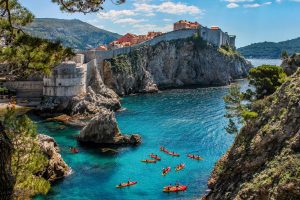 The experience they offer
Another difference between the two types of kayaking is the type of trip you can make out of your sporting passion.
Due to their size, sea kayaks offer users space to store a fair level of luggage, as they explore the coastline. This opens up the opportunity to go on a kayaking adventure, pitching up a tent on a different beach each night, perhaps. While a river kayaking trip is of course possible, there's the added question of how you'll get the rest of your kit from one overnight stop to the next.
A very different workout
Neither river kayaking nor sea kayaking are to be taken too lightly, both require a certain level of fitness – but will test your mettle in different ways.
Mental awareness is key as you hurtle down a river, with plenty of obstacles to navigate, meaning you'll need plenty of focus, and agility to react to the river as it changes.
While you won't be coming up against low-hanging branches or rapids as you would on a river, sea kayaking is no walk in the park. There's likely to be more paddling required to battle sea currents to take you in the direction you want, rather than relying on a river to carry you downstream, providing a serious upper-body workout for sea kayakers.
Different safety concerns
Finally, it's worth noting that kayaking does have it's share of dangers. By its very nature, being on the water for any stretch of time is laden with risk, making travel insurance all the more important when kayaking abroad.
The capsize risk is arguably larger on the river, with the aforementioned hazards coming at you thick and fast. Go over and it's possibly more difficult to self-right yourself in the fast-flowing river.
That being said, a kayak adventure out at sea leaves you slightly more exposed when it comes to the elements, meaning plenty of prior planning is vital to ensure kayakers have a solid contingency plan should things go wrong.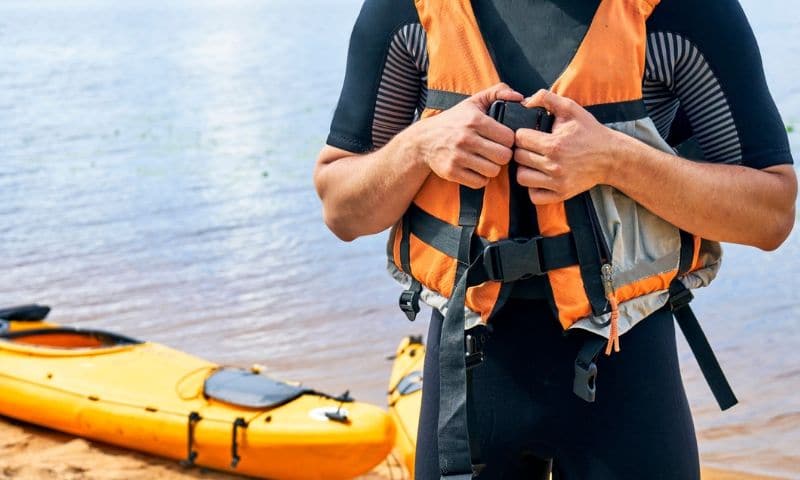 Conclusion
As with any adventure sport, by taking all necessary precautions, participants can reduce the risk of any injury.
Do it properly and kayaking can be an enthralling, rewarding experience for those willing to embrace the outdoors.
Whether you're eyeing up a sea kayaking trip or want to spend time down river, there are plenty of differences to consider, from cost, design and demands on the end user.