When it comes to rock climbing, it doesn't matter what you're looking for, the UK delivers. From beginner-suited faces overlooking the beaches of Cornwall to the tricky, technical crags in Scotland, the country could be seen as one of the world's top 3 climbing destinations. Whether you're travelling from afar or looking for your next local adventure, here's our list of the best places to rock climb in the UK. Don't forget, once you're all set to travel, you'll not only need to pick the perfect spots for your climbing adventure but also buy your Rock Climbing Travel Insurance.
Cornwall
If you are looking for a region with multiple rock-climbing possibilities, Cornwall is your best bet. There are well over 2000 mapped climbs in the county, and you can choose from single day climbs, climbing holidays and climbing courses. If you are up for an adrenaline shot you can climb on the coastline cliffs and crags, try the inland sites on the moors if you are building your skills, or take in one of the many indoor climbing walls. There are climbs for all abilities, from novice to expert. West Penwith is the focal point of rock climbing in Cornwall with the most popular spots of Bosigran, Sennen, Chair Ladder, Lizard Point and sport climbing at Cheesewring.
Where to stay: Depending on your taste and budget you can choose from luxury hotels to carefree campsites. One of the best websites is Visit Cornwall, which is the ultimate guide on where to stay and what to do in Cornwall. The price for a one night stay varies from £70 in a guesthouse to £650 in a luxurious hotel*.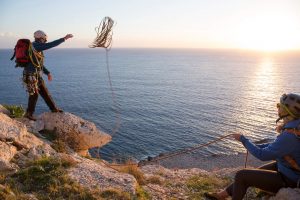 Pembrokeshire, Wales
Like Cornwall, Pembrokeshire is well known for its breath-taking sea cliffs. It is also home to the longest cliff in Britain and offers 6,000 routes in fantastic and dramatic positions. You can choose from climbing in north Pembroke on sandstone rock, or the steep limestone rock in south Pembroke. If you stay in the village of Bosherston, you'll be within easy access to its best-known crags – Huntsman's Leap and St Govan's Head. Another popular area is Stackpole and Lydstep, a 15-mile stretch of coastline with blue flag beaches and limestone cliffs.
Peak District
Celebrated as the UK's rock-climbing mecca, the Peak District is featuring some of the finest gritstone crags in the UK. The exact number of recorded climbs remains unknown, but it definitely exceeds 10,000. The Peak District offers one of the most challenging and popular routes in Europe such as Stanage Edge, The Roaches and Windgather Rocks. With its picturesque villages, friendly locals and unresisting cliffs, the Peak District should be on the list of every climbing enthusiast regardless of your ability level.
Where to stay: Whether you decide to unwind in the woodland or snuggle in a cosy inn, you have plenty of choice in the Peak District area. Depending on your chosen location, proximity to your climbing spot and budget, you'll find prices in the range of £53 for a country house to £750 for a stay in a luxurious farm cottage.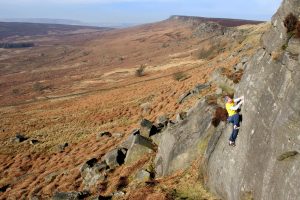 Portland, Dorset
Dorset is well known for its Jurassic Coast, a coastline that contains millions of years of fossils and animal remains. If you are looking for a superb climbing destination on the Dorset coast, the cliffs of Portland, Swanage and Lulworth are your best picks.
Portland is a great bouldering area with a huge number of sport routes. Swanage on the other hand is certainly varied with limestone sea cliffs that run unbroken for 5km and offer a unique climbing experience.
Lulworth doesn't come second with its overhanging faces above through-caves that make it a world-class deep-water soling (DWS) venue, especially at Stair Hole.
Cairngoms, Scotland
According to Mountaineering Scotland, the Cairngorms offers "some of the best mountain climbs in Scotland". If you are a fan of winter climbing and you don't mind the vicious Highlands winds, then you'll be fascinated by the great variety of climbs. Each peak has its own unique features, but you need to be experienced enough to climb under such circumstances. Otherwise, the winter ascents to the Cairngorms are just fascinating, providing another thrilling element to your adventure.
Where to stay? The UK's largest National Park will spoil you with choice when it comes to accommodation. Wherever you choose to stay – from self-catering, hotels, B&B, lodge, camping, caravanning, hostels – you can be certain that you'll be greeted with a warm highland welcome. If you prefer to stay in one of the boutique cottages, 4 Nights self-catering would cost you £540*.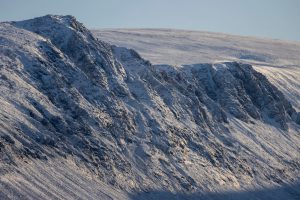 Why not give one of these rock-climbing destinations a go? Regardless of whether you are an enthusiastic beginner or an elite athlete, there are plenty of crags for you to discover in our guide. A rock-climbing holiday will help you challenge your inner self and give you that sprinkling of confidence that will leave you wanting more.
Before you set off on your holiday, check out our Rock-Climbing Packing List. If you are looking for inspiration on rock-climbing destinations outside the UK, you can visit our Top 5 Climbing Destinations.
Useful Resources:
https://trekaddict.co.uk/blog/best-locations-to-climb-in-the-uk/
https://www.insure4sport.co.uk/blog/9-amazing-outdoor-rock-climbing-locations-in-the-uk/
https://climb-europe.com/rockclimbingshop/rock-climbing-england-dorset
*Prices correct as of March 2021 based on two adults travelling in April-May 2021.