Getting ready to hit the trails? This essential list for mountain bikers is designed to prevent you from forgetting anything important when you next put your MTB in the back of the car, grab your gear, and hit the trails. From safety and security to protective clothing and equipment, our shortlist will help make your next ride safer and more enjoyable.
Helmet
It might seem like an obvious place to start, but the importance of riding with a helmet on can't be emphasised enough. A bike helmet not only significantly reduces the severity of head injuries, but if you have one with a visor, it also helps block the sun, so you can focus on the trail and not be distracted by the glare of the sun.
The price of a decent helmet can vary from £20 to £160, but we suggest finding one that is marked with the European/British Standard EN 1078. If you choose a helmet from a well-known brand such as Bell, Oakley, Giro, Met and Boardman, you can feel confident that it has been tested to the best standards. You can find a list of the best 2021 mountain bike helmets here.
Lights
Even if you never intend to ride at night, the second thing that is highly recommended is a bright, reliable set of lights. Things go wrong, tires go flat, you get lost, and you might just end up needing some lights to get home or back to the car safely.
It is advisable to combine a bar light and a helmet light whilst riding. The fixed front light is your main light that illuminates the trail. In addition, the helmet light is a bit more dynamic, and is used for picking out the detail or for looking around corners, over obstacles like logs and drops, and even down at your gears or front-wheel when there is a technical issue.
You can read this guide on the best high powered mountain bike lights and pick your favourite. They set a lower limit of 1,500 claimed lumens for the lights they've tested, which is more than enough to provide safe and well-lit shredding.
Puncture Repair Kit / Spare Tube /Pump
Taking a puncture repair kit may seem like a no-brainer, but how many times have you been out for a ride and either yourself or a friend have forgotten to bring a spare tube, puncture repair kit and/or a pump! Adding a repair kit or spare tube along with a pump can avoid those embarrassing moments when you need to ask a fellow rider for them, or even worse, you get stuck on a trail in the middle of nowhere with no way of fixing the puncture.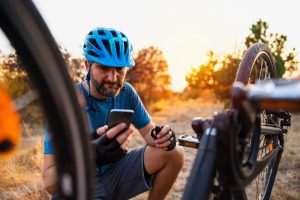 Gloves
Mountain bike gloves are not only useful for keeping your hands warm, but also for improving your grip on the bars and the brake levers, plus they provide important protection should you crash.
Mountain biking is much more demanding on the hands than road cycling. Besides the above purposes, good, padded gloves will absorb a lot of trail shock, especially on a long or downhill ride.
Depending on the season, you should opt for either summer or winter gloves. Ideally, the summer gloves should provide protection and breathability, while the winter gloves should keep your hands warm and dry.
First Aid Kit
Mountain bike riding does come with its fair share of risks, so make sure you bag a small first aid kit that includes, but is not limited to: bandages, band-aids, analgesics, antiseptic cream, anti-inflammatory pills, tweezers. The kits are usually small enough to fit in your pocket, in your bag or attached to your bike.
Before you find yourself in an emergency, remember to store 'in case of emergency' information on your phone, and for bigger adventures, an emergency GPS locator or app can be a good idea too.
Mountain Biking Insurance
Having comprehensive Mountain Biking Insurance in place will help you massively, especially if you are travelling abroad to moutain bike. protect you whilst participating in mountain biking abroad and even in the UK. If you are travelling overseas to hit some trails, our Mountain Biking Insurance will cover you for up to £10 million in medical expenses abroad, 24hour emergency medical assistance and personal liability as well as travel benefits such as insurance for baggage, personal effects and travel delay. If you have travel insurance will another provider, it is worth checking to see if they include cover for MTB.
Other gear to add to your list
– Suitable protective clothing – knee pads, jerseys, padded shorts, waterproof jackets and a pair of grippy shoes
– Sunglasses and sun-cream
– Food and hydration pack
On a mountain bike trip, you can never be overprepared. If you feel that you need to bring something extra like spare clothes or energy bars, just wrap them up. You'd rather have more than you need, instead of wishing you packed something along that you didn't.
For more tips about mountain biking, check out our Mountain Bike Set-Up Tips Infographic. Covering brakes, saddle, stem length & more – it's certain to help you get the most from your time on the tracks and trails – and ride them like a pro!
About Us
We have been providing specialist Sports Travel Insurance for over 25 years to UK citizens. Our comprehensive policy can protect you to take part in over 500 different sports and activities in the UK and across the globe.