Extreme attractions, also known as extreme sports, are activities typically characterised by high speeds and high risk. They're not for the faint-hearted, picture activities such as skydiving, surfing, biking, and parasailing! 
Although they've been gaining popularity since the 1990s, extreme sports have received an extra spotlight in recent years following a skateboarding debut at the Tokyo Olympics. Adventure-sports companies have also revealed a huge surge in demand following the pandemic.
With travel opening up across the world and life returning to normal after COVID-19, we've looked into which countries in the world are the best to visit for those seeking out extreme sporting and adventurous attractions. 
Best countries for adventure holidays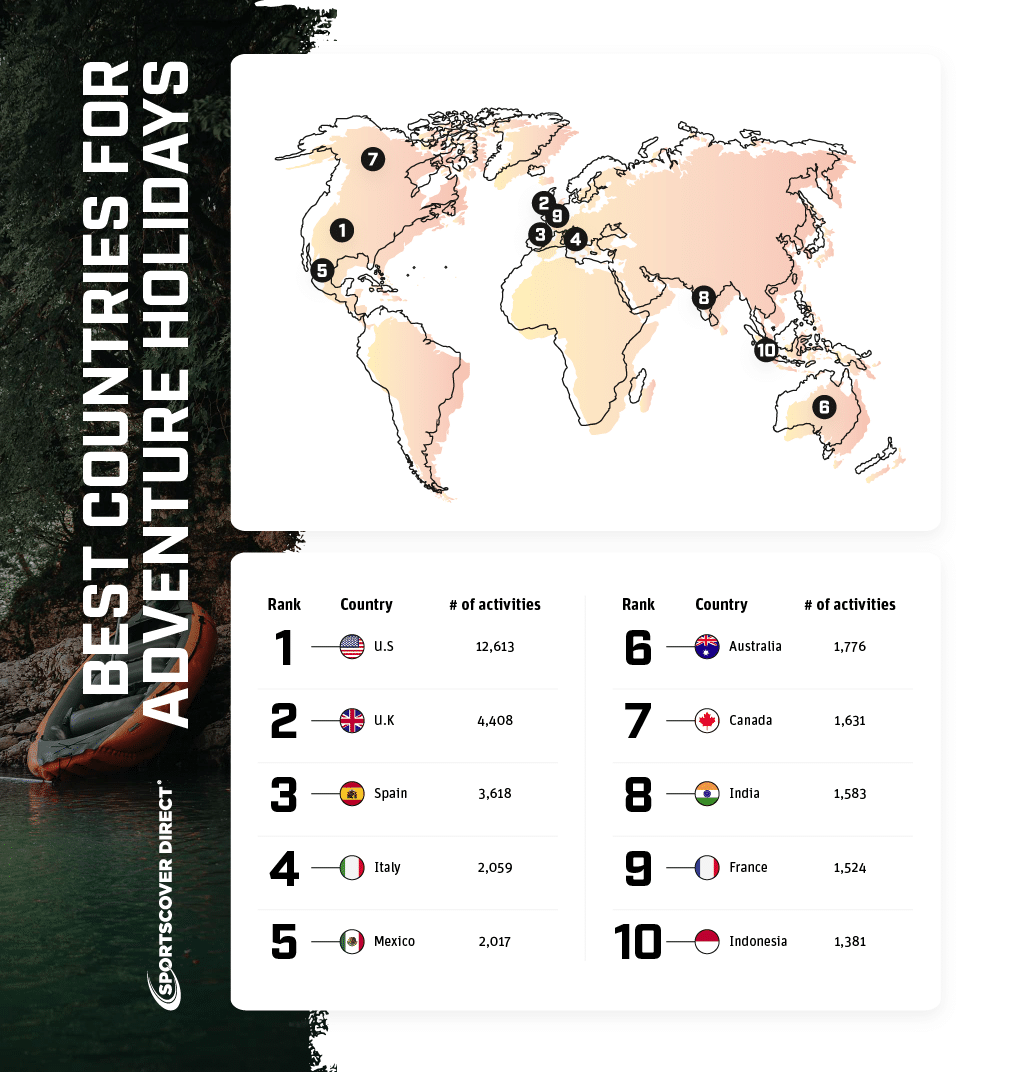 Whether you're a solo traveller or are travelling as part of a group, an active getaway is a great way to add some excitement to your travelling experience. The adventure tourism market generated $111.2 billion in 2020 and is estimated to generate $1,169 billion by 2028, the industry is seeing huge growth and demand from holidayers. 
If you're dreaming of an exciting break, the US is revealed to be the best location in the world for an adventure holiday, with a total of 12,613 activities listed, ranging from canoeing to biking. The US has a huge number more than the other countries researched including the UK, in second place, which has a total of 4,408 activities. In third-place is Spain, with 3,618 adventures to be enjoyed.
Best countries for water sports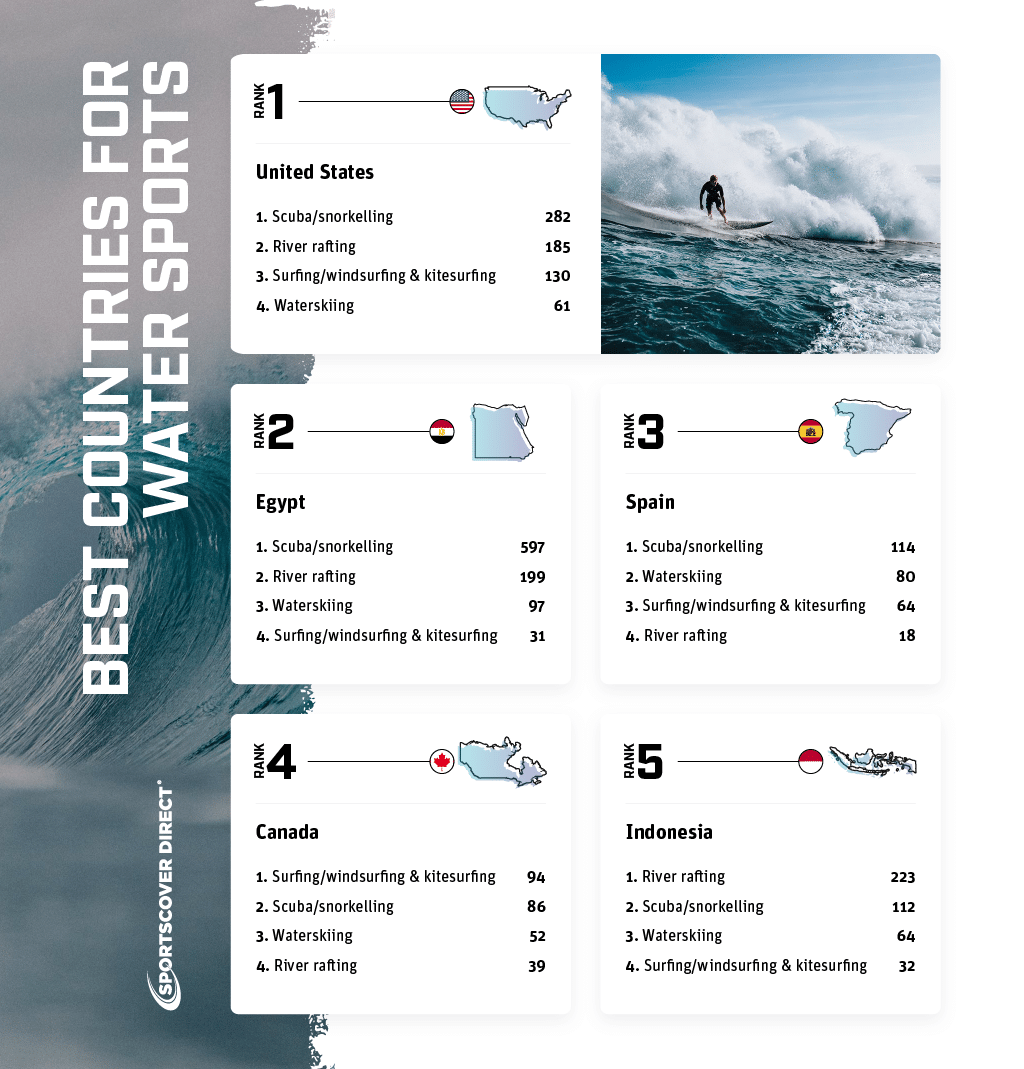 Looking at the number of surfing, scuba diving, river rafting, and water skiing activities in each country, we then ranked them for each category and averaged out their scores to determine the best countries in the world overall. 
The United States is revealed to be the best location overall for water sports. Although the US doesn't have the most activities, they came on top due to having a higher average rank when each category was taken into consideration. There's no shortage of places to ride the waves for surfing fans, California is renowned for its surfing towns offering everything from soft waves for beginners and crashing tides for the more experienced. 
Boasting more than 1,800 miles of coastline, it's no surprise that Egypt has the highest number of water experiences than any other country. Egypt is a scuba divers paradise, ranging from crystal clear waters to a myriad of multicoloured reefs. With over 597 scuba diving experiences, fans of the sport can visit Alexandria for a mix of diving and history or dip in the Red Sea in Dahab. 
Spain is the third-best country in the world to visit for water sport fans. For those who love adventure, they should try water skiing in Spain where travellers can find 80 experiences to choose from. You can explore the eastern coasts of La Manga or take a trip to the Balearic Islands and get your adrenaline pumping! 
Another spot for surfing fans, in fourth place Canada is not to be missed! Not only does Canada offer coastal surfing, but also river and lake surfing. With roughly 2 million lakes (more than the rest of the world combined) it's clear why! 
Indonesia is a hotspot for river rafting and has a total of 223 experiences to try, more than any other country in the top five best locations in the world for water sports! Beginners can try the Nimanga River in North Sulawesi which isn't too steep and boasts a variety of wildlife roaming on the banks. One location that must be on your list if you are a lover of adrenaline-challenging sports is the Pekalen River in East Java. This river can be quite challenging, with a cliff of nearly 5 metres and depths of 3 metres so no one is to be left behind! Rafters will also be treated to views of seven waterfalls!
Best countries for extreme activities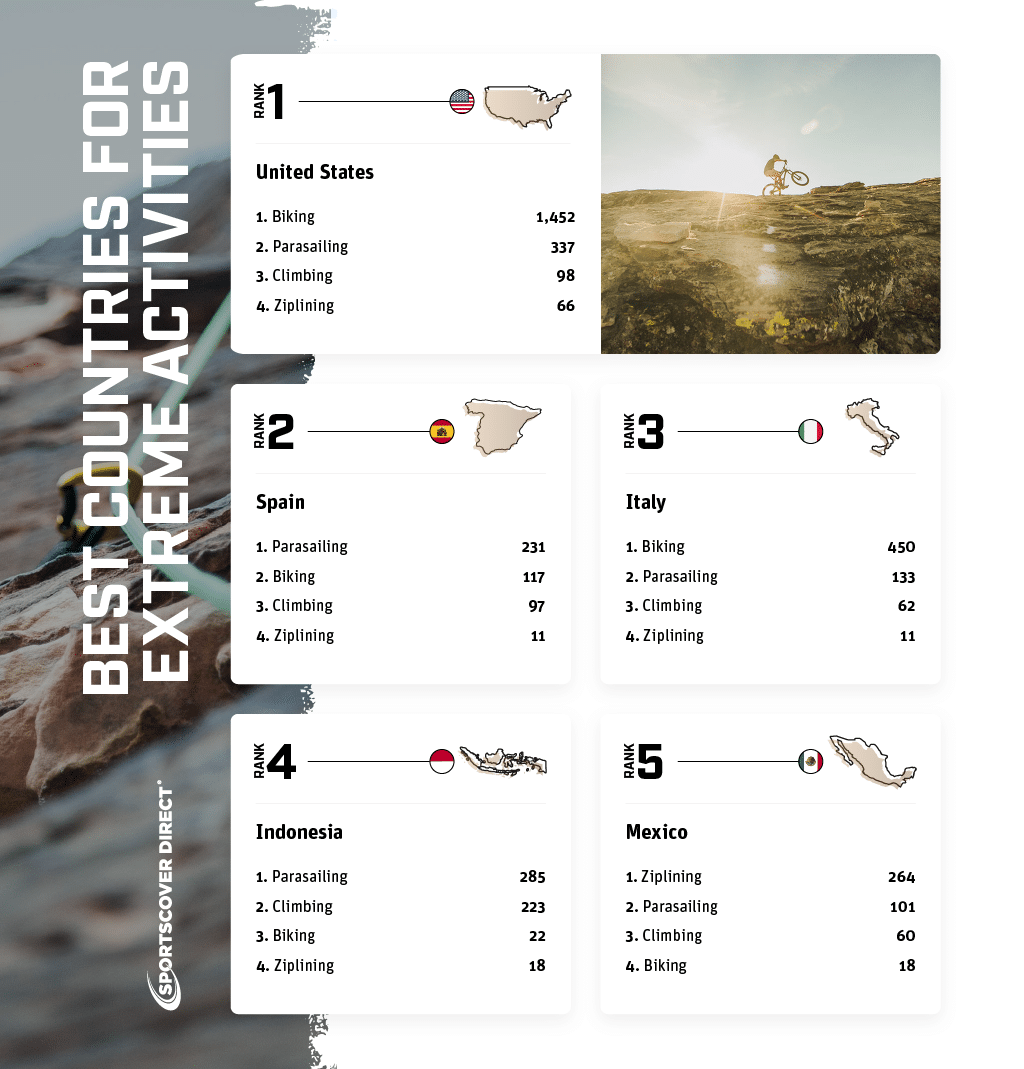 The US is the best country for extreme activities such as ziplining, parasailing, biking and climbing. For cycling fans, in particular, the US is especially good with trails through 63 national parks, including breathtaking mountaintops in Colorado and coastal routes in California.  
Spain is the second-best location with 456 extreme activities overall. Parasailing in Spain should be on everyone's bucket lists. It's the perfect activity to enjoy the local scenery in areas such as the Canary Islands while also experiencing an exhilarating adrenalin rush! 
Italy is one of the best locations in the world for biking, with 450 biking trails listed on TripAdvisor. In northern Italy, cyclist enthusiasts can find The Dolomites mountainous terrain which is listed as a UNESCO world heritage site. For more experienced cyclists one of Italy's highest roads is recommended. The region hosts many well-known professional races too! 
For climbing fans, Indonesia is the country you should head to with over 223 climbing experiences including going up top the active volcano Mount Merapi. It's not for the faint hearted! If climbing isn't your favourite activity,  Indonesia also has 285 parasailing activities to offer. With a total of 548 activities to choose from, travellers and thrill-seekers alike will find plenty to get their adrenaline pumping! 
Lastly, Mexico was revealed to have 264 zipline experiences, making it the best place for zipline fans. Travellers can explore the hidden gem Grutas De Tolantongo, and zipline over the mountainside hot springs. 
Best countries for avoiding crowds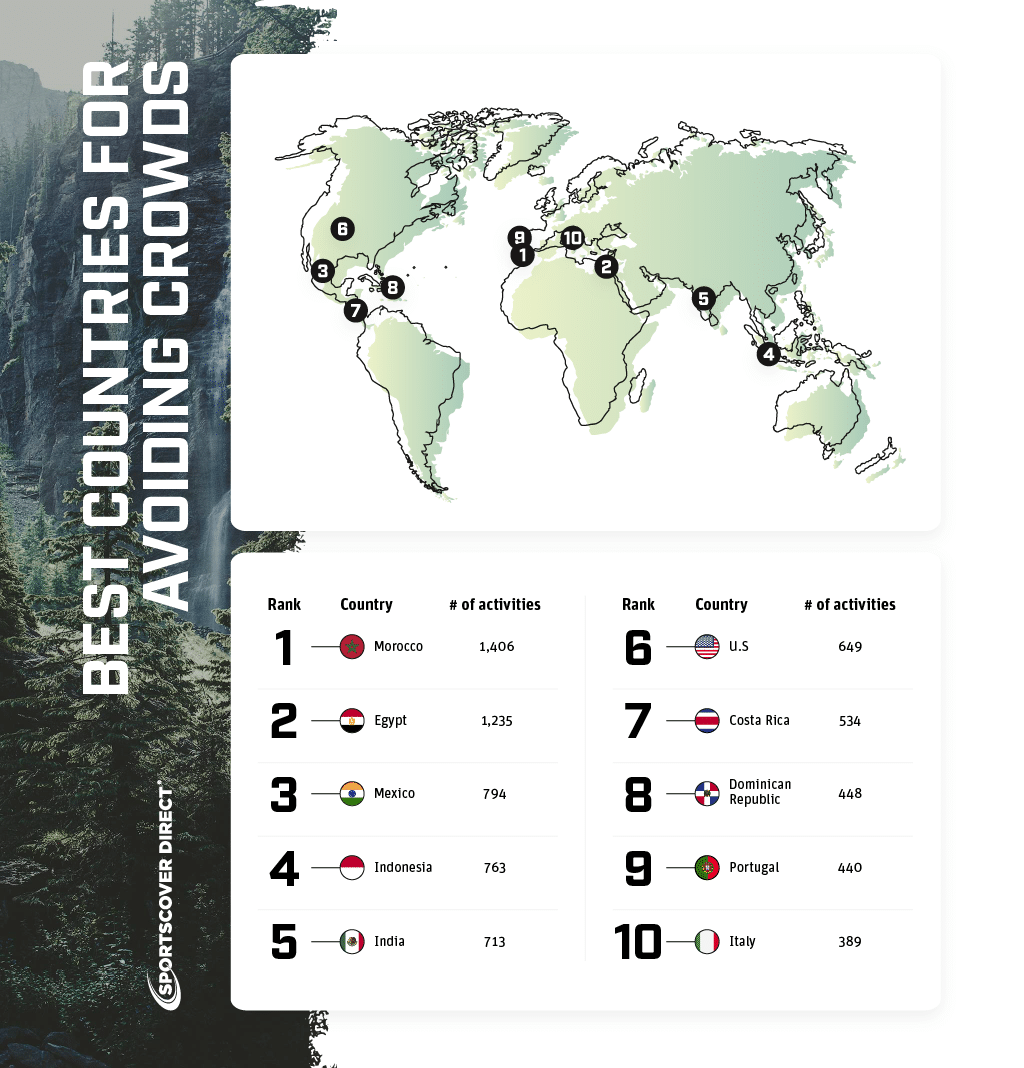 Although many people want to avoid crowded spaces, this doesn't mean they would avoid going on holiday or partaking in their favourite activities. To see which countries in the world are the best for avoiding crowds, we looked at the number of activities for 'adrenaline-seekers' each country had under the 'avoid crowds filter' in TripAdvisor. 
Morocco was revealed to be the best location, with 1,406 activities listed on TripAdvisor as good for avoiding crowds and yet suitable for adrenaline-seekers. This was followed by Egypt with 1,235 activities listed, which also featured as the second-best location for water sports. Mexico is the third best location for fans of extreme locations to avoid crowds, with a total of 794 activities listed. 
We cover many high-risk sports including parachuting, downhill mountain biking, grade 4 and 5 white water rafting, paramotoring, and abseiling among many others. We believe in the necessity of sports travel insurance, particularly in these sports where the risk of injury is considerably higher so you can truly enjoy the extreme sport you are taking part in. Whether at home or abroad, make sure you are not vulnerable to the financial repercussions of the injury.
Remember to take proof of insurance with you when travelling abroad as you may need this when taking part in these exciting activities. 
Methodology 
To research the most extreme locations we gathered the number of activities for the best counties for adventure. Analysing data from Tripadvisor we looked at the total activities for each country using the adventurous and best for adrenaline seekers filter. 
To discover the best locations for those wanting to avoid crowds we used the 'avoid crowds' filter on TripAdvisor for adrenaline activities. 
For water sports, researchers looked at the number of surfing, snorkelling, river rafting, and water skiing activities there were for each country. They then ranked each country for each of these sports and the country with the lowest average rank was ranked number one. 
To discover where is the best for other sports the team gathered the number of activities for ziplining, parasailing, biking, and climbing they then ranked each country for each sport, and then the countries with the lowest average rank were revealed to be the best.