"Alex is the map reader and more or less treats my like a Springer Spaniel. He simply sets off, ignores my protests and knows that eventually I'll stop arguing and follow him." The relationship between Mark Richards and his son, Alex, is clear when it comes to their walking expeditions.
That is something that was put to the test when the father-son duo completed the 125 mile walk of the Kerry Way in the south-west of Ireland.
And from a run in with the local insects to a troublesome relationship with the country's bogs, Mark has documented the ups and downs of their trek in his third book; 'Father, Son and the Kerry Way'.
But where did the pair get their motivation to attempt the walk? Mark spoke to SportsCover Direct to share his story:
"If we go right back to basics it was all my wife's fault! She gave me a Fitbit for Christmas 2015, which coincided with me opening a file on my laptop called, 'Sort myself out.' As I started to clock up my 10,000 steps a day I realised I wanted to do a physical challenge before I was too old. I'm sure many of your readers will be aware of that dread feeling of getting older – that was it for me."
Rather than simply set off for a walk on his own though, Mark invited his son to accompany him on his first trek.
"I asked Alex if he wanted to come for a walk with me. Then I explained that I didn't mean half an hour with the dog, I meant five days and 80 miles on the Pennine Way. That seemed about right for a physical challenge and it seemed as much time as a 17-year-old would want to spend with his dad in the summer holidays.
"I realise that I am very lucky in that there are plenty of teenagers who can't spend nine minutes with their dad, never mind nine days – but Alex and I have always had a really close relationship, and part of that was walking. So, persuading him wasn't a problem. Persuading myself I could do it was a lot harder…"
And so, Mark and Alex set off in August 2016 to complete the walk along the Pennine Way, something Mark has written about in his first book.
Three years on and pair set their sights on their next target, completing the 125 miles of the Kerry Way. Raw, beautiful, unspoilt, but very much open to the elements, the walk through County Kerry threw up a whole new challenge.
Starting in the town of Killarney, the Kerry Way cuts through the Killarney National Park, towards the wild North Atlantic Ocean and back along the coastline of Kenmare Bay. From rugged sections of mountainous countryside, to small tarmacked farm roads, the trail is renowned for giving travellers a taste of rural Island.
Walk completed, Mark has recently published his third book; 'Father, Son and The Kerry Way'.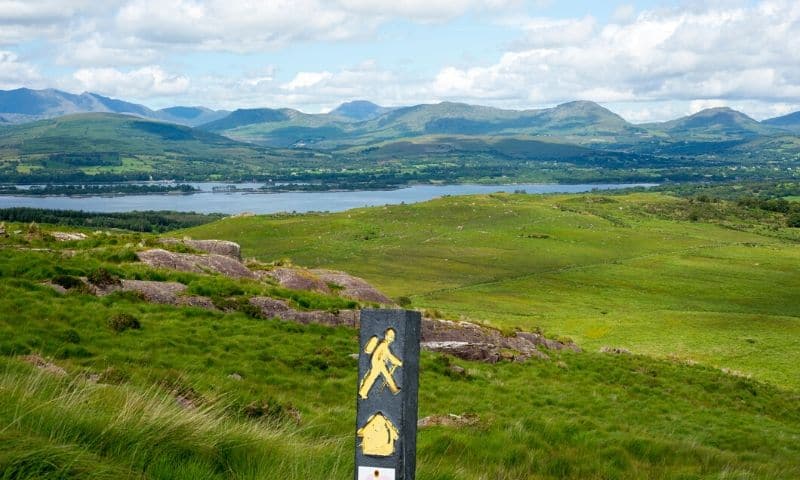 The book tells the story of the Richards' nine-day hike through the Irish countryside, with a few hiccups and testing points along the way, but the pair's relationship and understanding of one another certainly helped to master the route;
"However well you get on with someone you need your space," Mark told us. "Alex gets at least 20 minutes of that every time I stop for a pee, as I'm too slow to catch him up. And when we're in the B&Bs I try and give him some time off from me as well. When we're walking, we just talk – we're very fortunate in that we share the same sense of humor, though not always 100% politically correct it has to be said!"
"Alex knows me well enough by now and knows I need a little rant from time to time – especially in Ireland, where I had a rocky relationship with the country's bogs…"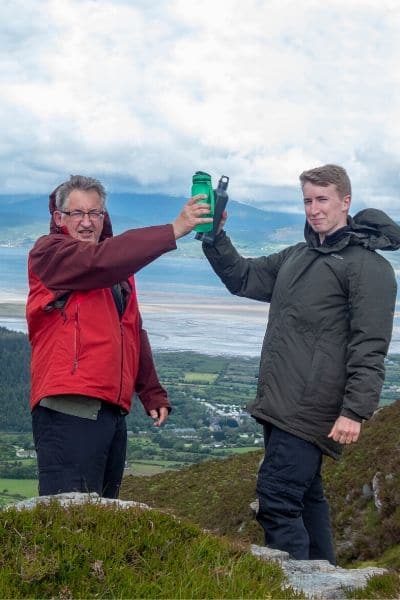 Those bogs weren't the only thing that posed a problem for the pair, with hours and hours of walking along tarmacked roads, heights and the local wildlife particularly irksome for Mark.
"There's a long stretch of walking on unforgiving country roads between Sneem and Kenmare – that's very much a test of your willpower against the Kerry Way's tarmac.
"For anyone with a fear of heights the walk from Glenbeigh to Cahersiveen offers a stunning view – but you are quote close to a 500-foot drop to the road below!
"And there was always the Irish midges to contend with. Even stopping for a pee was the equivalent of inviting them round for lunch. Fortunately, they only bit my arms!"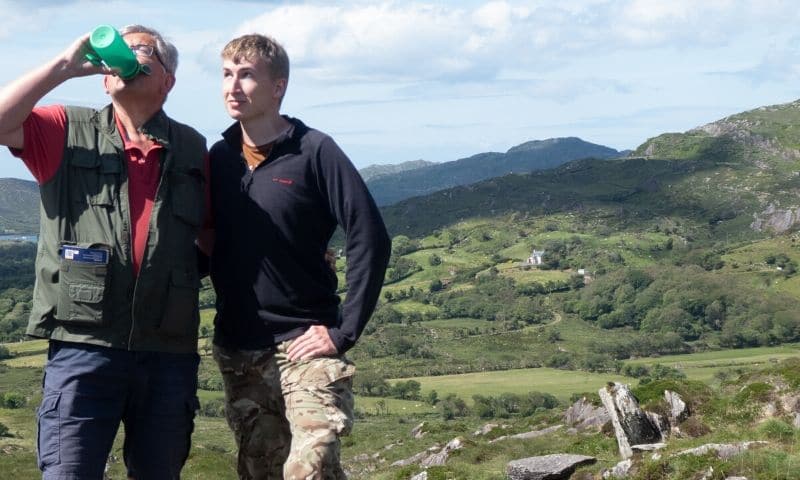 But challenges are a given when it comes to walking 125 miles in nine days. Contrasting some of the struggles were some special highlights for Mark and Alex to share.
We asked Mark to give us a few of his best bits from their walk;
"It's too easy to say that finishing was the highlight, but when you've walked 125 miles in nine days, then yes, finishing is a special moment.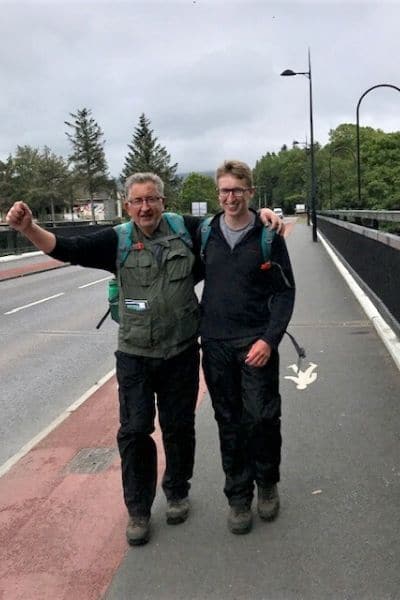 "But if I have to pick places along the way, Windy Gap on day three when we saw the sea for the first time. Also, the view back over the Dingle Peninsular after we left Glenbeigh.
"Waterville was a lovely place – and eating on the white sandy beach at O'Carroll's Cove was lovely. And I can't forget St Maureen of Sneem, who washed my pants and t-shirts for me!"
Any walk of the distance covered by the Richards will require some training. Mark's cites getting fit as one of his three pieces of advice for anyone aiming to complete the walk.
"The Kerry Way is nowhere near as challenging as the Pennine Way, but it's still a long-distance walk and you do need to be fit.
"Secondly, take cash. Lots of it. It was astonishing how often we paid by card at the pub only for the signal to mysteriously disappear back at the B&B.
"And one last piece of advice, take a rest day and go out to the Skellig Islands. We didn't – the challenge we set ourselves was to do it in nine days – but I wish we had. So, stop off in Waterville for an extra day, enjoy the traditional Irish music at the Lobster and take the boat trip to Skellig."
So, with the Kerry Way complete, and book published, what's next for Mark and his son, Alex?
"I'm very conscious that our next walk could be our last. After that Alex will have finished at university and entered the cruel, unforgiving world of work and only 20 days holiday a year. So hopefully we'll go out on something spectacular. Alex wants to do the old wartime escape route between France and Spain. There's a walk from Bologna to Florence I like the look of – another one that's steeped in history.
"But wherever we go, there'll be another book. Finish walking, have a shower, have a pint and an evening meal, write up my notebook. And on to the next day…"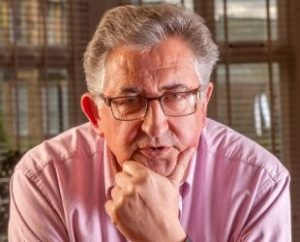 Mark Richards is an author and freelance copywriter. His latest book – Father, Son and the Kerry Way – is now available on Amazon. You can contact him through his website www.markrichards.co.uk