Karla Boddy is a road cyclist who is taking on a huge challenge – The Bike TransAlp to raise money for GAIN (Guillain-Barré & Associated Inflammatory Neuropathies). This is the toughest mountain bike stage race across the Alps. Karla is writing about her training and experience of the race in a series of blogs for SportsCover Direct who are proud to be sponsoring and supporting her. Find out more about her epic adventure on the KB TransAlp Facebook and follow her progress @karlaboddy on twitter. If you would like to donate to visit https://www.justgiving.com/Karla-Boddy/.
Cereal for starters?!
The precursor to the Transalp.
In preparation for my Trasnalp challenge I decided to put myself to the test at an event in Austria called 'The Alpen Tour Trophy', renamed as the cereal tour! In my head this would be perfect preparation; half the distance, half the days, half the climbing. But solo. No partner. And I guess it was perfect preparation, but not for the right reasons!
I left the UK after a manic few days of work and a bike which then broke the days prior to travel; some good friends and ingenuity fixed this but it wasn't the start I had wanted! I arrived in Austria the day before the event and with plenty of time to settle and go for a little spin…..or so I thought. When I got to baggage I don't know why but I had an immediate sinking feeling, I never usually buzz around the baggage queue but today I felt I needed to pace around seeing where mine might be. It never arrived. I checked my emails and British Airways had emailed to say 'they were sorry' and that 'it will be with you Friday'. FRIDAY! By then I would be 2 days in!
Immediately challenged by this, and disappointed in myself that for the FIRST TIME EVER I had packed my pedals, helmet, shoes, kit etc in my bike box, I
thought about coming home (Travel Tip N#1; pack those products separate to bike, in your hand luggage, as worst case scenario you can rent a bike!) . I couldn't see how in the next 8 hours I could sort this monumental issue. I was even more disappointed British Airways were so obstructive with helping me; I asked them to send the bike to Munich, where I would drive and pick it up, but they refused to send it to Heathrow (from Gatwick) to get it onto one of their 8 flights a day to Munich. There could have been an amicable solution but British Airways were not interested in supporting it. I then asked them to help me get home as the luggage was integral to the trip so I may as well just come home. They declined .Told me to stay in Austria until my return flight or buy another flight home. I was disappointed in this attitude. The lack of service. The lack of empathy.
I rang the first bike shop on my google search and to my surprise they had a small MTB in stock for rental. Reserved. I'd worry about the rest later when I arrived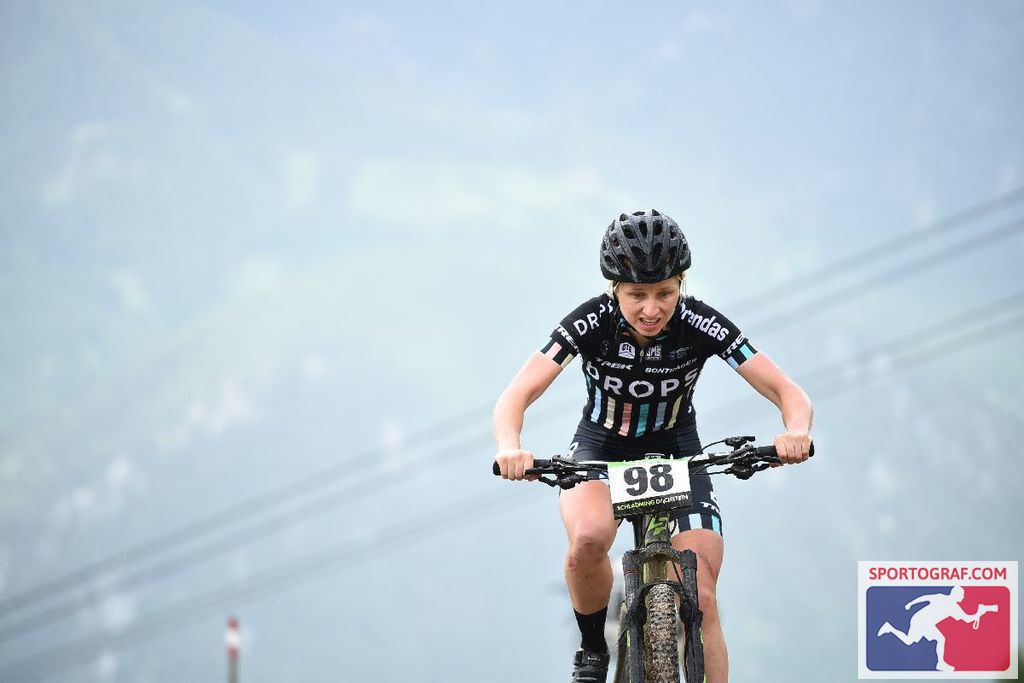 in Schladming. Fixing the problem meant spending money. Bike rental, shoes, helmet, nutrition, trail tools etc. I spent some £300 getting myself on the start line. I was on a bike I didn't know, on a saddle I could barely endure (!!!) and still trying to figure out if/how I could get my own luggage. After arriving in Austria at 0930. By 1730 I had sorted pretty much everything. I was exhausted. I had been up since 0330 and in the panic and stress of sorting everything I had forgotten to eat. I slept well that night.
Stage 1
A stark contrast from the 27 degrees and sunshine yesterday I woke to cool temperatures and pouring rain! Still, the show must go on! I had upgraded myself from the 'general entry' pack to the 'UCI/Pro' race. I am lucky enough to have a UCI license and thought I may as well use it; it means I start each day top 100 rather than top 500. Making those early trails and single track a little more clear and rideable. As well as saving you time as by the 500th person there would have been a lot of working on the first set of singe track as the masses filter into one line. I rode well by my standards. Didn't go too hard, just took the pace of a tempo training ride. Remember, this is a marathon, and four of them, so you can't just go hell for leather at every opportunity. The main climb was tough, but it was consistent, and the trail was quite manageable. One point to note is the gradients MTB trials use are much more stiff than the road option! 12% average for 10km is more common than not. The decent was wet but non-technical and I came into the final descent of the day which is a 3km UCI Downhill course!! Over the bars on the first technical drop off! Nothing major and back up. I was shocked at the steepness and wasn't prepared; it was -20% average for over 1.5km and had one 500m section of -30%! It was scary and I was a wimp. But I got down, probably in the slowest time ever. But happy to have finished say one!
Stage 2
Unfortunately the race was organised so that the stages got progressively harder; more climbing, more distance, more technical sections. I wasn't too concerned about Stage 2, it was Stage 3 which was a worry so today I just wanted to get through with no dramas.
The sun shone and we were off and climbing within 500mtrs of starting! I rode hard, felt good and took the first 1hr 20minute climb at an average HR of 170. Not full out but by no means 'chilling'. I was eating and drinking lots but arriving in the valley after the first half of the race I noticed the small group I had been with for the first 2.5 hours was riding away on the rolling gravel sections; a section which should suit me better than the brutal climbs and descents! It was then I realised I was utterly empty. I was surprised having fuelled at the usual rate, I just thin MTB takes more from me so I must learn from this for Transalp and eat more than I would usually.
Unfortunately the day didn't get any easier. I then had 6km climb at an average of 15%. It was brutal. And it was hot. Physically I had no fight in me but mentally I was laying it all down! The day continued with many other trials, including a launch over the bars on a -30% section. That one hurt. In the process I lost my water bottle but didn't realise until a while later. That made it slightly more challenging as the next feed was over an hour away!!
It was a long day. And easily the hardest day of the week. On paper tomorrow was supposed to be!
Stage 3
Queen stage. But in all honesty I was too tired to make it as epic as it would like to be. By default of being exhausted it was epic! I was on the trails for 6 hours. They were technically challenging and I was becoming mentally exhausted so had to take a judgement call to reduce the risks I was taking on some parts; I knew I couldn't afford to have an accident and so I controlled the controllables. It was a lonely day. By this stage in the race the 500 competitors are spread, in some cases, hours apart from each other. I had a couple of hours of just seeing two riders! Plenty of time to think. Plenty of time to think about Anne and that this mental and physical suffering is nothing compared to what she goes through every day.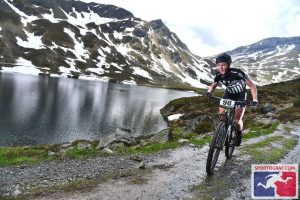 Stage 4
Just the small matter of a Mountain Time trial!! 14km and 1200mtrs of climbing doesn't sound too bad does it?! I really enjoyed the first half, my legs and heart
were responding and I got into a decent tempo. Then the uphill technical sections began and it all came undone! By this point I had come to terms with the fact my technical ability was a complete let down and I had run out of energy to fight these sections. NO shame in admitting I had to walk quite a few bits! I was thrilled to finish and rewarded myself with a road ride back to HQ on a fast, sweeping and stunning descent!! Put me back on my road bike!!
In summary this is the hardest sporting event I have ever done. I suffered from the moment my bag didn't arrive to the top of the final climb. I was pretty much on my own for 17 hours of racing. And I ran out of steam quicker than I thought I would. But this needed to happen, I needed to learn about where I can improve and economise. And I needed to learn the mental strength required to get me through Transalp.
One thing is for sure. It's not going to be easy.
If you would like to donate to visit https://www.justgiving.com/Karla-Boddy/.