There's an apt way to describe climbing's popularity increase in the UK in the past decade, and that's steep.
Even before the sport's debut at the Olympics in Tokyo in the summer of 2021, the activity had seen more and more people wanting to give it a go, as climbing gyms and centres popped up all over the country.
Back in 2018, a report from the Association of British Climbing Walls showed that there was an increase of 16% of people visiting indoor centres, with another 12% jump expected in the 12 months that followed.
In fact, sport climbing became Google's most searched sport taking place during the Games in Japan over the summer.
Whether you are trying sport climbing for the first time at home in the UK or abroad, it is important that you have appropriate insurance cover in place. We at SportsCover Direct offer Sports Accident Insurance policy if you're scaling the walls in the UK, while our Rock Climbing Insurance will protect climbers abroad.
What is sport climbing?
Sport climbing's appearance at the Tokyo Games was a big moment for the climbing fraternity and shone a spotlight on just one of the many ways thrill seekers can get their big wall fix – but what sets sport climbing apart from the other disciplines?
During the Olympics, sport climbing is split into three events – bouldering, speed climbing and lead climbing, but it is generally more associated with the latter.
While traditional climbing might be the style we see implemented on notable walls such as El Capitan in Yosemite National Park, it is a discipline that requires the climber to fix their own gear to the natural features of the wall, such as cracks, to form their safe route to the summit.
On the other hand, sport climbing is distinguished by the fact that there are fixed anchor points already set on the wall. The climber then moves from point to point allowing them a clear and obvious path to the summit, whilst staying fixed using their safety ropes.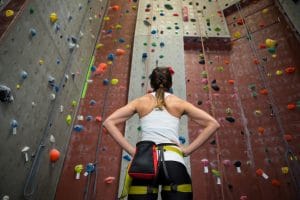 Where's best to try sport climbing? 
While sport climbing may be predominantly an outdoor exercise at its core, that doesn't mean the journey to becoming the next Shauna Coxey –  the UK's dual climbing World Cup winner –  has to be solely set in the wild.
Indeed, the best place to start your rock climbing in this country is at one of the plethora of climbing gyms and walls, which now exceed 400 in number according to the British Mountaineering Council.
You can search the BMCs interactive map to find a wall in your local area.
While a first foray into one of these climbing gyms might feel slightly intimidating, it's here that beginners can take taster classes and courses, in order to have you scaling the walls in no time.
It's vitally important to stay safe when rock climbing, so ensuring you seek the right instruction to provide you with the knowledge you need to ascend in a secure manner is paramount.
These clinics will teach you the essentials of knot tying and belaying – the art of extending or withdrawing your rope length to counter-balance your weight in the event of a fall.
Once you've got the essentials mastered, train and train, and practice plenty in order to get yourself adventure ready for an expedition up a cliff face in the UK or abroad.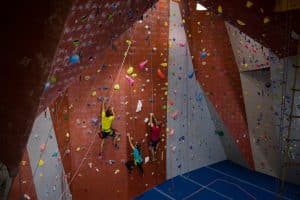 It's a surprisingly social experience
Not only will starting off at a climbing gym teach you safety essentials and help you hone your skills, but it will also introduce you to like-minded folk.
While climbing might be less of a group activity than the majority of other sports, there are plenty of benefits to making friends from the very start of your climbing education.
Speaking to others will help you understand the equipment you need, get the heads up on where's good locally to climb, and provide you with that added social support from the moment you start learning the sport.
Start your rock climbing journey
Before you head off to the rock faces of the Yosemite National Park, the Dolomites in Italy or any other sport climbing hot-spot, it's important to make sure you're fully prepared.
But even when you know what you're doing, there's no reason to stop your progression.
Training hard and practising new techniques will open your horizons to new adventures on the rock, both in this country and further afield.
That being said, while striving for better is often key to sporting prowess, it's important to remember that climbing should be fun, and most importantly safe.
Know your limits, enjoy your climbing, and become another one of the million-plus people in the UK that regularly scale climbing walls in their leisure time.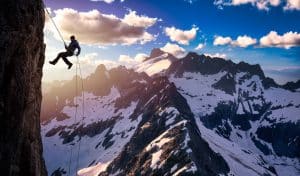 Before going off in the wilderness as that can be a life threatening adventure acquire some fundamental level tips and tactics from our blog: The Essentials of Rock Climbing.