Part of the allure of scuba diving is traveling to new destinations. Swimming with fantastic fish under the water, surrounded by colourful coral never gets old.
The whole culture of diving, including health benefits and an especially vast appreciation for the ocean, continues to grow every year.
Whether you're considering getting your dive certification in a tropical location or it's your bucket list that compels it, you want to dive the best spots.
These 5 dive destinations are inspired by Divein's top 10 dive sites in the world. They will amaze even the most advanced scuba diver and are guaranteed to provide revelatory emotions for less experienced ones too.
ABOUT US
We have been providing specialist Sports Travel Insurance for over 25 years to UK citizens. Our comprehensive policy can protect you to take part in over 500 different sports and activities across the globe. Get an instant quote for Sports Travel Insurance online now! Some of our other products include Scuba Travel Diving Insurance and Extreme Sports Insurance.
Chuuk Lagoon: Wreck Diving with Ghosts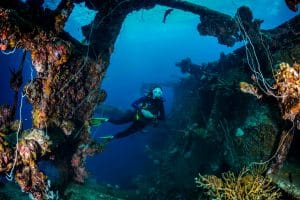 The Central Pacific island nation of Micronesia is a revered  destination for scuba divers. In Chuuk state there is an atoll enclosed by a 140-mile long reef forming Chuuk Lagoon. A natural harbour, wreck-diving is the reason aficionados flock here.
This is where the world's largest ghost fleet lies, a host of imperial Japanese naval vessels, including aircraft carriers, destroyers, submarines and cargo ships. During World War II, the Japanese used the lagoon as a base for manoeuvres in the South Pacific.
In 1944, a U.S. air strike destroyed most of the Japanese fleet, sending them to the bottom of the lagoon. There are more than 60 wrecks lying at the bottom with plenty of pelagic tenants flourishing amongst the ships and coral.
The wrecks provide an uncanny glimpse into how powerful and beautiful nature's ultimate grip on even the most powerful machines can be.
Find a liveaboard to cruise to here as many islands are protected and don't have any resorts.
Variety and Spectacle in Egypt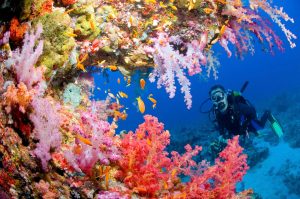 Though not as big as Australia's reef, Egypt's Red Sea dive sites are known for their pristine corals, which support more than 220 different species of hard and soft coral types.
What's also interesting about these super-corals is that they are proving to be more resilient against mass bleaching seen in other reefs.
Many areas enjoy protected status, and marine life flourishes as a result. In total, Egypt's Red Sea is home to about 1,100 species of fish, 20% being endemic to the area.
The most famous coral reefs are those of Ras Mohammed National Park, while other leading reef diving destinations include Giftun Island, The Brothers Islands and Daedalus Reef.
There are amazing wrecks, like the Thistlegorm and drift-diving sites providing variety not found in too many other places.
With political turmoil finally stabilising, it's easy to find resort locations but there are also great liveaboard options too.
Mexico's Megafauna
 
Mexico is an incredible destination for those who want to make a significant dent in their scuba diving bucket list.
Between November and May, liveaboard trips to the Revillagigedo Archipelago (often simply called Socorro) offer amazing encounters with pelagic animals, especially giant devil rays, humpback whales, dolphins, and a variety of oceanic shark species.
From May to September, Isla Mujeres welcomes whale sharks who come to feed on seasonal plankton blooms. Though this is a snorkelling experience rather than scuba diving, it alone makes traveling here worth it.
If pelagic life isn't enough the Cenotes are deep sinkholes that offer inland opportunities. And there are a lot of these geological wonders to explore around Mexico.
Teeming Life at Raja Ampat
Almost universally found in every top 10 list, Indonesia's Raja Ampat has such an overwhelming abundance of life. It's coral gardens are overflowing with 374 species of fish that make many divers return again and again.
It's been called the centre of life on earth by many marine biologists and climate scientists.
There are schools of mantas, plenty of sharks and barracudas that can blot out the sunlight from above in the middle of the day.
Best of all, it's easy to travel here and, even though the infrastructure around diving makes it convenient for travellers to visit the surrounding islands, the authentic charm of Indonesia is still present.
Choose between well-functioning resorts or comfortable liveaboards where the food is going to be pretty good, Raja Ampat scores quite well on both wonder and quality.
Continental Cracks in Iceland
Located in Thingvellir National Park in Iceland, the Silfra fissure separates the North American and Eurasian continental plates.
It was formed by a massive geological event in 1789 ripping apart the two continents. Today it's as stable as it is beautiful.
Silfra is unique as the only diveable tectonic boundary on Earth and there is uncanny clarity with a visibility that can extend an incredible 330 feet!
The clarity is due to aquifers of glacial water that filter through deposits of porous lava making it clean enough to drink.
Even if there's not much sea life here, there's nothing like it anywhere in the world. But this zen experience is a dry suit dive as the water rarely climbs above 4°C.
These 5 wonders offer indescribable experiences for any scuba diver. If you're lucky enough to get to any of these destinations, you'll know it immediately with every fibre of your being.
If you haven't tried scuba diving yet, one of our blogs Scuba Diving the Facts is full of interesting facts that might tempt you into the water.