Hazel Findlay is a professional climber and a general adventurer from the UK, currently living in the Alps. She has climbed since she was 7 years old and has travelled all over the world with her climbing. A few years ago she started to struggle with injuries, this turned her attention to body, food and diet. Below are 5 of her favourite recipes to fuel and recover from your next big adventure.
All these recipes are tried, tested and tasty. They are also gluten free, dairy free, processed sugar free and made with unprocessed whole foods. With simple adjustments they can be made paleo, vegetarian or vegan. Whatever your dietary needs (if any) these recipes are bursting with energy, flavour and made entirely with whole foods.
I like to make food in the same way I climb: bold, creative, process-orientated and unafraid to fail. You won't be finding any exact measurements in these recipes and there is ample room for your own variations. Use your imagination and don't worry about the results, keep experimenting and with that process you'll feel the love to create food rather than just eat it.
1) Coconut raspberry pancakes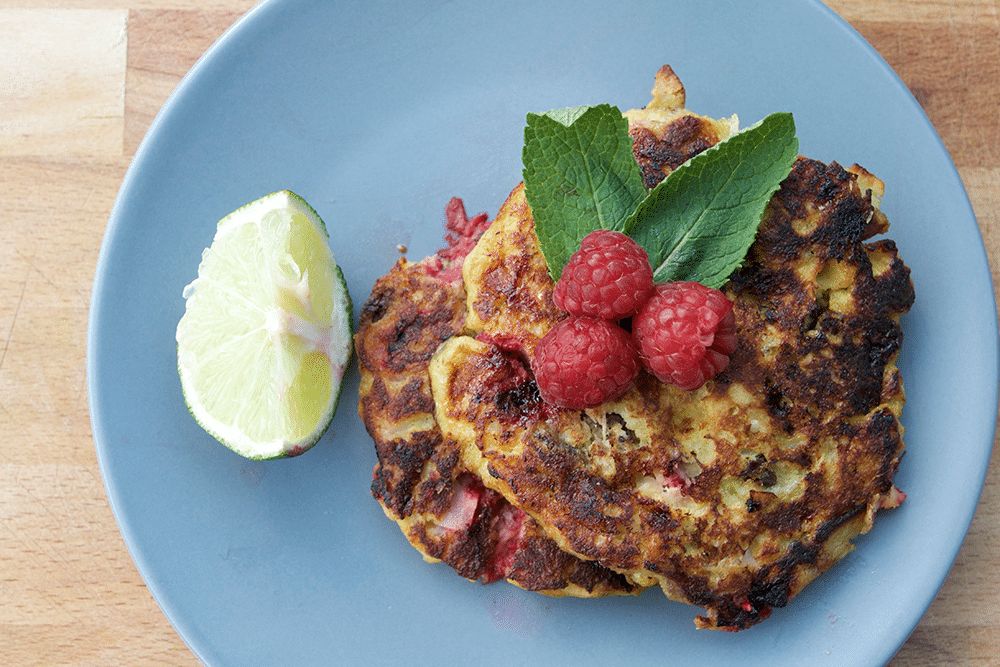 Big day ahead? Need a rest day recovery treat? These pancakes will not leave you wanting more from your morning.
I usually start my morning with eggs in some shape or form. I find these pancakes to be the best for long term fuelling with the extra carbs and natural sugar to get you out the door. If you want to veer away from the sugar in the coconut you can use nut or seed meal (such as linseed/flax) instead of the coconut, but the coconut really makes the texture! I highly recommend the addition of hemp seeds for prolonged energy and recovery.
This serves 2. If you have some left over (which I'm sure you won't) take them in some tinfoil on your adventure. They are just as good cold for lunch as they are hot for breakfast!
Core ingredients:
– Unsweetened desiccated Coconut
– 2 eggs
– 2 medium Bananas
Recommended extras (some ideas but get creative):
– Raisins
– Any kind of chopped nuts, I recommend pecans or walnuts
– Linseed, flax seed, hemp seed, or soaked chia seeds
– Any kind of fruit or berries, I highly advise raspberries
– Cinnamon, nutmeg or any other spices you might like
Method:
1) Whisk the eggs in a bowl until nice and light/airy
2) Add 2 medium sized bananas to the bowl and mash them with a potato masher (lumps are good)
3) Add desiccated coconut, raspberries and other extras until the mixture is thick enough to pour at a very slow rate
4) Pre heat pan on medium/high and fry with a little coconut or cacao butter
5) I like to finish off with a squeeze of lime
2) Chia pudding lunch pot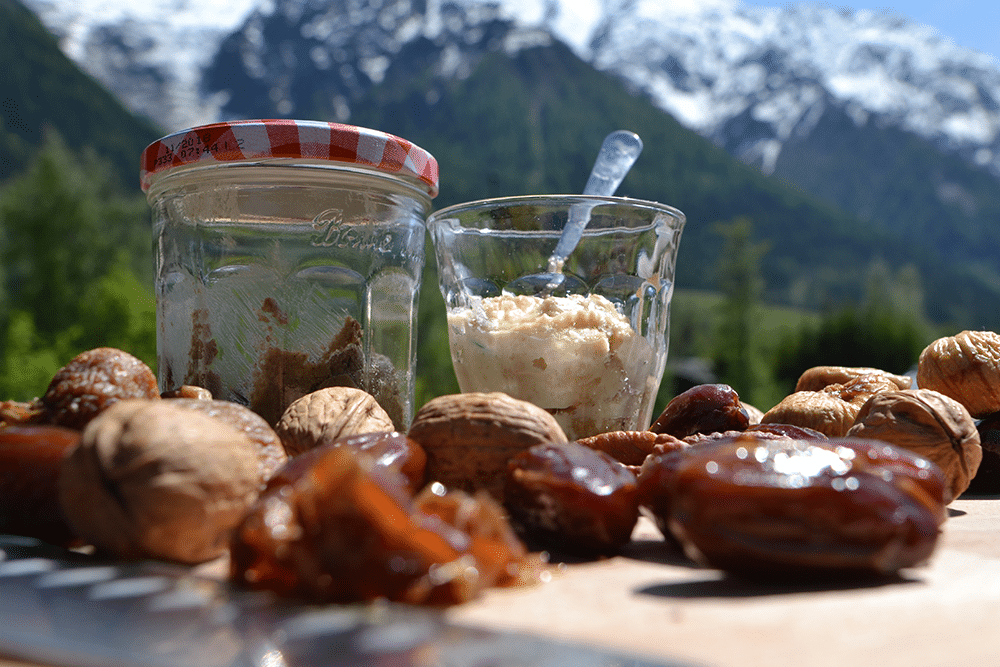 The book 'Born to Run' is about a Mexican running tribe called the Tarahumara. These guys can run all day. I was interested to see that one of their preferred energy foods was Chia seeds. These little things have become all the hype in health food circles and have been dubbed a 'super food'.
I'm not sure what qualifies as a super food but if any food does these do: they are packed with omega 3 fatty acids, Vitamins A, B, E, and D, and minerals including sulphur, iron, iodine, magnesium, manganese, calcium, niacin, thiamine, and they are a rich source of anti-oxidants. They are also calorie dense for their size and a good source of plant-based protein, perfect for big adventures where wasted weight matters. It may be placebo effect from all the hype but I feel like my energy wavers less after some Chia seeds for lunch or breakfast. Remember – don't just eat them – soak them first!
Core ingredients:
– Chia seeds
– Some kind of non-dairy milk, my preferred is almond milk
Recommended extras:
– Oats
– Nuts
– Fruit – good options are apple, banana or berries
– Cinnamon
Method:
These puddings are so easy to make there are no 'steps'. Simply put all the ingredients together in a Tupperware box (I use one like this) that doesn't leak liquid (although it shouldn't be too runny) and leave to soak. If you make it in the morning it should be good by lunch or if you're short on time you can do it the night before. The texture of the soaked chia seeds isn't to everyone's taste, they are a little like frog spawn, but if you don't mind the texture they tend to take on the flavour of whatever you soak them in, so get creative!
3) Rescue Balls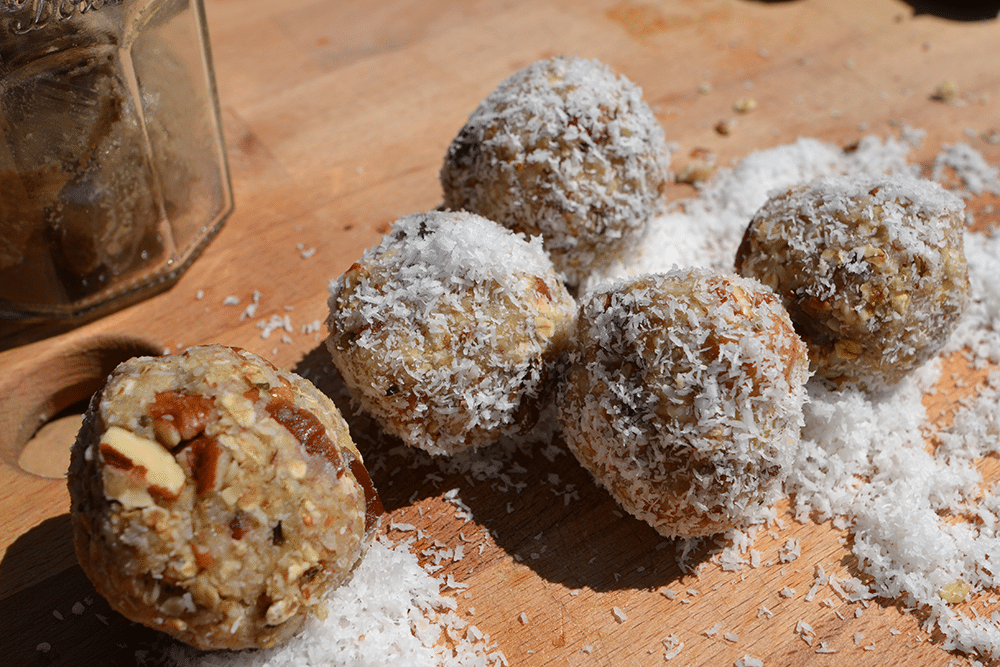 Right when you think you can't go on and you want to give up, these balls of power will give you the extra kick you need on that big hike or climb. Instead of buying expensive bars which have too much sugar, packaging and random ingredients, why not make your own? These are super quick and easy and really fun to get creative with. I've even made a savoury, spicy pistachio version when I was sick of sweet stuff.
Core ingredients:
– Dates
– Nuts – I prefer walnuts and pecans
– Oats (choose gluten free oats if need be). It's also possible to make without oats.
– Nut Butter – I used homemade cashew butter (I blended cashews) or you can buy any kind of nut butter, smooth is best
Recommended extras:
– Linseed meal
– Soaked Chia seeds
– Grated apple
– Dried figs
– Hemp seed
– Chopped sunflower seeds
– Desiccated Coconut
– Carob powder
– Dark chocolate chips
Method:
1) Put some oats in a bowl and add a small amount of water, just enough to get them a bit wet.
2) Chop dates into small pieces, these are what stick the balls together so if they aren't sticking add more. Put them in a mixing bowl.
3) Add the softened oats (make sure they are not actually watery, just a little softer), nuts, nut butter and other ingredients
4) Time to get messy! Mould them into your preferred size
4) 'Stay-light' Cauliflower rice stir fry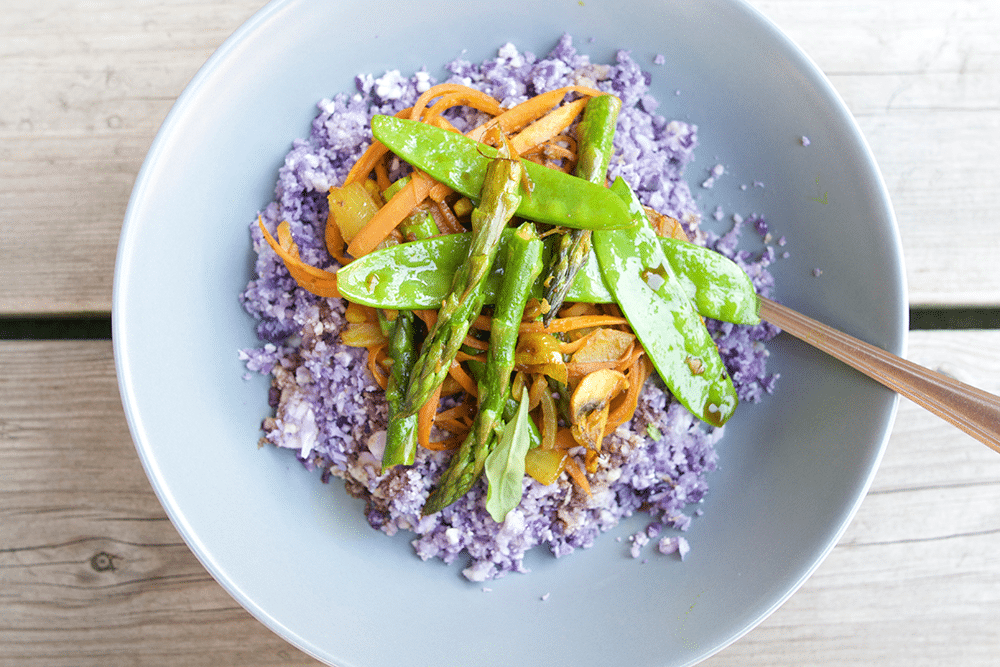 Want a hearty evening meal but you don't think you really deserve the high calories? This all-vegetable dinner tastes amazing and is packed with nutrients for low-inflammation and immune support. If you have worked out and you need the extra recovery add meat or a plant-based protein such as tofu.
Ingredients:
– Cauliflower
– Cabbage (red or other)
– Turmeric
– Garlic
– Ginger
– Spinach
– Your choice of vegetables. My choice: asparagus, green beans, carrot, courgette, mushrooms
– Cumin seeds
– Soya sauce (choose gluten free if needed)
Method:
1) Blend Cauliflower and cabbage (red gives it great colour and pepper taste, white is plainer) to rice-sized pieces. You can do this by hand but it takes longer
2) Fry with coconut butter, cumin seeds and garlic until soft
3) In another pan stir fry vegetables with spices
4) Add spinach and soya sauce at the end
5) Serve the vegetables on the bed of cauliflower rice
5) THE recovery smoothie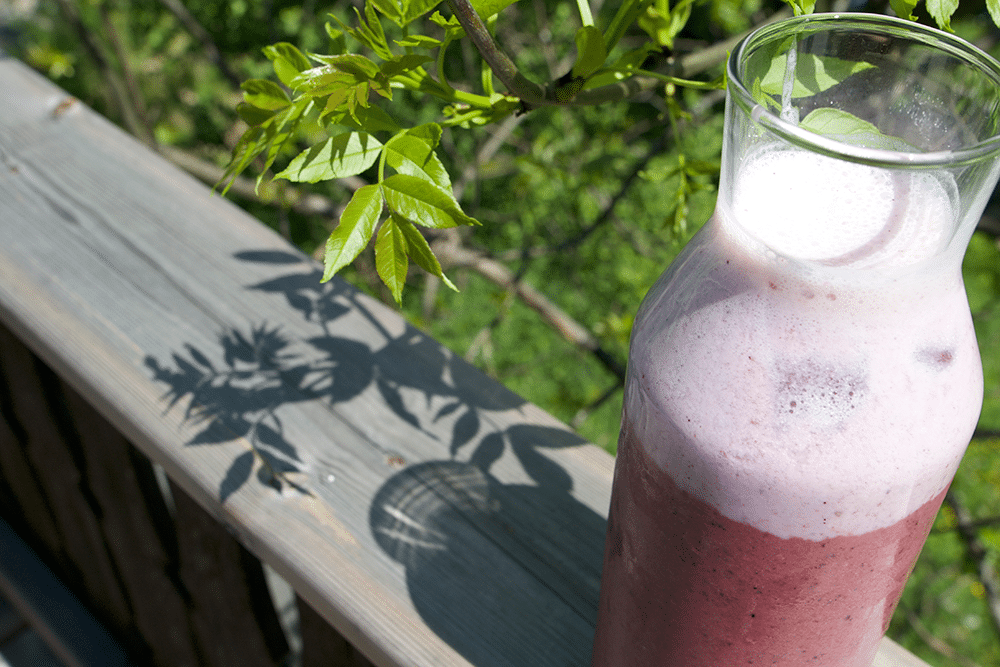 Hard day at the cliff and you want to keep that muscle soreness at bay? Below is the best recovery smoothie for recovery and lowering inflammation.
Ingredients:
– 3 table spoons of Hemp protein powder.
– Banana
– Berries
– Ginger. About a thumb nail sized chunk
– Coconut milk
– 1/4 an avocado
– Half teaspoon of turmeric powder
– Hand full of spinach leaves and or kale
– Teaspoon of chia or flax/linseed
Method:
In the blender they go! Again, don't worry about exact measurements just keep adding liquid until it's runny enough. On a hot day, add ice!
Why you need to try these recipes
Food is fuel. The better the input the better the output. Many people like to focus their diet on the tangibles; how much they weigh, how good they look. How you eat also dictates how you feel. This is very important for everyone, but particularly so for anyone who wants to do a lot with their bodies such as climbers.
You can have lost weight but still feel heavy. You can have low body fat but recover poorly. You can eat the right number of calories but be missing vital nutrients you need to perform well and maintain high immune function. Without doubt, if you want to push your body to the limit you need to eat nutritious whole foods. You also need to experiment with what works best for you because what is good for some people isn't always best for you.
Want to read more about Hazel and here climbing adventures? Head to her blog now to keep up to date.
If all the talk of fuel for your next climb has left you seeking a new adventure, remember the essentials. Our comprehensive Sports Travel Insurance policy protects you from everything from lost baggage to any of those unforeseen spills and injuries. Get a quote today!