Each year when the days get shorter and the temperatures start to plummet I try to get away to do at least one week of warm weather training. Most professional sportspeople have a period of warm weather training during the winter and whilst most of us can't escape for as long as the professionals, a week or two of sport in the sun can do wonders for our health and motivation.
This winter my timing was spot on as I travelled to Lanzarote the day before heavy snowfall in the UK, which not only would have stopped me training but would have actually preventing me from leaving the country, as many airports were forced to close. I spent the whole week pinching myself at how lucky I had been!
I chose Lanzarote for a number of reasons: an average December temperature of 18 degrees, smooth roads for cycling, a variety of terrain and world class sports facilities, one of which is the sports complex Club La Santa where I had decided to stay. Club La Santa is a resort specifically designed for sportspeople and offers a range of facilities including a running track, three 50m outdoor swimming pools, bike hire centre, gym, tennis, badminton and squash courts, spa and a wide range of aerobics classes.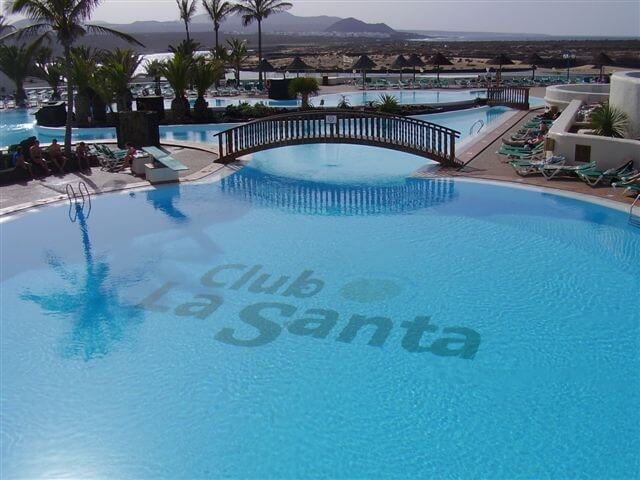 As a quadrathlete, Club Santa was the ideal warm weather training destination for me. It not only offered a lagoon for open water swimming, complimentary road and mountain bike hire and plenty of running routes, but unlike other resorts on the island there are also a range of kayaks available to use, including K1s.
La Santa is the kind of place that you can travel to alone but you will quickly find people to train with. They offer an excellent apartment share option where single travellers can sign up to share an apartment and pay 50% of the cost of an apartment. This removes the problem of prohibitive single supplements. The resort also offers regular sports specific training weeks where you can meet people to train and socialise with. Also the famous 'Green Team' representatives run group sessions including group bike rides, runs, water sports sessions, and aerobics classes.
I had a wonderful week and it was certainly a shock to return to the freezing temperatures back home.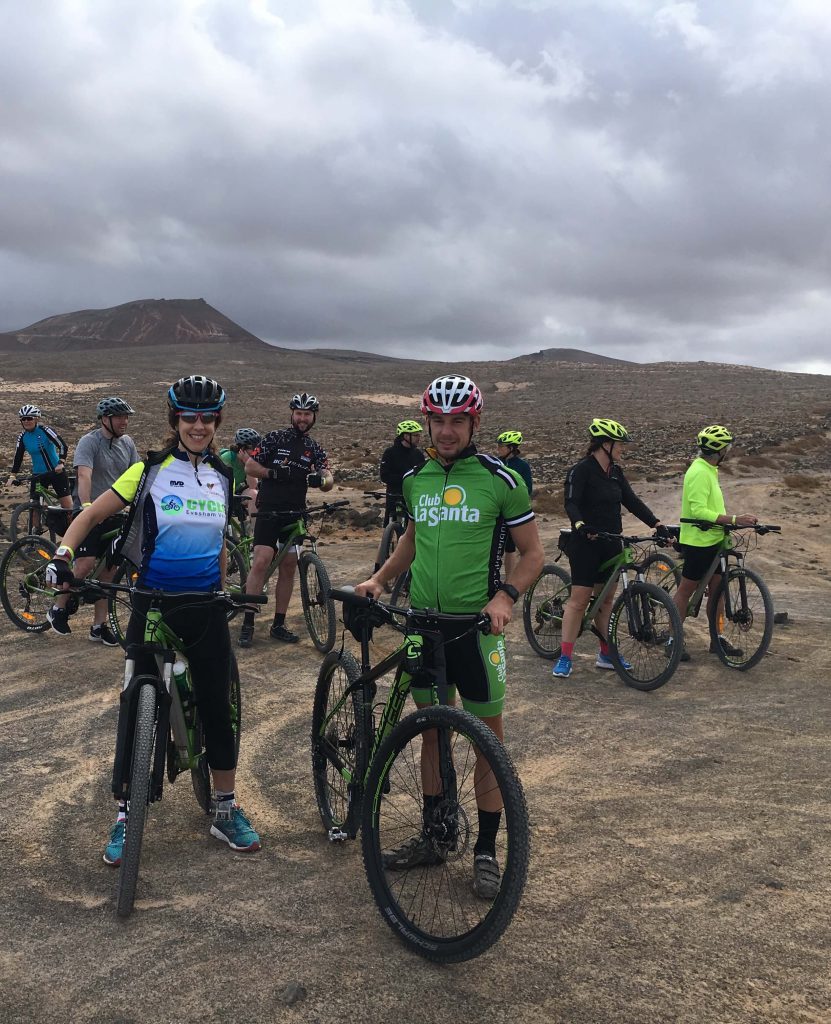 Here are my top 10 tips for getting the most out of a warm weather training holiday:
1. Don't do too much, especially in the first few days. It is tempting to do a lot of extra training but this can lead to fatigue or worse, injury. Ease yourself into the training. It is probably a good idea to go with an idea of how many hours of training you want to do and stick with it to avoid overtraining.
2. On a training week volume is better than intensity. The aim of winter training is to get a good training block and the majority of the work will be base (easier) training rather than intense speed work.
3. Stay hydrated. It is so easy to get dehydrated whilst training in the heat. Make sure you take some powdered carbohydrate and electrolyte drinks that you can make.
4. If you hire a bike make sure you take your bike measurements with you. You will be in pain if you cycle for a week in the wrong position. If you wear cleats remember to take your bike pedals with you.
5. Do some research on the area you are going to beforehand. It is easy to find suggested cycle or run routes and maps online.
6. Make sure you are properly insured and covered for the activities you plan to do. SportsCover Direct offer sports specific travel insurance, including cover for training camps.
7. Although temperatures will be warmer than back home take some warmer training kit with you, for example, leg warmers, arm warmers and a gilet, as even in places such as the Canary Islands the weather can change quite quickly in the winter.
8. Make sure you factor in some time for recovery as it is when we are resting that the training benefits are made. Don't be afraid to have an easy day. The extra training volume will mean that your immune system will be depleted so as well as recovering well make sure you eat plenty of immune boosting foods.
9. Don't overdo it on the last day. The temptation is always to cram in lots of training the day before travelling back home. The advice for the last day of warm weather training is the same as the first; be sensible as you don't want to get a strain, niggle or just DOMS the day before having to sit in a plane, train or car for hours!
10. And finally, take a couple of rest days once you are back home. Your body will need to recover and reap the benefits of a heavy training week. Lots of people get sick after a week pushing themselves hard, as they haven't taken enough time to recover.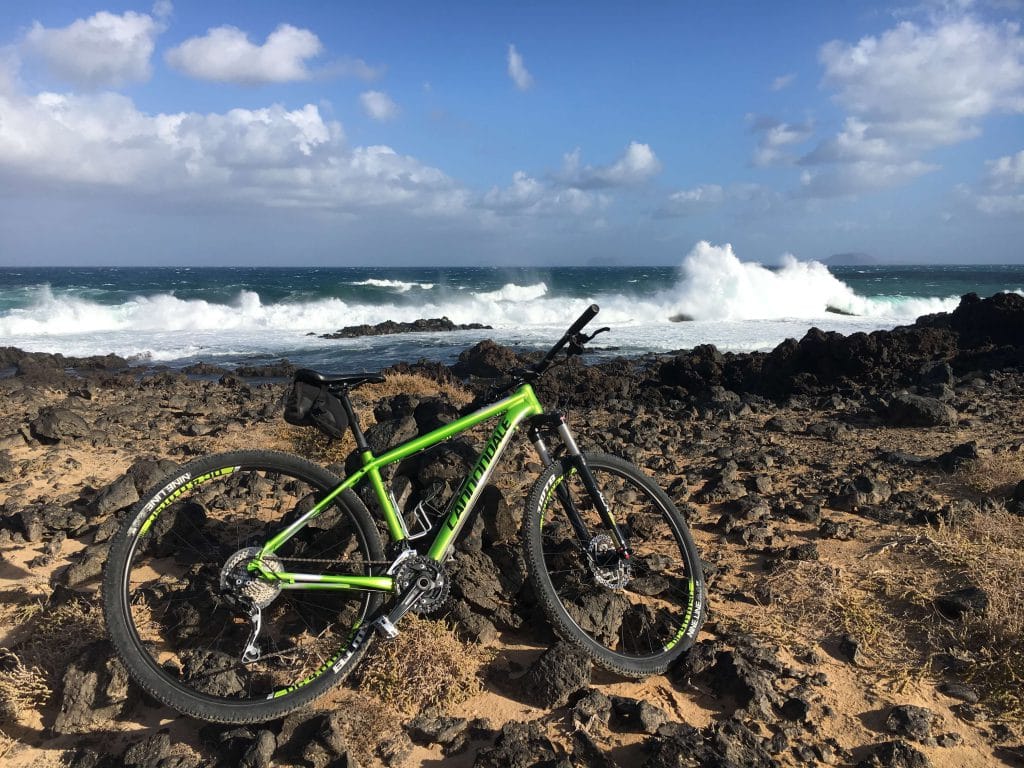 Helen is the current British Quadrathlon Champion and British Quadrathlon Trophy Series winner and a SportsCover Direct Ambassador. She is a former age group World and European Duathlon champion and European Triathlon champion. In 2015 Helen was part of the One Day Ahead team, which raised £1m for Cure Leukaemia by riding the entire route of the Tour de France one day ahead of the pros. You can follow her on Twitter via @helengoth.