The number of people cycling increased massively in 2020. At the end of last year, Strava released its 'Year in Sport' data report, which showed a boom in global exercise since the start of the COVID19 pandemic.  More than 1.1 billion activities were uploaded to Strava in 2020 an increase of 33% on the previous year. There was an 80% increase in outdoor rides and a 70% increase in indoor rides recorded globally between April and June 2020, relative to the same period in 2019. In the UK, the retailer Halfords reported that sales of adult bikes were up a whopping 193% compared to last year and research shows that 40% of Brits have cycled more frequently over the past 12 months.
There are a variety of reasons for the increase, including the closure of gyms, people using bikes instead of public transport due to fears of virus transmission and the Fix Your Bike Voucher Scheme.
Halfords stated, "Changes during the pandemic, such as the Government recommending cycling as a daily form of exercise, avoiding public transport, more investment, being housebound, and an increase in leisure cycling, have fostered an environment where cycling has thrived."
One of the biggest reasons that people turned to cycling, certainly during the first UK lockdown in Spring 2020, was the quieter roads. UK Cabinet Office data shows motor traffic dropped by 73% on 29 March compared with pre-outbreak levels and analysis by the Guardian newspaper showed that the number of road miles travelled during the first lockdown was the lowest since 1955, when far fewer people owned cars and there were no motorways. With significantly less motor traffic, people felt that it was safer to get out on their bikes, especially if they had not been on two wheels for a while. Concerns about safety are a huge barrier to cycling. According to the UK Government, some 62% of adults aged 18+ in England agreed that "it is too dangerous for me to cycle on the roads".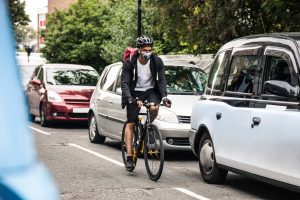 It wasn't just less traffic that gave people the confidence to get on two wheels but also an increase in cycling infrastructure, with many councils introducing temporary measures such as pop up bike lanes and redistributing street space for cycling and walking, supported by funding available from the Government's Active Travel Fund. During the first lockdown, people felt safer to get on their bikes, thanks to temporary infrastructure improvements and quieter roads.
So what is needed for this boom to carry on post pandemic?
Recent reports suggest that this upward trend is likely to continue with the Halfords report showing that 33% of UK adults said they plan on using their bike even more once the lockdown ends, with 37% planning on buying a bike, either for themselves or a family member, within the next six months.
Regrettably, traffic levels in many places have now returned to pre-covid-19 levels. It is therefore clear that the provision of dedicated infrastructure will be crucial to maintain or increase the current levels of cycling. A study published in the Proceedings of the National Academy of Sciences of the United States of America showed that in cities where bike lanes were built, cycling had increased up to 48 percent more than in cities that did not add bike lanes. Infrastructure includes things such as, segregated bike lanes, safe lockable bike storage and cycling-friendly streetscape modifications such as cycle-safe junction designs.
Unfortunately, some councils have been slow to embrace Active Travel. My own council, Worcestershire County Council, has made the national press for its policy of 'no loss of road space' and 'no loss of parking spaces', causing TV presenter Jeremy Vine to tweet "I'm hoping this is a joke of some sort." The Royal Borough of Kensington & Chelsea (RBKC) also made the national news for its refusal to reinstate the emergency cycle lanes on Kensington High Street. These were introduced during the pandemic and removed in early December, less than two months after they had been installed, despite being used by up to 3,000 cyclists a day!
In an interview with Cyclist Magazine, when asked to name the top three things the Government could do to encourage cycling, former Olympic champion, now Greater Manchester's Cycling and Walking Commissioner, Chris Boardman said, "I can give you one, which is space. That's it. It's space. Ask anybody why they would or wouldn't ride a bike and the big blocker is space. Safe space from where I live to where I want to go." For people to have this safe space, more road space will need to be reallocated to bikes and pedestrians.
Now is the perfect time to build on the current cycling boom and start to invest in permanent cycling infrastructure and it has never been so important. Sixty per cent of Councils in the UK have declared a climate emergency. We need to act now to help save our planet and building cycling infrastructure, so that more people feel safe on the roads and leave their cars at home is key to this. According to the World Health Organization (WHO), only 20% of the world's urban population lives in areas with good air quality, and more than 90% of the world's children breathe polluted air that can be toxic to their health and development. Active travel can result in reduced emissions of nitrogen dioxide (NO2), particulate matter (PM) and CO2, helping to tackle climate change and improve air quality.
We need to act now to uncover the massive economic, health, and environmental benefits of increased cycling capacity. As Amsterdam's Bicycle Mayor, Katelijne Boerma, says, "Bicycles could save the world".
Riding anywhere in the UK this year? Make sure you're covered for any serious spills with our Sports Accident Insurance. Alternatively, if an overseas cycling trip is on your agenda, our Cycling Travel Insurance is the policy for you. Just fill in the form to get your instant quote today.
About the author
Helen Russel is the most recent holder of the British Quadrathlon Champion and British Quadrathlon Trophy Series titles. She is also the 2019 middle distance World Quadrathlon champion in her age group and the 2018 age group World Cup Series winner and sprint distance World Champion. Before turning to quadrathlon, Helen was age group World and European Duathlon champion and European Triathlon champion. In 2015 she was part of the One Day Ahead team, which raised £1m for Cure Leukaemia by riding the entire route of the Tour de France one day ahead of the pros. You can follow her on Twitter via @helengoth.