We at SportsCover Direct have been providing tailored Sports Travel Insurance policies for over 25 years, and over that time protected more than 200,000 sports enthusiasts.
Golf Insurance is one of our bestselling products, and so here is some useful information on how golfers can treat and prevent golfer's elbow – which is one of most common injuries amongst golfers.
What is golfer's elbow?
Medial epicondylalgia is the scientific name, explains the NHS. It is characterised by tenderness and pain on the inner part of your elbow called the medial epicondyle.
It is similar to the equally prevalent condition known as tennis elbow – the only difference being the location of the pain you are feeling.
Golfer's elbow may develop through overuse of a bunch of tendons that are used every time you bend your wrist and fingers. Through that overuse, there are structural changes in your tendons which are no longer able to bear the forces that they encounter even in everyday life.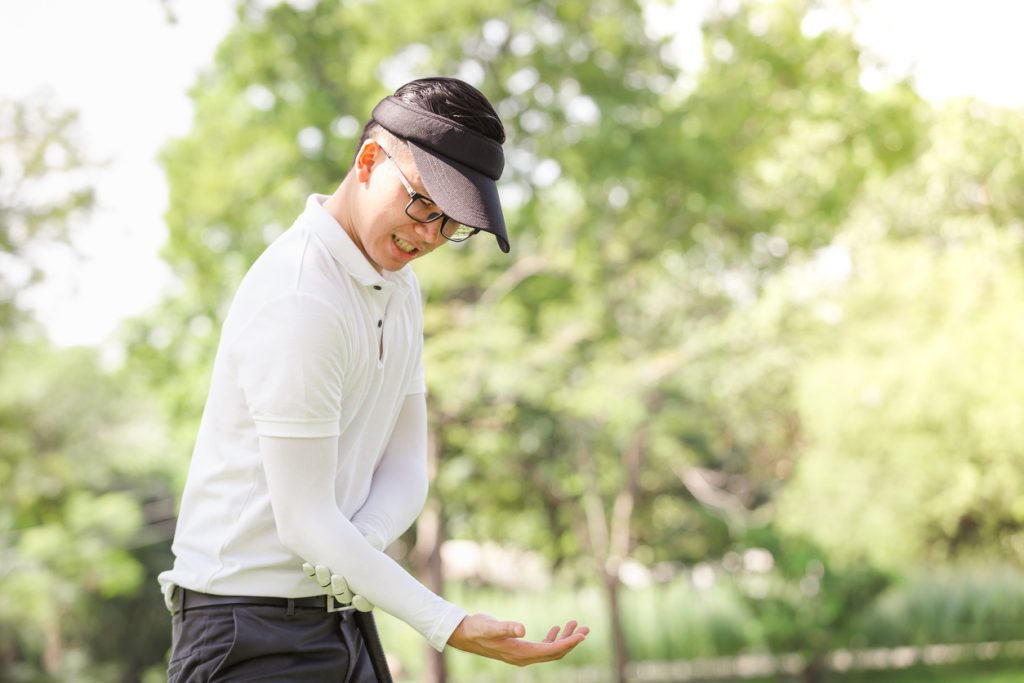 Common symptoms of golfer's elbow
Stiffness
• Your elbow is likely to become stiff and more difficult to move – with a tenderness, rising to pain, from the bony lump on the inner part of your elbow;
Pain
• the exact symptoms are likely to vary from one person to another. Usually, you will feel tenderness and pain on the inside of your elbow;
• the pain might take the form of a general aching over your elbow, together with shooting pains and sensations that run down as far as your hands;
• the pain becomes worse if you bend your elbow or grip objects – even in a simple handshake, for example;
Weakness
• the pain and stiffness in your elbow manifest themselves as a weakened wrist and a reduction in the strength with which you can grasp objects;
• lifting something as heavy as a full kettle of water, carrying shopping, unscrewing the lid of a jar, or trying to straighten out your elbow may all increase the pain and tenderness you feel.
How to prevent golfer's elbow
Understanding what can cause golfer's elbow is key to preventing it.
Golfer's elbow develops mainly through activities involving repetitive or excessive bending of the wrist. In golfers, a common cause comes from an incorrect or poorly positioned swing – hence the name.
But it can also develop through many other sports – those that involve throwing, racket sports, rock climbing, or weight training, for example. Activities such as gardening, typing, or using hand tools may also make the condition flare-up.
Golfer's elbow can also develop from a single violent trauma – injuring your elbow in a fall, for example, or suffering a sudden blow to it.
Treatment
Exercise is the key to treating and preventing golfer's elbow – though you might need some pain relief from ibuprofen, paracetamol, or anti-inflammatory gels in the initial stages. (Please check with your GP if you are unsure if you can take any of these remedies and never take them for more than the recommended length of time).
You might find some relief simply by adjusting or changing the position of your hand or wrist when you grip things. Small adjustments might make a big difference – changing the way you hold and move the mouse when sitting at your computer, for example.
Traditional treatments with ice or heat packs may help, and you can also try acupuncture or massage.
Exercise
In terms of physical exercise, there are three specific types, described in some detail on the Healthline website. These exercises are designed to stretch and strengthen your elbow, forearm and wrists.
Strength and flexibility are the things you are aiming for to ease the tension, tenderness and pain in your elbow.
Ultimately, of course, you are looking to prevent golfer's elbow recurring in the future.
Try these simple exercises at home for a period of about four to six weeks. If your golfer's elbow is not improving by that stage, then seek further guidance from a physiotherapist or your GP.
If you experience tingling, swelling, fever, weakness or redness or other unusual symptoms in your arm, seek medical help immediately.