Want to try a new sport that provides both an exceptional workout whilst delivering a thrilling, yet safe, environment to learn? Then indoor bouldering could be just the ticket.
The sport of climbing in general is growing rapidly. The latest UK Active report showed that in the 10 years between 2006 and 2016, participation numbers increased 67%, the biggest growth of all sports measured. And while the more traditional discipline of scaling rock faces and crags in the wildest parts of the UK might be as popular as ever, it is climbing indoors that is skyrocketing.
There are now over 400 climbing centres and bouldering walls in the UK, making the sport as accessible as ever. Furthermore, with sport climbing making its Olympic debut in 2020, it's likely that the increased participation will continue on an upward trend.
Many centres will cater for beginners and experienced climbers alike. Most will offer both high walls for roped climbing, plus a space for bouldering, a discipline that is perfect introduction to the sport or climbing.
What is bouldering?
Originally designed as a training method for more traditional rock climbing, bouldering has become a sport in its own right.
Using low level walls, often protruding at acute angles, bouldering sees climbers set out 'route' to get from one destination to the other on the walls. Indoor bouldering swaps natural cracks in the rock for plastic footholds and grips.
The avoidance of having to scale great heights will be a relief for those who suffer from vertigo. Instead of using a rope for safety, falls from the walls and rocks used for bouldering are cushioned by crash mats, either integrated into the floor of your local climbing centre, or owned by those that head outdoors.
At centres all over the country, routes are set using colour-coded grips, allowing both regular and new climbers to enjoy.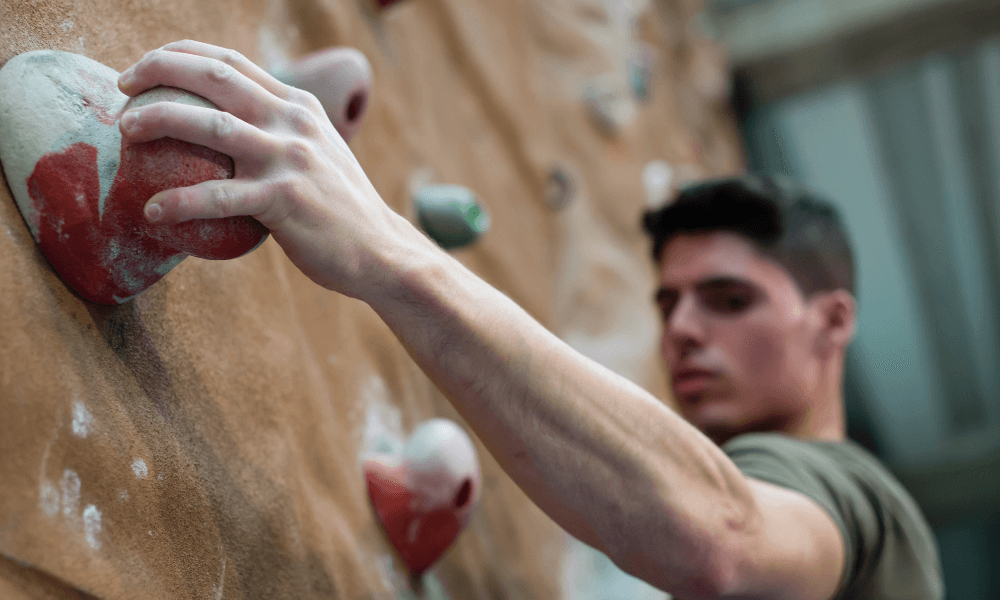 The benefits
Indoor bouldering has a number of things going for it. And yes, building up your muscles will be part of the overall climbing workout that comes with it, bouldering isn't just about brute strength.
A varied workout will be given to your legs, arms, shoulders and core muscles, with your whole body being asked to get in on the act. You will likely be holding your pose on the wall for a number of seconds, meaning your endurance will improve over time.
One other major benefit of indoor bouldering is the obvious fact that it is indoors. When the winter and the rains come, bouldering outside becomes a bit tricky and less appealing for the novice climber. However, with climbing centres providing a warm, dry environment it's a much more inviting location.
Not only that, but with most centres offering dozens of routes and multiple walls, visitors can try new things and learn while they climb. You can attempt new holds and movements or move onto trickier routes easily, without the risk of falling from a great height, or onto something hard and hurting yourself!
Indoor bouldering also has many mental benefits. Firstly, there's the social aspect of attending your local climbing centre. Many like-minded people will be there to share your experience, offering tips and support and generally encourage newbies to the sport.
Secondly, is the fact that to be a good boulderer, one has to test their mind. Before attempting a new route, it's always wise to take a step back and consider how you will get from point A to point B. Challenging your brain to think about your next move means bouldering is very much like an extra physical game of chess, working out your mind as well as your body.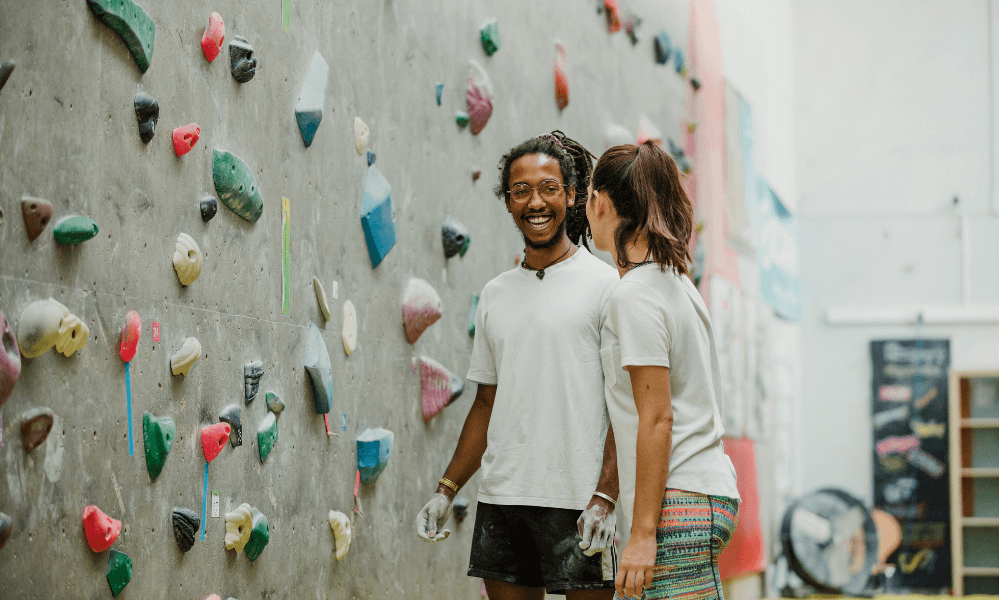 How to try bouldering
With the proliferance of new centres around the UK it's getting easier and easier to immerse yourself in the world of indoor rock climbing and bouldering. Simply use the British Mountaineering Council's Find A Centre tool to locate your nearest venue.
Many centres will offer an Introduction to Bouldering class that should last around an hour and cost £20. This will teach the basics and give you a lesson on how you can maximise your time on the climbing wall.
In terms of the equipment you need, the sport is very cost effective. Simply turn up to the centre in a shorts and t-shirt or leggings and you are pretty much there. Indoor climbing shoes are recommended if you are to fulfil your climbing potential. These will inevitably be available to rent from the centre, or you can buy your own from many specialist shops.
Other than that, there's nothing else you need to at least give bouldering a go. For regulars to the sport a good Sports Accident Insurance policy is recommended just in case one of the many falls you will have gives you a heavier than usual landing. Otherwise there's nothing more to do other than join the thousands of people who regularly enjoy indoor bouldering across the county.
Alternatively, if an overseas bouldering is on your agenda, our Bouldering Travel Insurance is the policy for you. Just fill in the form to get your instant quote today.