Age catches up with us all, there's no getting away from that fact. But just because the years are adding up, doesn't mean our time spent being active should suffer.
That's especially true for those that enjoy spending hours in the saddle each week, with plenty of benefits of riding regularly in your more senior years.
Cycling well into your 50s, 60s or 70s can improve your life in a number of ways, and demonstrates that there's no upper age limit to becoming a better cyclist.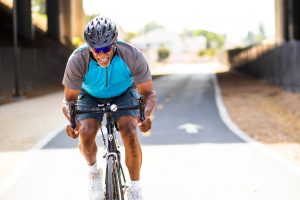 The science behind it
While there's no denying that our body and it's wellbeing suffer a downturn as the years pass by, getting out on your bike can dramatically slow down the aging process, while one study even suggested it could reverse it.
The study from King College London assessed a group of 125 55-79 year olds, some who were regular cyclists and others who were more sedentary. 
What they found was that over the years, the cycling group showed far less deterioration in muscle mass and strength in comparison to the non-cyclists.
Another study looked at the speed in which cells deteriorate during the aging process, comparing two groups of seniors, one far more active than the other. The American National Health and Nutrition Examination Survey study looked at the length of telomeres, which are nucleoprotein caps positioned at the end of chromosomes. 
What it found was that over time, the more active group showed much longer telomeres than the more sedentary group, which accounted for an amazing nine year difference in cell aging.
It's not just your physical well-being that improves
The benefits to your physical health of cycling in your older years are clear to see, but there's also clear evidence that getting on a bike will improve your mental health over the years.
The risk of loneliness and boredom, which in turn can lead to anxiety, increases in old age, so getting out on regular rides can help negate that difficulty.
Whether it's a solo ride on a Sunday morning, an organised group ride with like-minded seniors, or a competitive event such as a gran fondo or sportive specifically for older riders, it can all help improve mental health.
Getting plenty of Vitamin D from outdoor activity also reduces stress levels and can improve one's mood.
Brain benefits don't stop there though, with researchers suggesting exercise reduces the risk of Alzheimer's Disease. 
The American study found that regular exercise, such as cycling, reduces the levels of tau, a protein associated with Alzheimer's Disease within the brain.
Opportunities to ride competitively are greater
What is fantastic for older riders, is that they don't have to be confined to low-energy, casual rides in their senior years.
There are more opportunities than ever for riders to enjoy competitive and organised rides not necessarily within their own age groups, but tailored to a level that might be more manageable.
Most sportives offer different options of route lengths, so if cyclists feel that the years have perhaps caught up with them enough to stop them taking on the full event, there's usually a chance to take part in another way.
For those looking to get away for their rides, there are options for cycling holidays with like-minded seniors.
Destinations like Andalucia and a range of French locations are often popular destinations for cycling holidays and are equally accessible for older riders.
For those looking for a bit more assistance with their rides, the rise of e-bikes provides that added boost of power. Take a look at our 10 Great European E-bike Holiday Destinations blog for some inspiration.
Riding anywhere in the UK this year? Make sure you're covered for any serious spills with our Sports Accident Insurance. Alternatively, if an overseas cycling trip is on your agenda, our Cycling Travel Insurance is the policy for you. Just fill in the form to get your instant quote today.