The popularity of electric bikes is on the rise, and it doesn't look like stopping any time soon.
In the US, there was an incredible 145% growth in e-bike sales from 2019 to 2020, while in Europe the electric-bike market grew by 23% in the same period according to the World Economic Forum.
The motor-assisted two wheelers provide more pedal power to riders, allowing them to climb easier, go faster without as much effort and to get around with less strain than before.
It's not just the road bike that has enjoyed the electrical revolution, with e-mountain bikes (eMTB) also taking off recently.
With that in mind, we've picked out five destinations to enjoy this new mode of transport, both on and off-road.
About Us
We have been providing specialist Sports Travel Insurance for over 25 years to UK citizens. Our comprehensive policy can protect you to take part in over 500 different sports and activities across the globe. Get an instant quote for Sports Travel Insurance online now! Some of our other products include Golf Insurance and Cycling Insurance.
Top 5 European e-biking destinations
Douro Valley, Portugal
Starting off in central Spain, flowing west into Portugal and all the way to the Atlantic Ocean at Porto, the Douro provides a playground not just for wine lovers, but for cyclists too.
With a bike in tow you can combine the two by going from vineyard to vineyard via the many country roads and ancient towns and villages. Great food, wine, scenery and most importantly an all-round great ride awaits.
Danube, Germany to Austria
The Danube stretches for 2,850 km from Germany to Romania and along a big chunk of that is the Danube Cycle Path, a spectacular ride along one of Europe's mightiest rivers.
Starting in the town of Passau, take in the historic town centre (home to the world largest church organ, no less), before heading out into the countryside with views of the Danube along the way, passing some of the Wachau region's wineries and orchards. By the time you enter Austria, not only does the top scenery remain, but you're blessed with more spectacular towns and cities including the old town of Linz and Austria's capital, Vienna.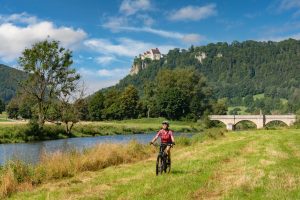 Fjord, Norway
The Norwegian Fjords are present on many travellers must-see lists so why not experience the dramatic landscapes on two wheels? In the summer months, of course.
The Sunnhordland Fjords are one area in particular worth exploring by bike. Starting out in the city of Bergen Freedom Treks run a fantastic break island hopping and exploring the stunning landscapes of the region. Although not all on the road, the provision of an e-bike means even those toughest climbs are achievable.
Stockholm, Sweden
Staying in Scandinavia, a trip to the Swedish capital is worth adding to the list. Using the city's well planned cycle routes riders, riders can take in the tourist hotspots of Stockholm all without having to tire their legs out too much, thanks to the ebike's motor.
Once done in the city, it's worth venturing further to the countryside to the south and west which is home to beautiful lakes, enchanting castles and ancient towns.
Dalmatian Coast, Croatia
The cities of Split and Dubrovnik are among the most popular destinations for all holiday makers in Croatia, so being able to combine them with some island hopping and a pleasant four or five day ride looks a no brainer to us.
Dubrovnik's stunning old town is the fairytale end point for any trip down the Adriatic coastline, but it's worth exploring the islands of Brac and Hvar in particular along the way. Plan for a trip in spring or autumn to avoid the hordes of tourists and the inflated prices that often comes with the mid-summer crowds.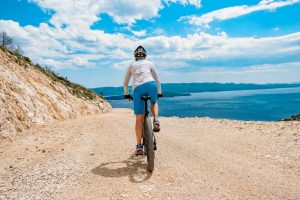 5 of Europe's Top eMTB Destinations
Morzine, France
Plenty of the French ski resorts are worth a summer excursion with your eMTB, but Morzine probably jumps off the page. Hundreds of kilometres of trails, spectacular scenery, all less than two hours from Geneva Airport – what more can you ask for?
Lying centrally within the Portes du Soleil region, not only does Morzine have all a mountain biker can ask for, but it's easily accessible to plenty of other Alpine resorts.
Southern Carpathians, Romania
The southern part of the Carpathian Mountains loop round to form the central band of Romania and provide a playground for mountain bike enthusiasts.
While many will head to Brasov, the usual jump-off point for Transylvvanian tours, one recommendation would be to tackle the 2190m peak of Tarcu, while ordinarily would be tricky with pedal power alone, but with an eMTB in tow, it's an achievable and remarkable climb.
Sierra Nevada, Spain
There are some epic trails to be discovered across this mountain range of southern Spain, with the highest peaks of circa 2000m rolling down through forests and farmland, with the route often guided by glorious sunshine.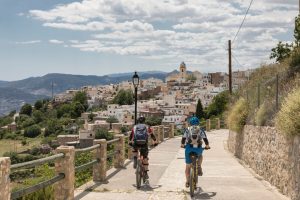 One thing in particular that Sierra Nevada has over some of its more developed resort-based destinations is that it retains that feeling of rawness that most bikers will appreciate as they ride.
Dolomites, Italy
Another European playground for mountain bikers, the Dolomites has a jewel in it's crown that all riders should consider, the Fanes-Senses-Braise Nature Park.
A UNESCO World Heritage Site, the park stretches for 25,680 hectares, and offers hundreds of kilometers of rides. One particular highlight of the area are the peaks around Lake Braies. The plateau of Prato Piazza stands at around 2000m above sea level and acts as the ideal target for an e-Mountain biking run.
Pinzgau Valley, Austria
The area around the city of Salzburg in the west of Austria has some fine mountain biking destinations, none more appealing than the Pinzgau Valley.
A plethora of single track options through jaw-dropping alpine landscapes await visitors, all joined up by a network of forest roads. Why not make the most of your eMTB and spend a day in the saddle ascending and descending The Herrnsteig, one of the finest hgh alpine loops on offer?
Wherever you decide to go on your next e-biking holiday, remember to insure yourself for all eventualities. SportsCover Direct's E-Biking Insurance protects your trip as well as covering you for any emergency medical expenses after an accident.