What is Basketball Coaching Insurance?
Our Sister brand, Protectivity, offers a Basketball Coaching Insurance policy. Whether you operate as a Sole Trader, Partnership or Limited Company, Protectivity can provide you with the cover you need. As standard, Public Liability, Professional Indemnity and Equipment cover are included. Additionally, Employers Liability can also be added if you have any employees.
Get an instant quote for Basketball Coaching Insurance
Join thousands of professional coaches who choose Protectivity every year. 
Or call Protectivity on 01494 887909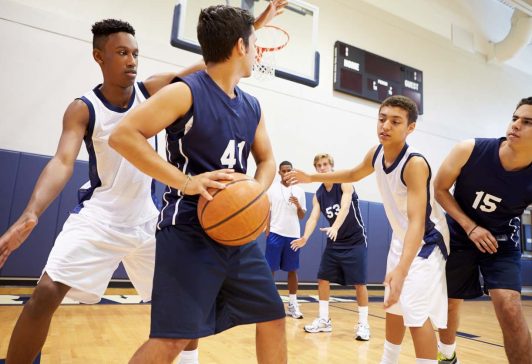 How is Basketball Coaching Insurance different?
Our sister brand Protectivity understands that finding a competitive and flexible insurance policy can be challenging however, it is becoming increasingly more important to have a policy in place. The policy can be tailored specifically depending if you are a Sole trader, in a Partnership or run a Limited Company. Following this optional extras can be added such as Employers Liability which will provide protection in the event of a staff member being injured. 
Frequently Asked Questions
A. Yes, provided you comply with the below requirements for remote coaching/instruction (live or prerecorded):
In respect of any coaching or instruction that is undertaken remotely, it is strongly recommended that the Insured should:
1. At the commencement of the session, advise participants:
a. that by participating they are doing so at their own risk;
b. a suitable, non-slip floor space is required and any potential obstructions in the vicinity are removed before they participate;
c. to avoid activities if they have, or suspect they may have any current health concerns, injuries, aches and pains;
d. avoid the use of blades, weapons or sharp instruments of any description;
e. avoid physical contact with other participants and where appropriate, adhere to social distancing guidelines;
2. Ensure that sessions are conducted for the benefit of participants who have demonstrated sufficient suitability to participate;
a. with new clients you must ensure that;
i. you obtain a signed PAR-Q form prior to the first session
ii. you have had a pre-training consultation call
3. Continue to only instruct activities in which you are qualified to do so;
4. Record the session. Retaining the recording for a period of up to thirty-six (36) months may assist in any claim made against you
5. Maximum class size is 16
A. Our PT insurance policies all include the following as standard, which provides comprehensive cover to personal trainers.
Personal trainer liability insurance – Either £1m, £2m, £5m or £10m
Liability insurance for personal trainers covers them for claims, damages and injury to members of the public or their property. This could come about if you or one of your clients causes damage to the gym in which your sessions are held.
Professional Indemnity cover – level matched to that of your Public Liability
Should one of your clients injure themselves and deem it to be because of your negligence, then Professional Indemnity protects you. Any claim could be the result of a client claiming you gave bad advice or set them a task which in turn, caused them an injury.
Sports Equipment cover – £500 as standard for FREE (up to £30,000 available)
The tools of the trade which you use are protected by our policy too. Up to £250 of cover is included as standard, which ensures any damage to your equipment caused by a client or third-party is covered.
Personal Accident cover (not included as standard – optional extra)
This part of the policy protects the personal trainer themselves. Depending on the specific injury, your policy could pay out if you were to injure yourself while taking a personal training session.
Get an instant quote and buy online now!