Optimize your cycling experience
No one wants to be uncomfortable when cycling, no matter what level of riding you do.
From recreational riders, weekend warriors to professional cyclists, one thing that we all have in common is that from time to time we have discomfort when riding. We all ride because we love cycling and the experience and feeling that two wheels can give us. Fitting correctly on your bike can make all the difference from having back pain or not. So why risk the discomfort and pain when from the start you can feel at one with your bike?
Increase your comfort on the bike
At the heart of a bike fit is to increase the comfort you experience on your bike. A correctly fitted bike is crucial if you want to ride faster and longer. Any cyclist who has ridden a sportive event knows how hard cycling can be. So why make it harder on yourself?
When pushing your body, you carry the risk of injury and discomfort. A good bike fit can help with injury prevision and determine your body's weaknesses. The more you know about yourself, the more you can improve and take your riding to the next level. Some things like saddle discomfort are a common problem for cyclists, but it shouldn't be. Pain is a part of pushing your body to its limits. But it's hard to know when the pain you feel is a good or bad thing.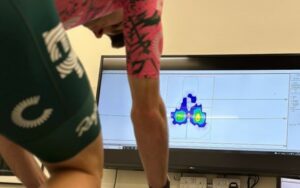 Improve your performance
All cyclists would like to ride their bikes faster with less effort. A bike fit helps you transfer power to the pedals more efficiently and improve your pedaling stroke technique. This will save you energy and can help you ride for longer.
During a bike fit, you learn more about your body's weaknesses, for example if you have any physical imbalances or if your body is perfectly symmetrical. This will result in you being aware of your body's limits and aspects to focus on off the bike, like stretching. The smallest change in each position can result in big gains in power transfer or injury prevention.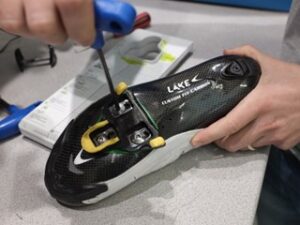 Know exactly what bike size you need and your measurements
The result of a bike fit will determine the frame size you need to buy, or if you are renting a bike on a holiday overseas, what bike size you need, and adjustments that need to be made. There is no fun in having a saddle height that is too low and causing knee pain or a saddle too high that it aggravates your lower back and causes pain. These basic problems can be solved with a bike fit. Having these measurements empowers you to be confident in your bike set up and gives you a grounding to work from for future changes.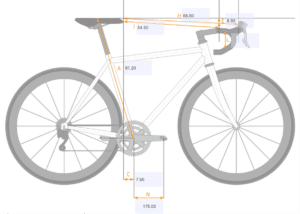 GET CYCLING TRAVEL INSURANCE WITH SPORTSCOVER DIRECT
In general, a bike fit will increase your enjoyment both on and off the bike. Less pain or discomfort means more fun whilst riding your bike and less chance of injuries both in the short and long term.
Investing in your bike position and body involves work and a cost. So don't get caught out with the worst-case scenario happening.
Our Cycle Travel Insurance can give you peace of mind when you head out on any cycling trip overseas. Our policies include medical expenses, travel disruption compensation, help if your bike or baggage gets damaged, stolen or lost, and much more. Our cover starts at just a few pounds a month and can be paid for through flexible payment plans.