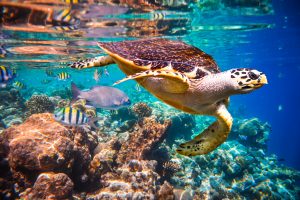 The Maldives
When you think of clear turquoise oceans you immediately think of the Maldives and because of that reason the Indian Ocean offers a beautiful spot for scuba diving. With manta rays, sharks, turtles, schools of fish and colourful reefs there is plenty to see whilst you are underwater. You can even stay on a live in boat meaning you can really make the most out of scuba diving in this top destination!
Bali, Indonesia
One of the most beautiful ship wreck diving locations is without a doubt Liberty Wreck in Bali, Indonesia. Found at 9-30metre under, this wreck can be dived by any scuba diving level from the more experienced to the first time diver. The wreck is full of colourful sea life and with visibility up to 30 metres you can really see it all.
Sipadan Island, Malaysia
With its broadly diverse sea life there is plenty to see at Barracuda Point on Malaysians only oceanic Island situated in the South China Sea. With sea turtles, hawksbill, horse eye jacks, coconut crab and of course schools of barracuda (hence the namesake) you can see why this features in the top 5 destinations for scuba diving in the world. However, there can be strong currents so it is recommended for only the more experienced divers. If you are just starting off this gives you an excuse to visit some of our other top scuba diving destinations first before checking this one out!
Red Sea, Egypt
A firm favourite of divers, the red sea offers some of the best locations for scuba diving in the world. From the shipwrecked Thistlegorm to the Shark and Yolanda Reef, there is something for everyone in this scuba diving hot spot. Giant Moray Eels and a collection of reefs means there is more than just the shipwrecks to see and you can even go on a night dive here if you fancy a slightly different experience.
Great Blue Hole, Belize
One of the most iconic images in the world is the Great Blue Hole so no wonder it has made it to the top of our favourite scuba diving locations in the world. As you can tell by the name, of course this is a very deep wide hole outlined by coral reef. The change in colour appears as a result of the water changing from salt water to fresh water at about 15m. The hole is a whopping 143 metres deep and there is plenty of mako, sharks and other sea life to keep you occupied whilst diving.
Scuba Diving Insurance can give you peace of mind when you head out on a scuba diving trip overseas. Our policies include medical expenses, travel disruption compensation, help if your equipment or baggage gets damaged, stolen or lost, and much more. Our cover starts at just a few pounds a month and can be paid for through flexible payment plans – find out more about sports travel insurance from SportsCover Direct.