Starting your holiday with a delayed flight or a cancellation can put a damper on your planned trip. From freezing fog to travel disruptions, there are a range of factors out of our control which may result in a delayed or cancelled flight. 
To reveal which airports and airlines are the best and worst for delays and which months and destinations are the best for travel, we have looked at all of the flights across 2022 for the UK's 12 busiest airports to uncover which are the best for passengers.
The best and worst months for travel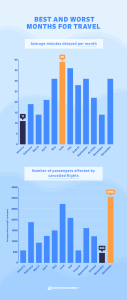 Typically in the U.K, the busiest months for travel are the summer months of July and August. These months coincide with the school holidays, so families can take their summer vacation abroad together without worrying about taking their children out of school. 
Unsurprisingly, June, July, August and September are the months where passengers experience the longest delays. Travellers in June were delayed by 39 minutes on average, nearly four times longer than delayed passengers in January who only had to wait 11 minutes on average. 
In 2022, over 300,000 passengers were affected by cancelled flights in December, the worst month overall for cancellations in the U.K. Only 46,000 passengers were affected in November, which saw the lowest number of cancellations throughout the year.
The best and worst airports to travel from
Looking at the UK's 12 busiest airports, we wanted to reveal where had the longest delays on average, and which saw the most passengers affected by cancelled flights. 
East Midlands International is one of the most reliable airports to fly from, with under 2 thousand passengers affected by cancellations throughout 2022. The only airport with fewer passengers affected was Bournemouth airport, where 567 travellers had their flights cancelled last year. East Midlands International had the lowest delay time, with passengers on average only being delayed by 14 minutes. 
Birmingham airport had the longest delay time, 34 minutes on average in 2022. However, it was one of the best airports for cancellations, as Birmingham had the third lowest number of travellers (25 thousand) affected by cancelled flights. 
Stanstead is the most reliable London airport to fly from, it has the lowest average delay time (17 minutes) and the lowest number of passengers affected by cancellations (69 thousand) out of the London airports analysed.
The best and worst airlines to travel with

After collecting data on the 12 airports, we found that more than 200 airlines operate from them. When looking at the 15 airlines which had the highest total flights in 2022, we can reveal the best – and worst – airlines to fly with from the U.K. 
Norwegian Air passengers' wait times were the shortest; in 2022 the average delay was only 15 minutes. American Airlines and Scandinavian Airlines (SAS) weren't far behind; their passengers only had an average delay of 16 minutes. 
Wizz Air passengers had the longest average wait times with delays of 45 minutes. Tui Airways passengers had an average wait time of 39 minutes followed by The Turkish Airlines who had an average delay of 32 minutes. 
Eastern Airways had less than 9 thousand passengers affected by cancellations, followed by BA Cityflyer which also had less than 9 thousand passengers affected. 9,909 Emirates passengers were affected by flight cancellations throughout 2022. 
640,629 British Airways passengers were affected by cancellations in 2022 when over 2,000 departing flights were cancelled. Easyjet passengers were the second most affected as 406,080 travellers had their flights cancelled. 87 thousand Ryanair passengers had their flights cancelled throughout 2022 making it the third worst airline. 
The best and worst holiday destinations to fly to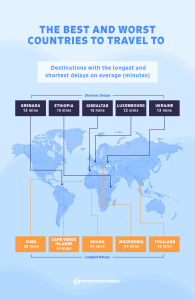 When looking at the holiday destinations, which locations had the longest and shortest delays on average? From analysing the flights to 105 countries we can find the destinations that will leave you pacing the airport and which will have you quickly on your way. 
Travellers to Luxembourg are left waiting for the least, with average delay times of only 12 minutes, this is followed by Ukraine (average delay time of 13 minutes), Grenada (13 minutes), Gibraltar (15 minutes) and Ethiopia (15 minutes).
Four out of five of the destinations with the longest delay times are further afield, Cuba had the longest delay time on average of 88 minutes, and Cape Verde Islands passengers had to wait 59 minutes. Those travelling to Thailand and Ghana had a delay of 55 minutes. Macedonia is the only European country to appear in the five destinations with the longest delays, with a delay time of 54 minutes. 
Knowing your rights around flight delays and cancellations 
The rules surrounding flight delays and cancellations can feel confusing. However, they are relatively straightforward. 
The EC Flight Compensation Regulation 261/2004 outlines exactly what consumers are entitled to, with compensation ranging from €250 to €600, depending on the distance of your flight.
How travel insurance can protect you from flight delays and cancellations
You may have no protection from your airline in certain scenarios, such as a strike, so taking our suitable travel insurance is a great solution for providing extra cover for such situations. 
If your departure is by six hours or more, SportsCover Direct's Sports Travel Insurance provides a cash benefit for delays. It also includes cover for strikes, adverse weather and mechanical breakdown of your transport.
It's always important to double check the protection your travel insurance provides, and the scenarios where you are covered. For example, many policies will state that the delayed flight will need to be booked while you are in the UK, one drawback for backpackers, planning a long trip as they travel.
What to remember
The key things to remember is airlines bear the responsibility of compensating passengers for significant flight delays, and the EC Flight Compensation Regulation 261/2004 lays out the rules governing what passengers may be entitled to if they experience a delay.
However, it's important to note that the Act may not apply to all flights or situations. 'Exceptional circumstances' may allow airlines to avoid paying compensation. In such scenarios, having travel insurance can prove to be beneficial and potentially save you from any unforeseen expenses.
Irrespective of whether the airline fails to pay compensation for any inconvenience caused, it is crucial to have some form of travel insurance for your holiday. It's advisable to purchase insurance as soon as you book your flights to ensure that you are protected from any unforeseen events, including severe illness. Additionally, having travel insurance provides financial security in the unlikely event that the airline goes bankrupt, safeguarding both you and your money.
Methodology: 
To uncover the airports which have the most delays we gathered all departing flight information from 01/01/22 – 31/12/22 for the 12 biggest airports in the UK and analysed this for the number of flights cancelled and the average delay time in minutes. 
We also gathered the destination information to uncover which destinations had the shortest and longest delay time. 
To calculate the number of passengers affected by the number of cancelled flights we researched the average number of passengers for each airline and then multiplied this by the number of cancelled flights each airline had throughout 2020. 
Airport seed list:
Belfast International 
Birmingham 
Bournemouth 
Bristol 
East Midlands
Edinburgh 
Glasgow 
London Gatwick 
London Heathrow 
London Luton
London Stansted 
Manchester
Sources:
www.airportspotting.com/which-are-the-busiest-airports-in-the-uk/