The government has recently announced plans to boost spending on cycling routes in the UK – which is great news for cyclists! Here we look at what the proposed investment entails …
Before we start, however, don't forget the importance of cycling insurance. SportsCover Direct offer a range of insurance options, so that you can have peace of mind and focus on your cycling.
Investment in cycle routes
The BBC recently announced a government pledge to invest up to £5 billion of public money into expanding and improving bus services and cycle routes across the country.
In his statement, the Prime Minister said that he envisaged "hundreds of miles" of new cycle lanes. Mr. Johnson plans to make cycling safer in towns and cities known as "mini Holland" schemes.
It's not yet clear how the proceeds will be divided, since priority seems to be given to the creation of new bus lanes and investment in 4,000 zero-carbon buses. It remains to be seen how much that leaves for the cycle routes.
Nevertheless, it comes on the heels of a government announcement of a £20 million investment in upgrading 22 routes on the National Cycle Network. That money is aimed at creating new routes, upgrading and resurfacing others, and improving links to other modes of transport.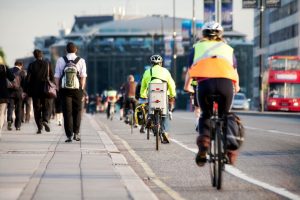 The National Cycle Network
The network has cycle paths and routes connecting towns, cities and the countryside the length and breadth of the British Isles, from Scotland to the south of England, Northern Ireland and Wales.
You can find the routes c losest to where you live – or where in the UK you intend to cycle – simply by visiting their website. You can then filter your search according to the broad area of the country in which you are interested, the type of route you want to select (whether it is traffic-free or makes use of roads), and the length of the route (from up to ten to more than 51 miles).
There are also "collections" of cycle routes arranged according to particular interests – those suited to a family day out, for instance, city-based tours, trips to the coast, cycling and camping, tours for foodies, long-distance routes, and even those featuring a romantic interest.
According to the latest figures from Sustrans , more than 4.4 million people have already used the National Cycle Network, which is used for some 786 million cycling (and walking) trips. Along the way, visitors are estimated to have spent a total of £2.5 billion in local businesses and £88 million has been saved through reductions in traffic congestion on the roads.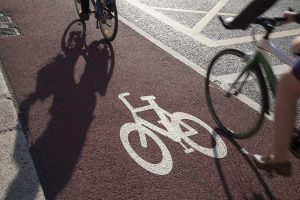 Benefits of cycle routes
Anyone who has ventured out on a bike in today's congested traffic conditions will know about the benefits of cycle routes. There are many other benefits from encouraging more people to cycle – especially on the relative safety of dedicated bicycle routes.
A briefing from Cycling UK, for instance, cites the benefits for your personal health – you cut the risks of getting cancer or cardiovascular disease by 45% and 46% respectively, compared to travelling by car or public transport. The same source says that the health benefits considerably outweigh the risk of injury on the roads;
A joint study by the Department for Transport and the University of Birmingham found a whole raft of benefits, including;
transport and logistics benefits – facilities for cyclists involve less capital cost than other infrastructure investments;
strategic and local economic benefits in encouraging cycling – towns and cities become less car-dependent, parking for bicycles that replaces car parking creates more retail space, and local businesses benefit from increased cycle use and pedestrianisation;
employment benefits – employees who cycle typically take fewer days off work and reduced absenteeism increases productivity;
public expenditure benefits – "cycling cities" could achieve significant savings for the NHS in terms of improved public health;
tourism benefits – cycle-friendly destinations encourage greater numbers of tourists and cycling tourists have been found to spend up to 9% more than other visitors, or around £81 more per head; and
cycle industry benefits – although now somewhat dated, a study by the LSE estimated that the "gross cycling contribution" of the cycle industry to the UK economy was almost £3 billion and the domestic production bikes, accessories and parts doubled in the six years between 2007 and 2013.