It is important to dress appropriately when playing golf, especially during cold weather. The right base layer can bring a number of benefits including maintaining a comfortable temperature and moisture control. You can be playing outside for several hours at a time and in very cold weather a good base layer can mean the difference between struggling with your golf performance because you are suffering in the cold to playing well because you are comfortable. So, what is the best base layer for cold weather golf? We take a look here.
It is recommended to wear 3 layers – a base layer, a mid-layer and then a top layer.
ABOUT US
With a 25+ year history, we are today one of the UK's leading online providers of Golf Insurance. Our policy, which is underwritten by AXA XL, will protect you should you accidentally injure someone or damage their property whilst playing, which then results in a compensation claim against you. It will also protect your golf equipment 24/7, 7 days a week, from the risk of it being lost, stolen or damaged.
Base Layer
This is the first layer, worn next to the skin and is compression fitting so that it provides a snug layer to cover the body. This layer reduces moisture and so ensures that you remain warm, dry and comfortable. Often worn by other sportsmen and women such as cyclists and skiers, the base layer can help to protect and improve muscle efficiency.
The other important consideration when choosing a base layer is to ensure that seams are flat to reduce abrasion while you are playing. You also might want to consider a style with a high neck if you are playing in very cold weather. The wind chill factor on the golf course is an important consideration as you are often in an exposed environment and it isn't very pleasant to have very cold air whipping around your neck. A thermal base layer will provide optimal performance in low temperatures.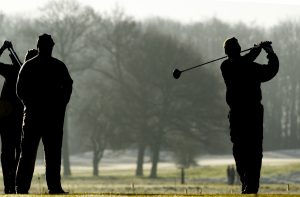 Mid-layer
The mid-layer is more loosely fitted and creates pockets of air generated by the body's own temperature.
This layer needs to work well with the base layer underneath so each should be considered as part of a whole rather than in isolation. The mid-layer also needs to have good moisture control so that any perspiration can be evaporated.
Top Layer
The top layer needs to work well with the other two layers, so you need clothing that is neither too warm nor too cool. It needs to be well ventilated and provide ease of movement. Choose a style and fit that is comfortable for you. Remember to avoid cotton garments as this material isn't that great for keeping you well ventilated and can be more restrictive on your golf swing.
To summerise, when selecting your base layers, consider the material that you choose, opting for one that provides good ventilation, moisture control and comfort. The fit of your clothes is also important, you need to feel comfortable and the garments need to allow for a good range of movement so that you will not be restricted during your golf swing! Also, consider the style – go for something that meets the criteria above but that also makes you feel good. This way you can achieve the very best performance and look great doing so!